Here's your first look at Maybelline's makeup collab with Gigi Hadid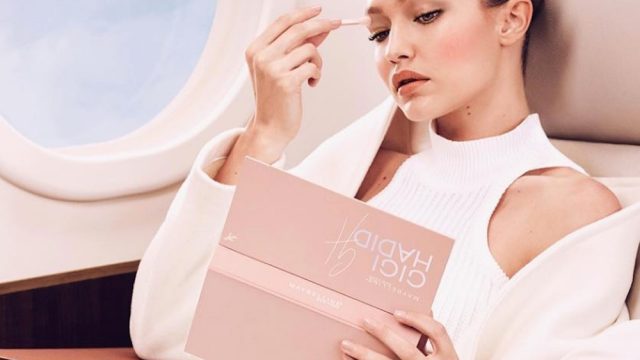 We've been anxiously awaiting a peek at the Maybelline x Gigi Hadid makeup collaboration, and now that we've seen what's headed our way we can't wait for this collection to hit stores. They've collaborated on a palette that's perfect for the travel bunny in us all — with everything you'd need while hitting the road in one convenient, lovely package.
As one of the most in-demand models of the moment, Gigi Hadid spends her days jet-setting across the globe for work and play. Who better to come up with the very best basics a girl might need while on-the-go?
The Maybelline x Gigi Jetsetter palette will be available next week at Ulta for $29.
https://www.instagram.com/p/BaMenEUFvY6
The subtle pink packaging is absolutely gorgeous and would look just as beautiful on your vanity as it will in your carry-on. The minimalist pink case speaks to our millennial souls.
https://www.instagram.com/p/BaLn_akhMbb
The palette features eyeshadow, concealer, blush, bronzer, highlighter, mascara, and lip balm. And given that the caption in the photo says that this is just the first wave of products, we are hopeful that future iterations of the palette will have concealers that work for a wider variety of skin tones. It's always disappointing to see only pale colors available, but here's hoping they do better in round two.
https://www.instagram.com/p/BaL1q-GF4m-
These neutral shades have just enough of a pop of color to make your skin look fresh and rested, just what we need after a long flight.
The Maybelline x Gigi Jetsetter palette is sure to fly off the shelves, so keep your eyes peeled on social media.
https://www.instagram.com/p/BaKcUL2l5ok
We can't help but want to treat ourselves to these sweet new hues, and what can we say, we're suckers for convenience!