Our first look at Jude Law as Dumbledore is here, and the young wizard is a babe
After what feels like months of anticipation, we finally have our first look at Jude Law as young Albus Dumbledore — and frankly, he's kind of a stud.
Fantastic Beasts: The Crimes of Grindelwald — the recently revealed title for the first of reportedly four sequels to the 2016 film — picks up just a few months after Grindewald's escape from New York and will find Dumbledore teaming up with his former student, Newt Scamander (Eddie Redmayne) to try and take down the dangerous wizard (now played by Johnny Depp).
The film will also see the return of Newt's American friends, Tina Goldstein (Katherine Waterston), her sister Queenie (Alison Sudol), and no-maj Jacob Kowalski (Dan Fogler), as well as the presumed-dead Obscurial, Credence (Ezra Miller). The Crimes of Grindelwald will also see the introduction of Newt's brother Theseus (Callum Turner) and his fiancée Leta Lestrange (Zoe Kravitz) — whom Newt had alluded to being in love with during Fantastic Beasts.
Prepare to ~swoon~ over the beautiful cast photo: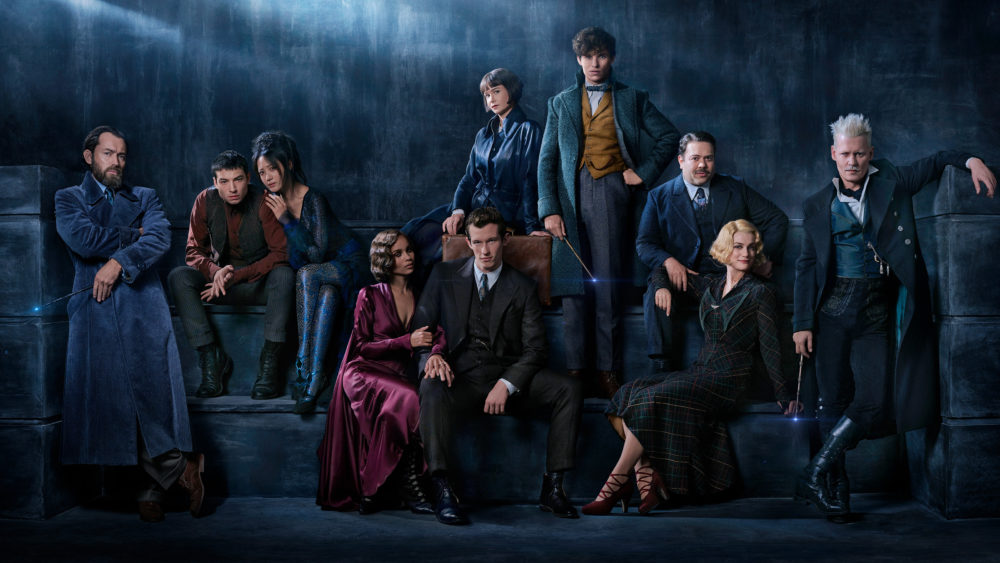 After recovering from the overall gorgeous late '20s vibe of the photo, like us, you probably found yourself transfixed by the wizard in the far left of the photo.
This Guy: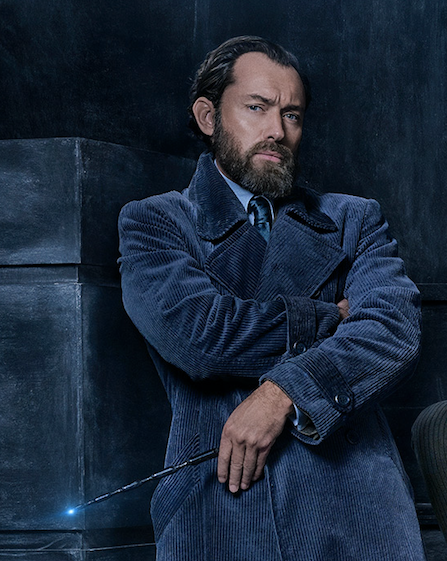 Who could this be? The dashing wizard flashing a quizzical look at the camera is none other than young Albus Percival Wulfric Brian Dumbledore. While it almost catches us off guard to imagine Dumbledore as anything other than an eccentric old man, we have to say — awkward crossing arms aside — Jude Law has seamlessly slid into the role.
As the third actor to take on the role of the legendary wizard, fans seem both excited and skeptical to see Law's portrayal, since Dumbledore remains one of the most beloved characters in the Harry Potter franchise.
But does he look anything like his elder counterparts?
Honestly, he looks like the perfect combination of Richard Harris and Michael Gambon's Dumbledores. Based on the photo alone, he seems to have perfected that skeptical brow and appears to be working toward that iconic long beard. Law's Dumbledore is at least 70 years younger than his Harry Potter counterparts, so while we won't be meeting the wizened Headmaster of Harry Potter's day, we'll be able to watch him grow into that iconic man.
Dumbledore will play an important role in the Fantastic Beasts franchise because his teenage relationship with Grindelwald (and later battles against the dark wizard) is something of legend in the Harry Potter series, set 70 years later. While Dumbledore's young years were briefly touched upon throughout Harry Potter — The Deathly Hallows in particular — it seems we'll be getting a firsthand look at the events that turned the wizard into the beloved icon.
Be on the lookout for young Dumbledore when Fantastic Beasts: The Crimes of Grindelwald hits theaters on November 16th, 2018.