We can't stop watching this first look at Ed Sheeran's "Carpool Karaoke"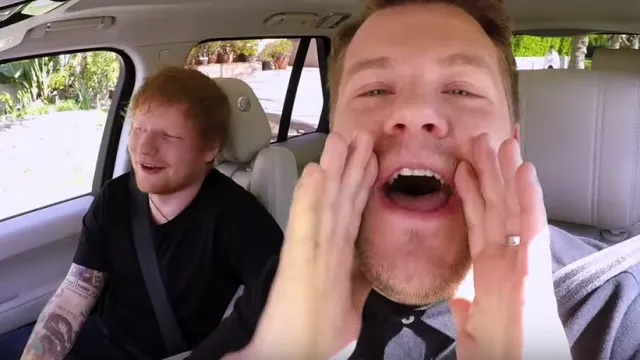 We've known this would be happening for months, but we're finally getting a look at Ed Sheeran's Carpool Karaoke. Set to air this upcoming Tuesday, it looks like Sheeran and The Late Late Show's James Corden got along quite well during the segment.
As you probably know, Corden has had celebrities on for the fun, song-themed sketch for quite some time. In fact, Carpool Karaoke is so popular that it's getting its own series. While it's been delayed (it was supposed to debut this April) folks over at Apple Music are certain that it'll premiere a little later this year.
Corden's segment with Sheeran will air during one of his shows that'll be based in London. He'll be airing his show there for three days.
https://www.youtube.com/watch?v=A2TLulds8uM?feature=oembed
From the looks of it, Corden and Sheeran will be belting out "Castle on the Hill" and "Sing" — but we know there'll be plenty more.
According to Sheeran, he was actually hoping that Corden would bust out some other tunes during the segment.
"I know the whole thing is singing to your tune, but I think I'd feel a bit awkward singing to my song. I think I'd just want to put on some Biggie," Sheeran said on Capital FM's Roman Kemp Show.  "I want to put on something really awkward and dirty, like Biggie's song 'Big Booty Hoes'—or something like that—and just hear James Corden sing along to that."
 (We'd love to hear that too. But, we're kind of glad they chose to stick to the format.)
We have a feeling that this may be one of the best Carpool Karaoke sketches yet!