Here's your first look at Bella Hadid's Victoria's Secret Fashion Show outfit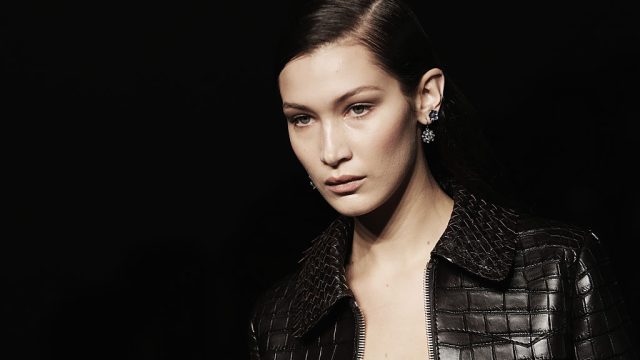 Just a handful of select models get to wear wings during the annual Victoria's Secret Fashion Show, and this year Bella Hadid will be one of them! The 20-year-old model recently showed off the black and white feather wings she'll wear down the runway next month — and she couldn't look more stunning.
People reports that 51 models will wear a total of 82 looks in the show, and just 43 will include wings. Lucky first-timer Bella will wear not one but two outfits, one with wings.
At a recent fitting, Bella tried on the navy and silver floral bra and panty set from the Dark Angel collection that she'll wear with her feather wings, topped off with a  long-sleeve top covered in an estimated 6,000 crystals.
Bella told People,
"This is the most amazing experience ever. I can't believe I got two looks. I'm, like, dying. It's unreal. And they're so beautiful."
She added that the wings are "actually lighter than my actual outfit cause the whole outfit is all sequins." And in case you were wondering, the wings are "actually really comfortable, which is nice."
The model secured her coveted spot in the VS lineup last month, and will join 21-year-old sister Gigi Hadid and friend Kendall Jenner on the runway. Victoria's Secret announced that Bella had joined the squad with a super-cute video on Instagram.
https://www.instagram.com/p/BMC1jAmBCAG