What to text someone after a first date, according to experts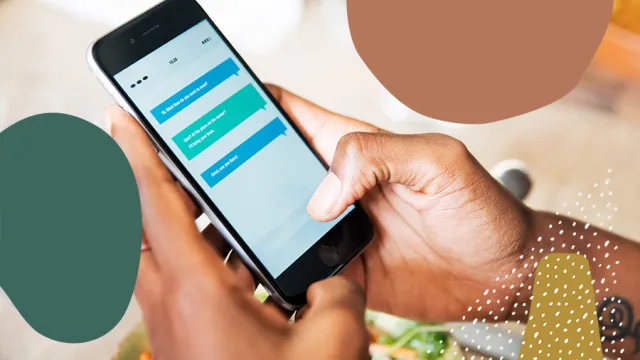 There was a time when we simply agonized about getting dressed and going on a first date. But thanks to the advent of easy-to-use dating apps (that make scoring a date just a tiny bit easier), its not just going on the date that's stressful, but how to follow up after the fact. The real conundrum now is how to obsessively read into that first date text. What should you say? What does it mean? How should you respond? Are they interested in potentially going on a second date? Who's to say, really.
True, it doesn't have to be like this. We could "rise above" and "relax" and stop sending screenshots of the text to all of our friends asking them to play UN translators for romantic innuendo. But alas, we don't live in a perfect world. And try as we may—and thank goodness for emojis—there are still limitations to text message communication: we miss inflection, emotion, and no one will give us italics or bold text options dammit.
So we figured that we might as well put our heads together and see if we can't find some universal truths from the types of texts we get—or send—after first dates. Here's our top tips for what to text after a first date, including the usual text suspects that come buzzing through the airwaves after a first date, what they might possibly mean, and how to respond if you're itchin' for a second date.
When to text after a first date
Listen, there are no hard-and-fast rules for texting after a first date, but you do want to be polite. It's good to wait a few hours after the date has finished to give yourself and your date time to contemplate how it went, especially since it was your first time meeting.
"With this in mind, texting later in the evening or the next morning to thank them for meeting you and let them know that you enjoyed the date is not only polite, but also a way of getting the conversation going to test the waters and see if they felt the same," says  therapist and relationship expert Adina Mahalli, MSW.
And if they beat you to punch and text you first, don't freak out—respond! Dating expert Celia Schweyer of Datingscout.com says that in today's digital day-in- age, one of the most valuable commodities that tells you if someone is interested is if they text you first. That means if you like them, and they reached out to let you know they had a nice time, don't play games about when to respond. Instead, reply to them naturally, after you've received the message and are free to text back.
"Playing it cool and waiting for a day or two to respond won't help increase your chances for a second date," she says.
What to text after a first date
Before we get to some examples of what you can text someone after a first date, ask yourself how it all went. Did you have fun? Did they make you laugh? Do you want to see them again? Remember that you're under no obligation to do anything you don't want.
Because dating can get confusing, relationship expert and dating coach Claire Barber usually advises her clients to verbally discuss a second date at the end of the first date—if they're interested of course—because it puts less pressure on the texting afterward. This way, both of you don't need to decipher the other person's level of interest based on impersonal texts.
If that's the case, Barber says this: "Sending a got home safe text, had a great time, or good night message following the end of the first date is acceptable. Messaging them good morning the morning after the first date is usually not."
Based on your initial feelings from the first date and how they respond, you can gauge their interest and get to planning out a second date.
Examples of what to text after a first date:
"Thanks for a really great time. I had fun tonight."
"I had a really nice time with you last night. We should do it again sometime."
"Had fun tonight! Will you text me when you get home so I know you made it safely?"
"Last night was super fun. [Inside joke from the date>."
"If you truly have had a fantastic time, the best thing to do is to let your date know," says Hannah Deakin, of the international matchmaking service The Vida Consultancy. "Chances are, they will be feeling exactly the same way! Furthermore, such honesty after a first meeting is a very encouraging sign for the potentiality of a future relationship," she assures.
Yes, romantic texting is a game of freaking chess. So as a rule of thumb, don't waste too much time over-analyzing your texts and just trust that if it seemed like you both had a good time, you'll likely have a good time together again.