Here's What to Wear On a First Date, According to Your Zodiac Sign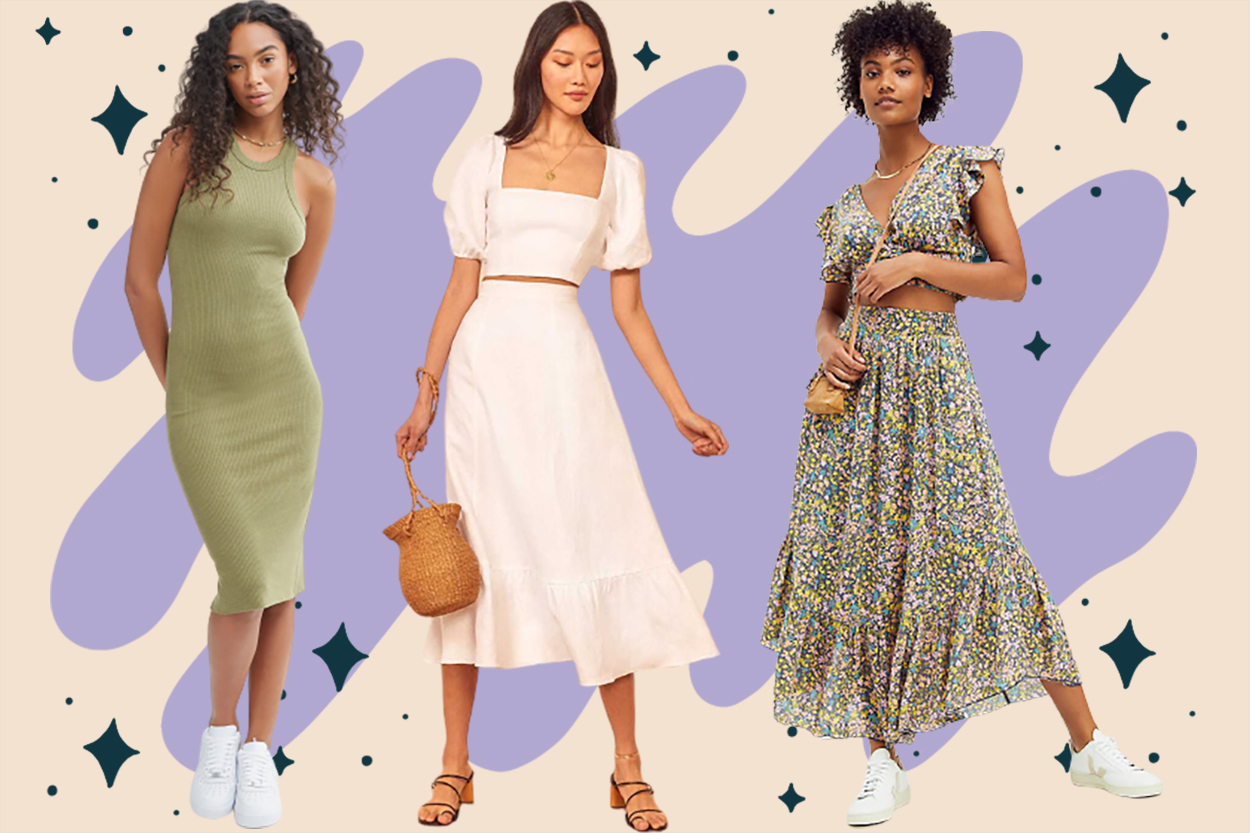 Choosing first date outfits can be stressful AF. First impressions are hugely important, especially when it comes to romance, so we're super strategic about what to wear on a first date. When meeting potential love interests, do we go the sexy route or leave things to the imagination? Do we play it cool with ripped jeans or show our feminine side with a flirty dress? The best advice we can give is to wear what you're most comfortable in.
If you're feeling particularly stumped about what to wear on a first date, turn to the stars to guide you. Just like how every zodiac sign has different dating habits, they each feel most confident in different clothing, too. So, to help you land on what to wear on a first date, we tapped astrologist Lisa Stardust for her recommendations. Below, Stardust broke down what each sign will feel most comfortable and confident wearing on a first date.
Aries (March 21st–April 19th)
"Aries will want a sportier look, like ripped jeans, sneakers, and a vintage concert T-shirt for a no fuss meet-up," Stardust explains of the zodiac's ram. This Fleetwood Mac band tee and comfy ripped jeans from Free People scream "laid-back cool girl." You'll feel relaxed and chill while wearing this outfit on a first date, so you'll be at ease.
Taurus (April 20th–May 20th)
"Sensual Taurus will opt for a curve-hugging dress to accentuate all of the wonderful parts of their bodies," according to Stardust. This ribbed tank dress does exactly that while keeping things a little modest with a high neckline and midi length. Pair it with a leather jacket for date night or sneakers for a daytime hangout.
Gemini (May 21st–June 20th)
"Dualistic Gemini will wear jeans and a cool button down flannel with a sexy camisole to show off both sides of their personality," Stardust says of this air sign. Highlight both chill and flirty moods with this relaxed and flirty outfit.
Cancer (June 21st–July 22nd)
"A babydoll dress is a comfy outfit for tender Cancer to wear on a first date as they get to know their potential boo," Stardust says. Cancers love embracing their romantic side, and this floral babydoll dress with puff sleeves will put them in the mood to form a deep connection while looking cute AF.
Leo (July 23rd–August 22nd)
According to Stardust, the dramatic Leo will wear a lace dress and high heels on their first date to create a show-stopping look. Leos want all eyes on them, and this look will do the trick.
Virgo (August 23rd–September 22nd)
"Virgos will opt for the perfect pairing of sleek pants and a matching top, which the analytical sign put a lot of thought into," Stardust says of this earth sign. This matching yellow blazer and pants perfectly combines sophistication and subtle sexiness, and it's a total power move, too.
Libra (September 23rd–October 22nd)
"A monochrome outfit, or a matching printed set, will make Libra feel on balance and in control when making first impressions," Stardust says. This two-piece set from Reformation is classy, romantic, and unique—all great traits to showcase on a first date.
Scorpio (October 23rd–November 21st)
"[An] all black attire in the form of a slip dress and matching combat boots, plus chain necklaces will showcase Scorpio's edgier sentiments," Stardust says. This water sign will be on the prowl and irresistible in this cool girl look.
Sagittarius (November 22nd–December 21st)
"Free-spirited Sagittarius will throw on whatever's clean—which might mean an eclectic look of denim shorts with tights and a crop top," Stardust points out. A true Sag won't overthink it and will spontaneously opt for a fun outfit like this one.
Capricorn (December 22nd–January 19th)
"Since they view first dates like interviews, Capricorns will want to wear a tailored professional piece like a blazer," Stardust explains of the sea goat. You can still add a touch of lust by opting for a fabric or color that oozes romantic vibes, like this blush, satin pick.
Aquarius (January 20th–February 18th)
"A pair of pleather pants will make an impression on the first date that unique Aquarius wants to exude," Stardust says. Does anyone not feel like a badass when wearing faux leather pants? Bring out your wild side in these affordable vegan pants—your date is sure to appreciate it.
Pisces (February 19th–March 20th)
"Pisces will opt for a bohemian or floral print in a flowy dress that aligns with their mystical spirit on a first date," Stardust says. Free People has countless bohemian dresses perfect for Pisces (and we want them all, TBH).