I got through my first Christmas since losing a loved one, and you will too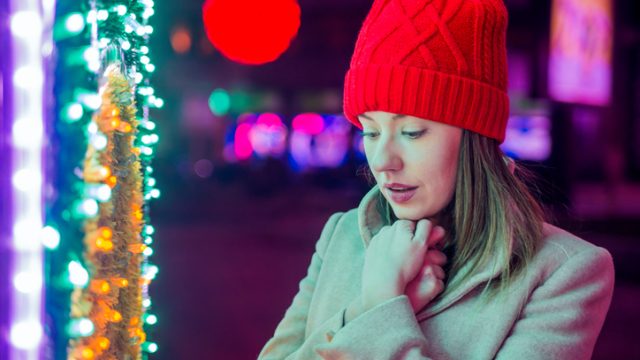 It's coming on Christmas / They're cutting down trees / They're putting up reindeer / And singing songs of joy and peace / Oh I wish I had a river / I could skate away on…
"River" by Joni Mitchell is one of my favorite holiday songs. Amongst all of the peppy pop songs that celebrate the holidays, "River" is that small, honest voice admitting that things don't actually feel so merry and bright. When I hear this song, I think a bit more about what I've lost, and I realize how significant those emotions are every December.
This will be my first Christmas that I can't send a card to my friend Ana-Alecia, because she lost her fight against cancer earlier this year. This is the second Christmas that I can't call my first love and closest ally, James, who cancer also took in April of 2016. It's been years since my grandpa Arthur passed, but his spirit is always felt this time of year. Though it's bittersweet, I decorate a small fake tree that once belonged to Papa Arthur. For years, I insisted on getting a real tree — but this means much more to me now than any fresh pine smell ever could. It connects me to him once again.
Christmas tends to magnify those who are no longer here, as if their memories are embedded in the actual date of December 25th, as if they come alive in a cherished tree ornament or within the lyrics of a holiday song. As much as I love the holidays and all the merriment that comes with them, I am also very aware of the pain they can bring.
I want to take a moment to speak to those who are going through Christmas without a loved one — especially a first Christmas without a loved one — and to those who are supporting their friends in mourning.
https://www.youtube.com/watch?v=nAK9Pj5-QXY?feature=oembed
I don't pretend to know what you want, but I offer love.
While not a Christmas song, this early '90s lyric from "Distant Sun" by Crowded House feels so apt for how to approach a grieving friend experiencing a difficult Christmas. You can't necessarily know exactly what your friend may need, but it's okay to admit that. Offer them your love and your time as they desire while the holidays play on around them.
This Christmas, two of my friends will be going through the holidays without their moms for the first time. Checking on them come the 25th will be a top priority for me. One has told me that she hasn't yet thought about how she'll deal with her emotions — and that's okay. There's no rulebook here. We will all experience grief, but we will all deal with it differently.
I will also be checking in on another friend who lost her father this spring. She tells me that Christmas will always be different; she's not looking forward to the celebrations and is dreading not seeing her dad's face on Christmas morning. "He was always the first one to wake up on Christmas morning, [getting] us all up to open presents," she says. "So it just feels like something is missing. It's hard to put a smile on and celebrate."
***
My cousin Christine lost her dad, my Uncle Rick, in 2008. She fondly recalls their annual father-daughter Christmas shopping trips in downtown Montreal, where they'd eat lunch at a famous deli. She remembers him treating her and her mom to a performance of The Nutcracker.
"It doesn't get easier, per se Christine told me the other day, speaking of the pain that washes up each Christmas. "But your loss grows into feelings of comfort."
Christine wants me to tell those in mourning to enjoy the time with their family and friends who are still here — and that the ones they've lost are still here, too. "Remind yourself that they are with you in everything that you do," she says. "Just because you can't see them, it doesn't mean they aren't present."
To all who have lost someone this year, I raise my glass to you as you survive your first Christmas without the person you loved so dearly.
Never stop sharing their stories, be it during the holidays or any time of year. Talking about them will keep their memories alive.
I hope the light they brought into your lives will add to the glow that surrounds you during the holidays, as lights twinkle on your tree and sparkle on the city streets.