Rami Malek's Freddie Mercury is a god amongst men in the first trailer for Bohemian Rhapsody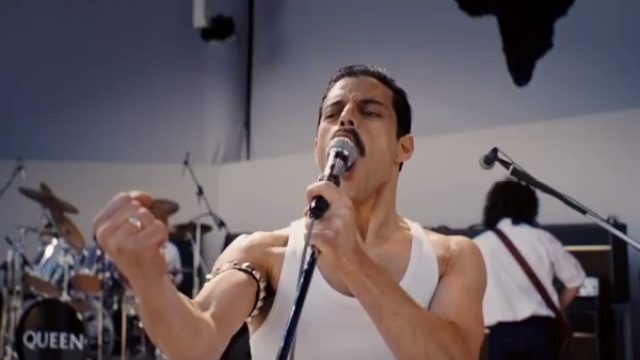 It's finally here: The first official Bohemian Rhapsody trailer. The Queen biopic, which stars Rami Malek as Freddie Mercury, Gwilym Lee as Brian May, Ben Hardy as Roger Taylor, and Joe Mazzello as John Deacon, has been in the works for nearly 10 years. Once the film finally went into production, it hit a few snags. At one point, production paused because of issues with director Bryan Singer's availability. Singer was eventually fired and replaced by Dexter Fletcher midway through the project. But all's well that ends well, because the first official Bohemian Rhapsody trailer is HERE.
"The only thing more extraordinary than their music is his story," the Bohemian Rhapsody trailer states. "His" refers to, of course, Freddie Mercury. Mercury passed away in 1991 at age 45 and was the first major rock star to die of AIDS. He is remembered as one of the greatest singers of all time. Though Mercury had an outgoing stage presence, he was actually very quiet and private in his personal life. Bohemian Rhapsody will explore the side of the singer we didn't get to see.
The Bohemian Rhapsody trailer shows Malek rocking many of Mercury's iconic ~lewks.~ There are metallic fabrics, leather swatches, fur coats, and aviator sunglasses galore. And of course, his signature pencil-thin mustache makes an appearance too. Basically, Rami Malek was born to play Freddie Mercury.
The Bohemian Rhapsody trailer is just under two minutes long. But in that time, we're treated to three of Queen's greatest hits: "Another One Bites the Dust," "We Will Rock You," and, of course, "Bohemian Rhapsody." There's even a joke about how the famous song "goes on forever." Which, if you've ever been to karaoke night at your favorite bar, you know is true.
Rami Malek IS Freddie Mercury.
Watch the first official Bohemian Rhapsody trailer below.
https://www.youtube.com/watch?v=DW2CuMiArr4?feature=oembed
Bohemian Rhapsody hits theaters on October 24th.