The first AHS: Apocalypse teaser is here, and it's creepy AF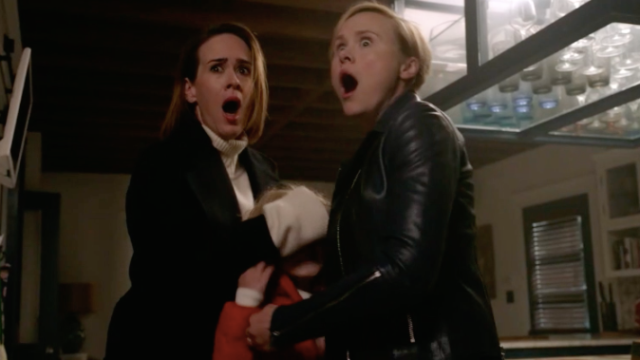 As if it wasn't already clear that Apocalypse was on track to be the creepiest season of American Horror Story yet, an eerie new teaser has arrived—and it's not for the faint of heart. Taking a cue from the unnerving (and demonic) promotional stills, the minute-long video doesn't feature any footage from the upcoming season, instead teasing the very imminent end of the world. It features shots of a mushroom cloud, a scorpion battle, an en-utero fetus pumping blood into a black heart, and many references to the occult. We're on the verge of an Apocalypse, after all.
The upcoming season of the FX anthology series is the highly anticipated cross-over between Murder House (Season 1) and Coven (Season 3), seemingly centered around Michael Langdon, the Antichrist child born during Murder House.
Take a look:
While the promotional footage heavily hinted at the return of Michael Langdon, Murphy confirmed the news last week, revealing that Apocalypse will feature an adult Michael, played by American Crime Story: Versace actor Cody Fern.
Apocalypse stars a number of AHS alums, including Sarah Paulson, Evan Peters, Emma Roberts, Kathy Bates, Cheyenne Jackson Billie Lourd, Adina Porter, Leslie Grossman, and Billy Eichner, with Joan Collins joining the cast.
Roberts will be reprising her Coven role as witch Madison Montgomery, who has also been long-hinted to have a connection to Murder House, sharing the same last name as the original owners of the very ominous mansion. Meanwhile, Paulson recently revealed at the TCA summer press tour that she'll primarily be reprising her Coven role as witch Cordelia Foxx, but will also appear as her recurring Murder House character, medium Billie Dee Howard.
And as Murphy couldn't revisit the series' first season without her, Jessica Lange—who departed the show after four seasons— will be making her grand return. Lange will be reprising her Murder House role of Constance, who was last seen raising the very troubled Michael Langdon in the Season 1 finale. Let's just hand her an Emmy right now.
Start preparing for the Apocalypse now, because AHS is set to premiere on September 12th.