The new tell-all "Fire and Fury" is basically a "burn book" about the entire Trump administration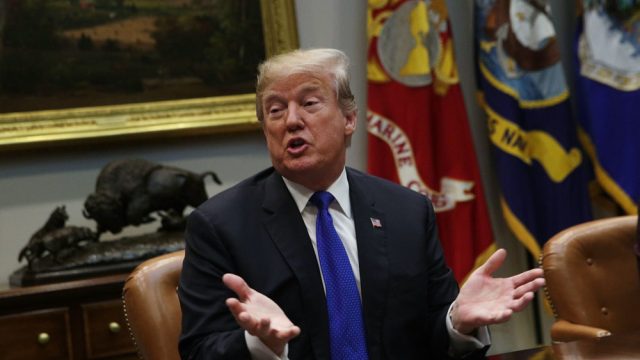 Michael Wolff's widely anticipated new book, Fire and Fury: Inside the Trump White House, is basically like the "burn book" in Mean Girls. Except it's all about President Donald Trump and his administration. In it, Wolff paints a portrait of a disorganized White House run by a president who cares about one thing, and one thing only – his image.
The controversial tell-all features behind-the-scenes details from Trump's campaign and administration, including how Rupert Murdoch thinks he's is an "idiot" and Melania Trump "was in tears – and not of joy" on election night when she realized her husband was going to win.
In the book, Trump is depicted as both ignorant and unhinged, with most of those closest to him not taking him seriously. Wolff told NBC's Today that White House staff described the president as childlike because "he has the need for immediate gratification. It's all about him. […] This man does not read, does not listen. He's like a pinball just shooting off the sides," he added.
And the book obviously isn't sitting well with POTUS.
https://twitter.com/udfredirect/status/949126530839572481
The author has also defended his reporting, saying that he stands by everything he wrote and that the president has no credibility.
"I absolutely spoke to the president, whether he realized it was an interview or not, but it certainly wasn't off the record," Wolff argued. "My credibility is being question by a man who has less credibility than perhaps anyone who has walked the earth."
Wolff revealed that Trump's response has been beneficial to him. "He's not only helping me sell books but helping me prove the point of the book," he said, adding that the idea behind Fire and Fury was to capture a sense of life in the Trump White House.
Needless to say, we can't wait to get our copy. You can buy one for yourself on Amazon now.