We finally know more about Finn's recovery in "Star Wars: The Last Jedi" following *that* lightsaber wound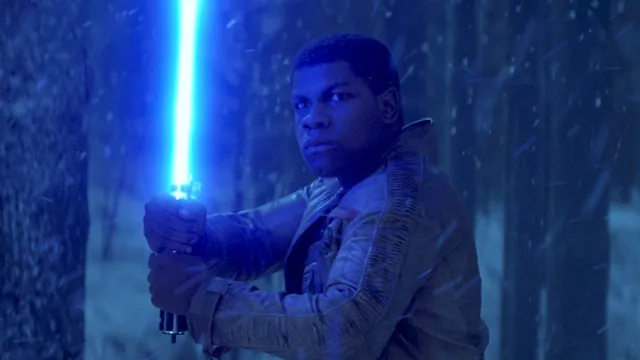 It's something that we've been wondering ever since we saw The Force Awakens: what happens to Finn in Star Wars: The Last Jedi following that lightsaber wound inflicted on him by Kylo Ren.
When the teaser for The Last Jedi dropped and people all over the world totally freaked out, we finally got to see Finn, and things weren't looking great. The former Stormtrooper was unconscious in a healing chamber recovering from his wound, and from what we've now gathered, it sounds like our hero could have an up-hill battle to recover fully from Kylo Ren's vicious attack on him.
https://www.youtube.com/watch?v=zB4I68XVPzQ?feature=oembed
In fact, speaking to Entertainment Weekly at this year's Star Wars: Celebration, John Boyega, who plays Finn in the movies, teased that his character would be in a "bad way."
"He has a lot of issues. He got slashed with a saber, and that took him down real hard, so he's in a coma," he teased. "That suit, that whole thing helps him to recover. But we're not sure whether that means he'll wake up."
While, clearly, Finn will wake up, Boyega said that it wouldn't be an easy recovery.
"There's some additional few things that need to be done to make him mobile. He's definitely in a place where he needs some help, he said. "It's a grounding injury. It's going to take him some time to get back on the ball. But when he does… oh, he does."
The British actor also shared the fact that, in The Last Jedi, Finn and a new character, a Resistance mechanic called Rose Tico, played by Kelly Marie Tran, would be thrust together for an adventure and a big mission to help the Resistance.
"The Resistance is under immense pressure, and it's time for them to get a bit of help," he revealed. "That's where Finn and Rose come in, and they're thrust into a crazy adventure."
Meanwhile, we got a brief glimpse at Finn, Rose, and, of course, Resistance fighter Poe Dameron on the cover of Vanity Fair yesterday (May 23rd).  The pictures, shot by renowned photographer Annie Leibovitz, teased a little bit about Finn and Poe — or to be specific how Finn is wearing Poe's outfit from The Force Awakens.
This special Star Wars 40th anniversary edition of Vanity Fair will hit newsstands next week in Los Angeles and New York City, and everywhere else the following week.
Star Wars: The Last Jedi is set to hit theaters on December 15th.