FINALLY: Nick Offerman and Megan Mullally are going to be on TV together again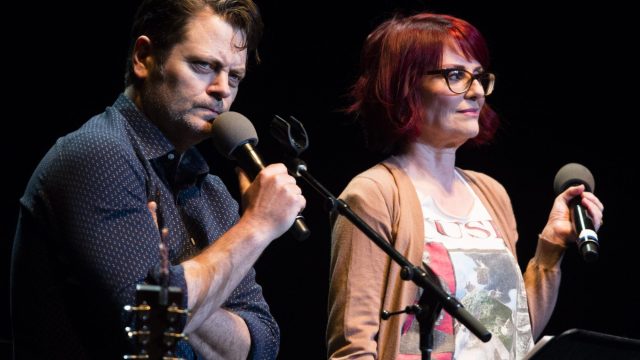 Real life comedy power couple, Megan Mullally and Nick Offerman, are joining the cast of CBS' Life in Pieces during its second season. I don't know about you, but I've missed watching these two on a weekly basis.
The funny duo will not grace the screen as a couple in the show per se instead, they will play siblings with a relationship that is "a little too close for comfort." According to Deadline.com, their characters share a bedroom with twin beds.
The siblings will act as parents to Clementine. Mullally will play Clementine's "free-spirited mother," Mary-Lynn while Offerman will play Mary-Lynn's brother, who Clementine refers to as "Uncle Dad."
Last time we saw the pair on television at the same was on NBC's Thursday night hit Parks and Recreation (R.I.P) as the tumultuous ex-husband and wife team, Ron Swanson and Tammy Two. So needless to say, it's been too long! Can't wait to see what these two have in store for us. Pretty sure it will be anything but boring. ?
Season two of Life in Pieces premieres October 27 on CBS.