We finally met Kim Kardashian's surrogate on "Keeping Up with the Kardashians"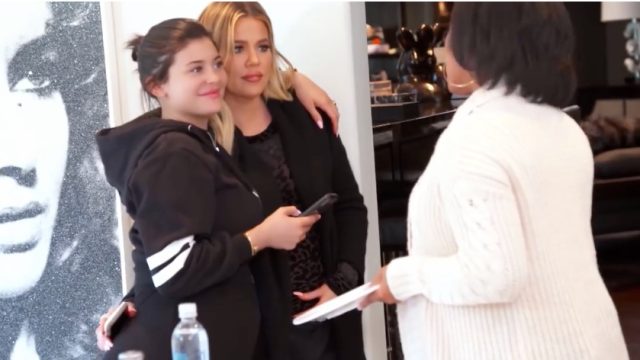 Ever since confirming that they would be using a gestational surrogate for baby #3, Kardashian superfans have been wondering if Kim Kardashian and Kanye West would reveal the identity of their surrogate: aka the woman who carried baby Chicago to term.
Since Kim confirmed she was using a surrogate last September, she's been candid about the entire process and how different it was from being pregnant herself. She discussed the journey in interviews, on social media, and on her show, Keeping Up with the Kardashians.
And though Kim did open up about using a surrogate on KUWTK, she was also very open about the fact that she wanted to protect her surrogate's privacy. Even though Kim and Kanye are two of the most famous people on the planet, not everyone wants that kind of public attention and scrutiny.
On the Season 14 finale of KUWTK, cameras were rolling when Kim's surrogate, identified as La'Reina, was introduced to the Kardashian-Jenner clan, though her face was kept off-camera in order to protect her identity.
https://www.youtube.com/watch?v=yESucoYiVsM?feature=oembed
"I like being pregnant. I know it sounds really weird. The pregnancy itself, you know, it just feels natural, like I'm supposed to do it," La'Reina, told the family.
She also bonded with Khloé and Kylie, since they were all due super close to one another.
https://www.youtube.com/watch?v=6dElKwtvBnY?feature=oembed
Still, Kim revealed that though she adores her surrogate, the decision to use one wasn't easy. "I didn't really know what to expect because I don't really know anyone that's gone through this," she said. "It was definitely not as easy as I thought it would be emotionally, but it's so worth it and our surrogate is such a nice person. My family absolutely loves her and I'm just so grateful."
We're so happy for the Kardashian-Wests and their beautiful new baby girl, Chicago.