For the final season of 'Downton Abbey,' the stars share their most memorable moments
Get ready to don your fascinators and poshest statement hats. After what's seemed like an impossibly loooong wait, the final season of Downton Abbey is set to begin in the U.S. on January 3. That's tomorrow, you guys! Our Anglophile hearts can barely handle the excitement. I might even be reciting this post aloud in a British accent as a I type. (I totally am.)
The stars from Downton have been out and about promoting their final season, and as we've been following their press tour, we've fallen even more in love with them. From their hilarious game of Cards Against Humanity to their even MORE hilarious (for real) attempt at American accents, we're ready to pack up and move to the abbey. It's a big house. You know they've got room for us. Just saying.
According to Variety, the latest stop on their whirlwind promo tour was at a gathering in New York where the stars opened up about their first impressions of the show and their most memorable Downton moments. What they had to say was a little surprising at times. For instance, did you know Tom Branson wasn't even supposed to be Irish at first? Seriously?! What in the world would an English Tom Branson have to argue about constantly with Lord Grantham? (Suggestion: Chocolate Labrador retrievers are actually cuter than yellow ones. Ooh, snap.)
Here's what some of our cast favorites had to say:
Elizabeth McGovern (Lady Cora): McGovern is apparently going to miss the ultra-spicy (relax, we're joking) bedroom scenes between Lady Cora and Lord Grantham. She said, "I'm going to miss regularly reiterating the plot with Hugh Bonneville in bed every night. They never had any sex." Careful there, Lord Grantham. That shady art historian from Season 5 might try and make another move.
Allen Leech (Tom Branson): Our favorite fiery chauffeur was originally supposed to be on the show for only three episodes and like we said earlier, the character wasn't Irish. According to Leech, "Having worked for weeks on my Yorkshire accent, they came back to me and said 'Why don't you play Irish?' I went 'Noooo.' But I was just delighted for the work."
Phyllis Logan (Mrs. Hughes): Logan's favorite part of Downton was Season 2, when the abbey became a makeshift hospital during the war. "I quite liked the war years," she said. "It thew up different challenges for the household. It made us all feel a bit more useful." Um, Mrs. Hughes actually seems like one of the more useful characters in the household on any given day of the week. I think she'd probably be a great candidate for Prime Minister. After all, she seems a little baffled about what to do after she retires from service. #careergoals
Kevin Doyle (Joseph Molesley): Like Tom Branson, Joseph Molesley was also originally scheduled for a 3-episode run. He's stuck around a lot longer than that, so it's a good thing Doyle made time for his Downton audition even though he was opening in a play at the National Theatre on the same exact day. He says, "I could have done without the audition, to be honest. I had to schlep all the way to Ealing and the theater director was screaming." But he's happy to still be around for the final season. Obviously.
Hugh Bonneville (Lord Grantham): Bonneville was pretty excited when he realized his onscreen wife would be Elizabeth McGovern. It seems Lord Grantham and Lady Cora had been married to one another before. A couple of times! "It's the third time we've played husband and wife," he said. "Third time lucky." One of those times, it would have been nice if Lady Cora had explained to Lord Grantham how to manage a household budget. The dude needs some help.
Michelle Dockery (Lady Mary): According to Variety, the character development of Lady Mary took Dockery pleasantly by surprise. Remember that messy business with Mr. Pamuk in Season 1? (Of course you do.) "She became so much more after that episode," Dockery said.
Dockery also had high hopes for being paired with Dan Stevens as Matthew Crawley. They'd recently worked with another on the 2009 film version of The Turn of the Screw. When she ran into Stevens on-set, Dockery says, "I thought, 'That could work.'" Which might be an understatement bigger than Lord Grantham's debts. These two were perfect together. PERFECT.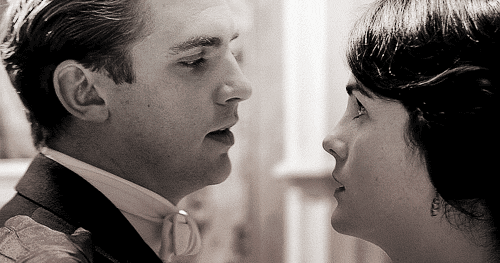 Brb, sobbing uncontrollably. Why do you hate us, Julian Fellowes, WHY?
We're still not over Matthew's horrible car crash in Season 3, but we'll never stop loving Downton. Don't bother calling us tomorrow night. We've got plans, and they involve a whiny Lady Edith and Dame Maggie Smith's dowager countess undoubtedly saying something awesome.
(Image via Shutterstock.)