Check out the Final Five finally getting to relax the way we all would!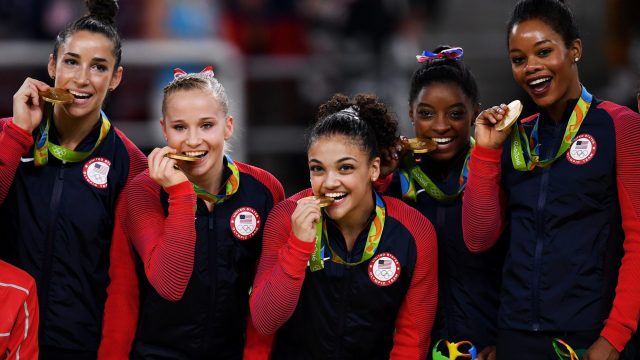 Gold medals? Check. Trip to Rio? Check. Reputation as the most badass female athletes with a spot at the very top of the gymnastics world? Check aaaand check for the U.S. Olympic Women's Gymnastics Team.
So naturally, it's time for some relaxation after a job well done and the TON of hard work that brought Simone Biles (who will carry the U.S. flag at the closing ceremony later today, and we can't deal), Laurie Hernandez, Madison Kocian, Gabby Douglas, and Aly Raisman so much bling in Rio. For these ladies, that equals BEACH TIME.
"Rio beach day," Biles captioned a Saturday shot of her five-medal-winning self (seriously, insane), team captain Raisman, and uneven bars silver medalist Kocian on the beach, sporting bikinis and rock-hard six packs because duh.
Biles also shared a cute video clip of herself and Kocian jumping into the air, with the ocean lapping against the sand in the background. Personally, I'd be over jumping at this point, but I get it. Celebrations, etc.
Biles also shared a Snapchat of herself and Hernandez lounging by a pool and listening to some tunes, because one can only take the sand for so long.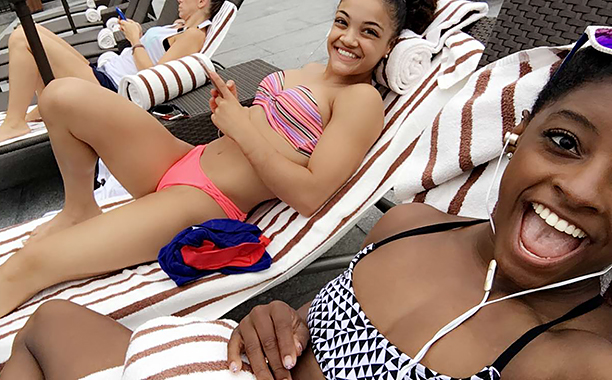 Honestly, the only thing missing from these photos (aside from Gabby Douglas, of course) is a shot of someone waiting on them and bringing them drinks with little umbrellas sticking out of them — virgin ones for all the under-21s, of course, which is everyone except Raisman. (Except you can drink at 18 in Brazil, so get it, everyone except Laurie.)
Enjoy, ladies! We'll be watching the closing ceremonies tonight (and crying, again). And when you get home, if you could just find time in your schedule to write us a Six Packs for Beginners manual, we'd really appreciate it. But no rush. We know you have medal hangers to buy and whatnot.