I went on Anastasia and Christian's Fifty Shades honeymoon — but all by myself
Mr. and Mrs. Grey will see you now…in Saint-Jean-Cap-Ferrat, France.
But actually, no joke. At least, it wasn't for me. I went to Saint-Jean-Cap-Ferrat, France, so I could honeymoon just like Fifty Shade Freed's sexy as hell newlyweds Anastasia and Christian. But *unlike* Anastasia and Christian, I went on this super romantic honeymoon for two by myself.
As a refresher, in Fifty Shades Freed, Ana and Christian go to Paris and the South of France to celebrate their #LURV. They sightsee and relax by the beach and, you know, get hot and heavy — this is Fifty Shades we're talking about, after all.
I got a little taste of the South of France portion of the honeymoon (minus the hot and heavy stuff), traveling there in celebration of the Fifty Shades Freed Digital and DVD release. Going into it, part of me thought that traveling through this whirlwind trip solo would be, ehem, "fifty shades of fucked up." Not because it didn't sound amazing, because, hello, it's a trip to France. But it also sounded romantic as hell, and romance is usually built for two.
But guess what? I didn't need NO MAN to have a romantic AF time. No, no, no, I did *beyond fine* on my own. (Translation: YES, I took a bubble bath each night, and had the time of my fucking life.) I'd even go so far to say I *thrived* on my own — to the point that if/when I get married, I might just have to go on my honeymoon by myself.
Sorry, potential/future husband, but after reading this, I think you'll understand my perspective on the whole solo honeymooning thing…
DAY 1: Timothée Chalamet, Hugh Jackman-a-Thon, and an Appetite for Adventure!
12:20 p.m. PST I leave for the airport, feeling a little bit weird because I rewatched Fifty Shades Freed (and all its honeymoon sex glory) with my mom, which is something I never thought I'd experience, but, well, here we are. BUT MOSTLY, I'm ready to go on Ana and Christian's honeymoon on my own.
1:09 p.m. PST I spot Timothée Chalamet at LAX and think A) Man, I loved him so much in Call Me By Your Name and Lady Bird, and I can't wait to see his new coming of age movie, Hot Summer Nights, and B) Is this a sign that I should go on a "honeymoon" with Timmy Tim? And C) At what point will my boyfriend get annoyed with the "I'm so alone on this honeymoon" jokes, and the "when will Timmy Tim date me" ponderings? (Hopefully never, because they will literally never stop.)
1:47 p.m. PST I also spot a very cute dog — small, white with brown spots, big brown eyes, and a sad little whimper, because this doggo doesn't seem to like traveling — and I think, "If this whole 'honeymoon' thing doesn't work out, I'm very comfortable, arguably TOO comfortable, being a professional dog lady."
3:26 p.m. PST In the past, when I've traveled by myself, I found myself wondering, "Is there meet cute potential here?" And every time…there wasn't. Even if I were single, this would be no exception, as I sit down next to a very unfriendly man, who I'm already afraid to eventually ask to let me through to go to the bathroom (I'm about that window seat life, baby).
But it's okay, because I'm about to reacquaint myself with a friendly man — Hugh Jackman — and double feature The Greatest Showman and Les Misérables. There's literally no way I'm not going to watch Les Miz while EN ROUTE TO FRANCE (if there's one thing I need, it's to hear the people sing), nor will I pass up the opportunity for a Hugh Jackman-a-Thon. Dear readers, be honest, is this #solohoneymoon already too hot to handle? Because it's HOT IN HURR from where I'm sitting on this Lufthansa plane.
4:42 p.m. PST Speaking of HOT IN HURR, as I'm crying watching Zac Efron run into the fire to save Zendaya, and then Hugh run in to save Zac, I can't help but think…Ana and Christian would probably be joining (more likely, revisiting) the Mile High Club right about now. Here I am, a blubbering mess, and they'd probably be going to BONETOWN. I think this again when I start bawling when Hugh dies at the end of Les Miz.
8:23 p.m. PST With puffy eyes — perhaps the puffiest eyes of all time, she writes, not being even a little bit dramatic — I drift in and out of sleep. I desperately try not to konk out on the unfriendly man sitting next to me, but we all know how these things go. This is perhaps the only time I actually wished #solohoneymoon was #normalhoneymoon, but literally just so I would have a shoulder to sleep on.
DAY 2: Plane Clothes, The Nicest Hotel I'll Ever Stay In, and All the French Sugar!
11:51 p.m. CEST Continuing to live the ~ lavish life of luxury ~ the Greys are alllllll about, I find myself having to run like my life depends on it to make my connection in Frankfurt, Germany. My dad always makes Amazing Race jokes when I travel and this is no exception, as he'd sent a "France is waiting for you. Good luck. Travel safe. Go!" text. And his joke was never more appropriate, because I made said connection with only minutes to spare. But actually, tho; another reporter missed the flight for stopping to go to the bathroom. THE BATHROOM, PEOPLE.
2:29 p.m. CEST My luggage is missing, which makes sense, in retrospect, since I barely got on the plane. So, I guess I'm honeymooning in my go-to "plane clothes," AKA my leggings and oversized denim jacket? The Fifty Shades movies have become increasingly more fashionable, and TBH, I feel like I'm right up there with Ana. She has her beautiful, form-fitting gowns, and I have LEGGINGS WITH POCKETS FOR CONVENIENCE. Talk about sexy and sultry, without even a hint of sarcasm…
4:05 p.m. CEST I get to the hotel, and it's not just any hotel; it's the famous and, as Ace Ventura would say, b-e-a-utiful Grand-Hôtel du Cap-Ferrat. I immediately and simultaneously feel like such a baller, and like I don't belong, in case my Ace Ventura reference didn't give the latter away. But, that's sort of the point — to go on a next-level honeymoon, unlike any honeymoon I'd go on IRL, right? Right! So, I immediately embrace the extravagance, starting with a glass of rosé out on the terrace that's overlooking the French Riviera. And holy shit, it's more stunning than I can put into words, and while I can already tell I'm about to have an Insta field day, photos won't do it justice.
6:47 p.m. CEST When I get up to my room, I immediately beeline for the three macaroons waiting for me, and eat them in under three minutes. (Because, as the age-old expression goes, if you go to France, but don't eat literally all the macaroons, did you even go to France?) I also embrace that #BATHROBELYFE, slippers and all, and take the most epic nap. Sure, it helps that I'm jet lagged AF, but can anything really beat falling asleep with the windows open, letting the French Riviera breeze in? That's obviously rhetorical.
7:32 p.m. CEST I head down to a meet and greet cocktail and dinner reception, looking fancy and fresh as hell in my "plane clothes." The hotel did provide me with a white tee, so at least I got that laid-back Ana cooking dinner for Christian look, but I definitely feel a bit silly walking into the hotel's gorgeous Club Dauphin — decorated with lush flowers and light installations on par with that of the Grey wedding, with an infinity pool and the ocean nearby as the cherries on top — feeling all Lufthansa'd up. But hey, there's nothing that an Aperol Spritz can't fix.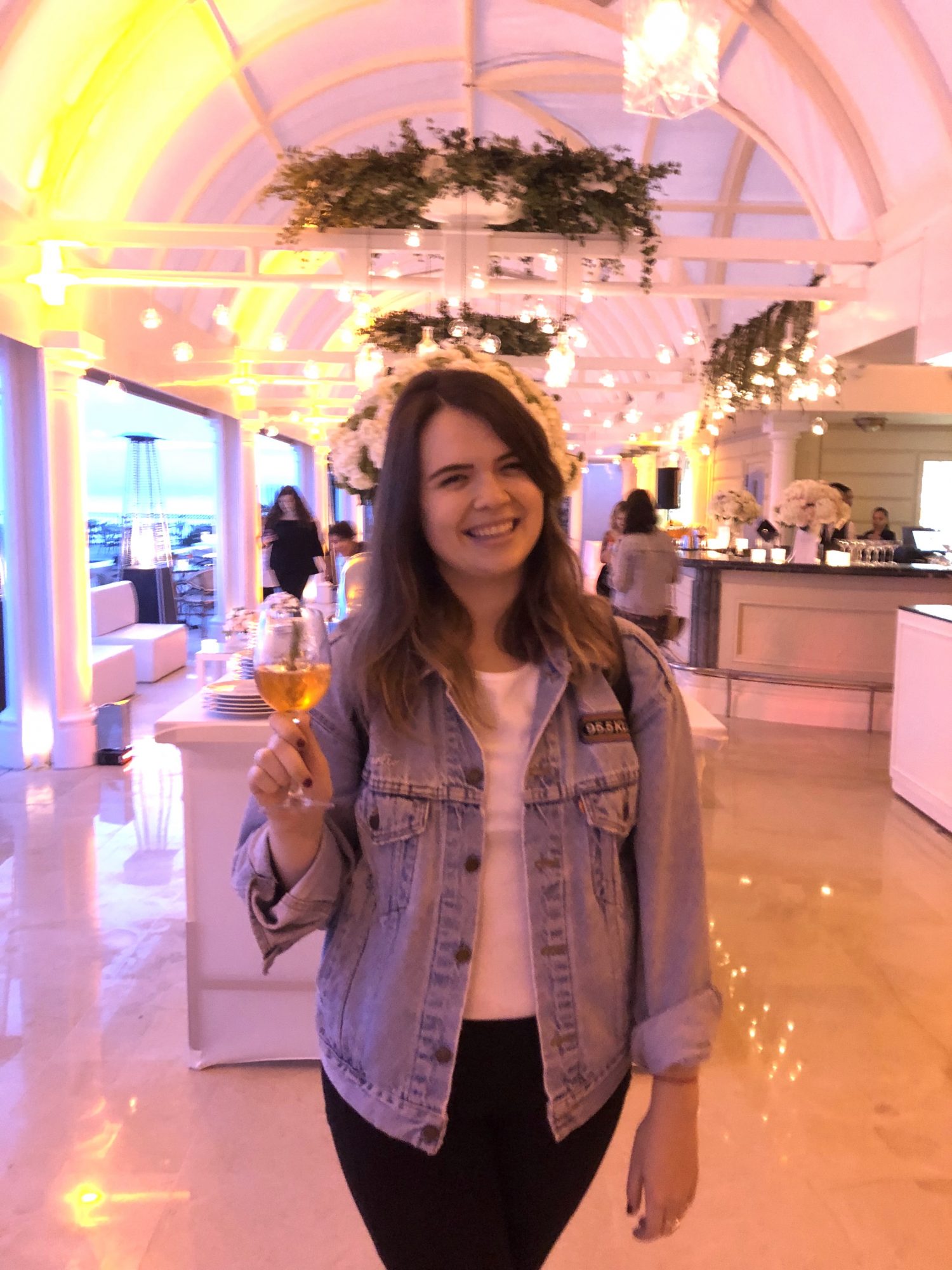 8:03 p.m. CEST The drinks keep flowing and flowing, and we're surrounded by seafood platters: Oysters, escargot, tuna, and so on. Later, the chefs bring out a cake with literal pyrotechnics. Like, the cake is set on fire to the tune of Rita Ora and Liam Payne's soundtrack song, "For You." It's the most perfectly extra sugarfest I've ever experienced, and I still can't believe I am where I am right now.
10:28 p.m. CEST I head back to my room, because even the most intense night owl, like myself, is no match for jet lag + sugar coma. And the bed — which is beautiful and white and comfy, and fit for a cream cheese commercial because, you know, they're often set in heaven, and that's what this bed is…HEAVEN — welcomes me into the deepest sleep. So yeah, I'm a far cry from the inevitably steamy honeymoon night #1 Ana and Christian must have had, but like, I'M LIVING A DIFFERENT KIND OF BEST LIFE.
DAY 3: Chatting Up the Cast, Strolling Through the French Riviera, and Ballin Out in Monte Carlo!
8:32 a.m. CEST I never order room service, but here, in the South of France? I'm all for it. Ana and Christian have personal chefs, so I'm just going to consider this is me going sort of method. I order a cappuccino (there's not enough French coffee in the world by my standards), orange juice, and granola, and take my breakfast while looking out at my beautiful view. This must be The Good Place.
[tempo-video id="5782702620001″ account="4607804089001″]
11:13 a.m. CEST I catch up with Christian's sister, Mia — aka Rita Ora — and she answers one of my most burning questions: Did Jamie Dornan come to her for pointers for his take on "Maybe I'm Amazed" in Fifty Shades Freed? Turns out no, largely because Jamie was in a band back in the day, Sons of Jim, so he knows a thing or two about music. Considering, I for one wouldn't hate it if we got a 'lil more from this voice of an angel — perhaps, a collaboration on Ora's upcoming U.S. debut album? Just sayin'…
[tempo-video id="5783851309001″ account="4607804089001″]
12:33 p.m. CEST I catch up with Ana and Christian's tormentor, Jack Hyde — aka Eric Johnson — and he's nothing like his obsessive and dangerous character. Which is to say, he's a D-E-L-I-G-H-T-F-U-L human being with a beautiful beard, who indulges my questions about what facial hair tips the Vikings cast gave him, as he's joining the show for Season 6. Not to mention, he's more than happy to reminisce on his Smallville days when I tell him my roommate is currently rewatching and obsessing, and now I'm wondering if I should have been #TeamWhitney over #TeamClark all along???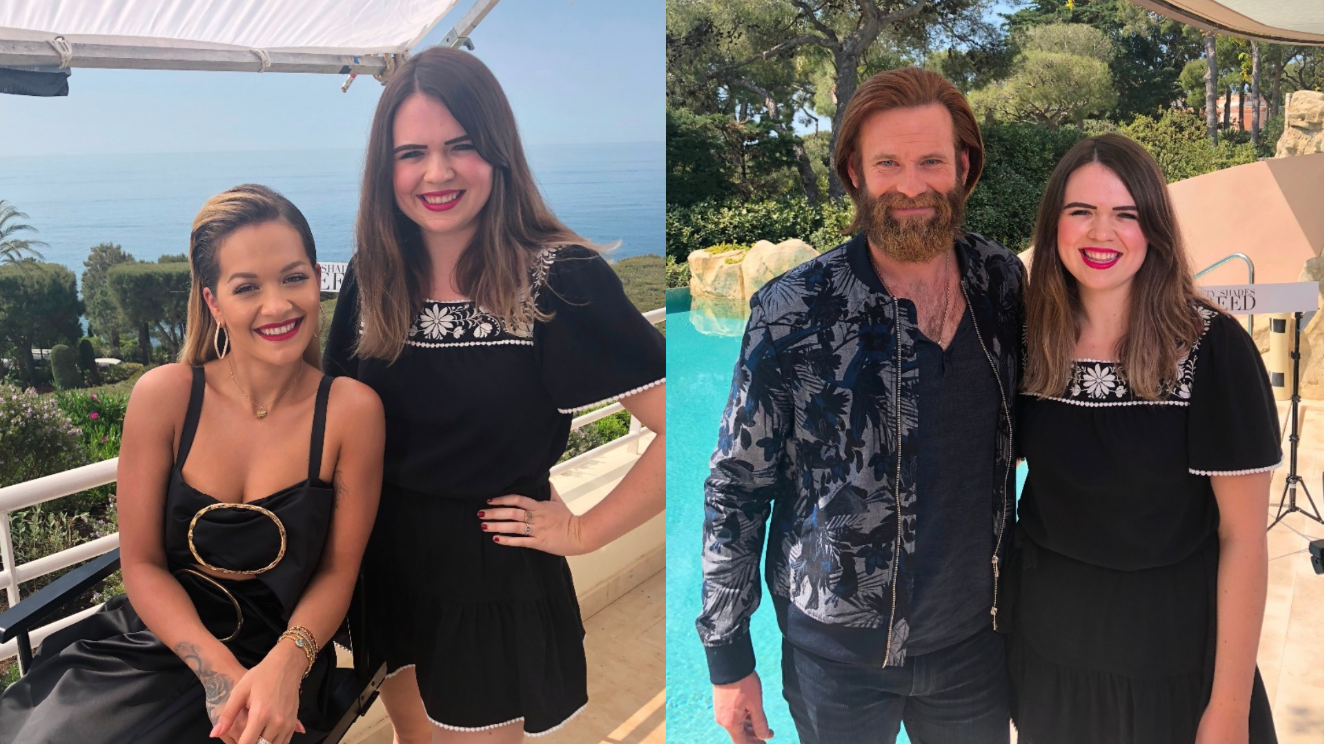 1:32 p.m. CEST Done with interviews, a fellow reporter and I — there are about 20 of us on this trip but, like, it's not the same as having an S.O., you feel? — decide to check out a local, nearby village. But before we do, a hotel staffer treats us to champagne on the terrace, so we cheers and sip as we look out at the greenery and water. And like, how do I get me a private jet, like the Greys, so I can travel here all the time?
2:31 p.m. CEST We take a stroll by the water and head to the village, and the view is absolutely breathtaking. And as we're walking around the striking French Riviera I can't help but wonder, was Timmy Tim traveling for work or play? How's his time abroad going, and any chance he's in Saint-Jean-Cap-Ferrat? (Again, sorry, boyfriend!)
4:56 p.m. CEST Shortly after, we end up walking through Nice, all the way to Villefranche-sur-Mer, and I have the craziest blisters ever to prove it. (It's true, like Ana and Christian, I too am a sexpot.) But enough about my blisters, because what matters most is that this place is next-level beautiful. Someone make a montage out of this trip, like, yesterday — and add that to the DVD special features.
8:29 p.m. CEST We rejoin the group and have dinner at the Fairmont Monte Carlo, and once again, I find myself in a place I don't actually belong. The hotel is flanked by expensive, extravagant cars at every turn, including a purple one with a garden gnome ornament flipping the bird (seriously); it might as well be The Fast and the Furious: Monte Carlo Drift. But, I pretend that I'm a complete and total baller, Dwayne Johnson style, and take in the sights, food, and drinks, and in a feather-y dress at that (because what better place to don your fashionable feathers than Monte Carlo?).
10:34 p.m. CEST Speaking of ballin the eff out, we head over to the very luxurious Monte Carlo Casino after dinner, where I promptly lose 20 euros playing a machine version of Blackjack in which I'm betting a single credit at a time. Like I said, BALLIN THE EFF OUT.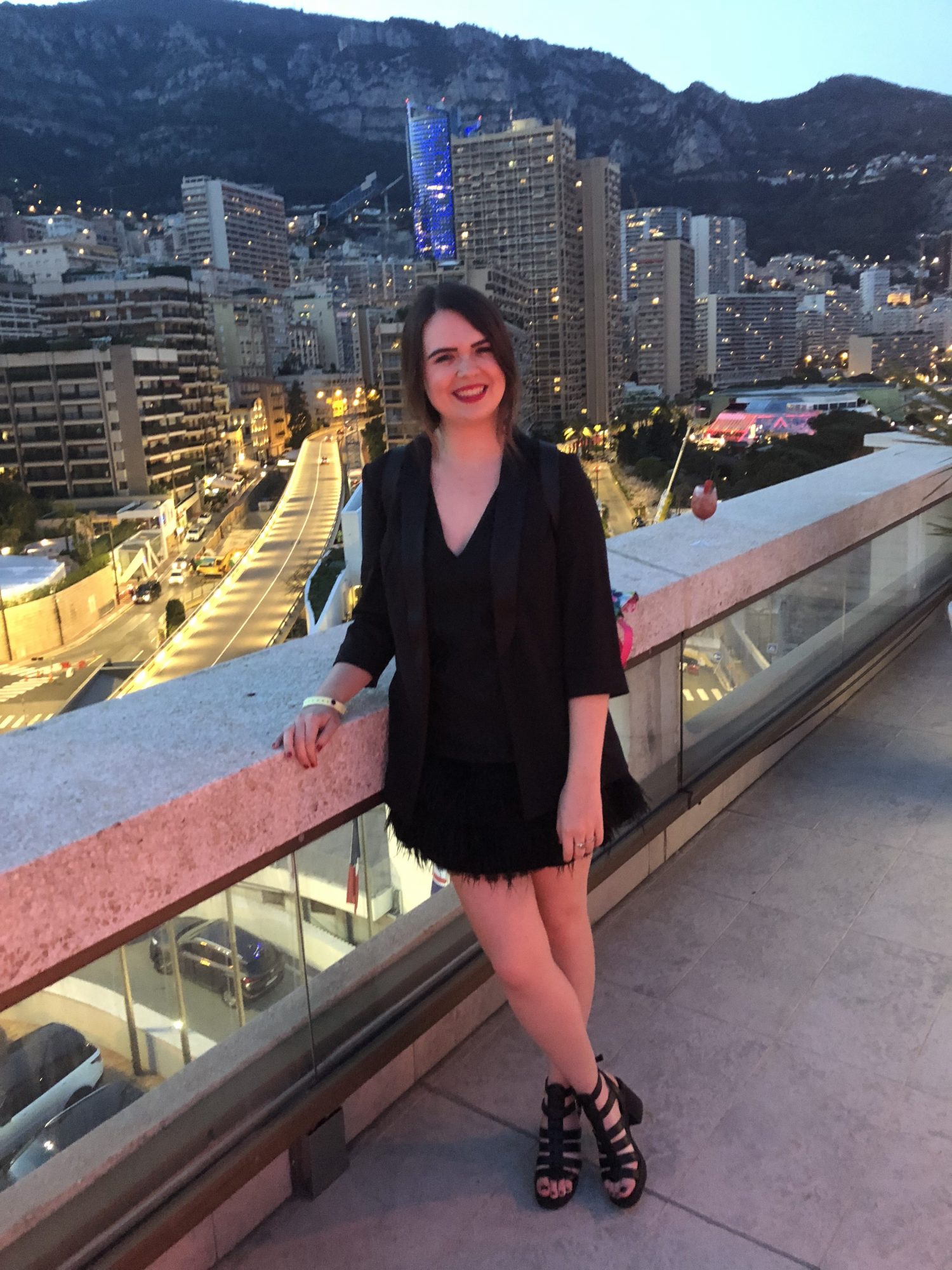 DAY 4: Visiting a Romantic Castle, Paying Tribute to The Lonely Island, and Toasting Goodbye!
12:23 p.m. CEST Our 'lil team of journalists head to Roquebrune-Cap-Martin, and walk around the medieval village as we make our way to the local castle. I notice an apartment for sale — there's a Century 21 listing — and I make a mental note to look it up, put in an offer, and work/freelance from France. Easy, peasy, macaroon squeezy, right? (Another age-old saying!)
12:44 p.m. CEST We get to the castle, and up top is a spot where production filmed Ana and Christian canoodling, flanked by a crazy beautiful backdrop. So OBVIOUSLY, I recreated that photo — but by myself — and this is definitely peak #solo in #solohoneymoon.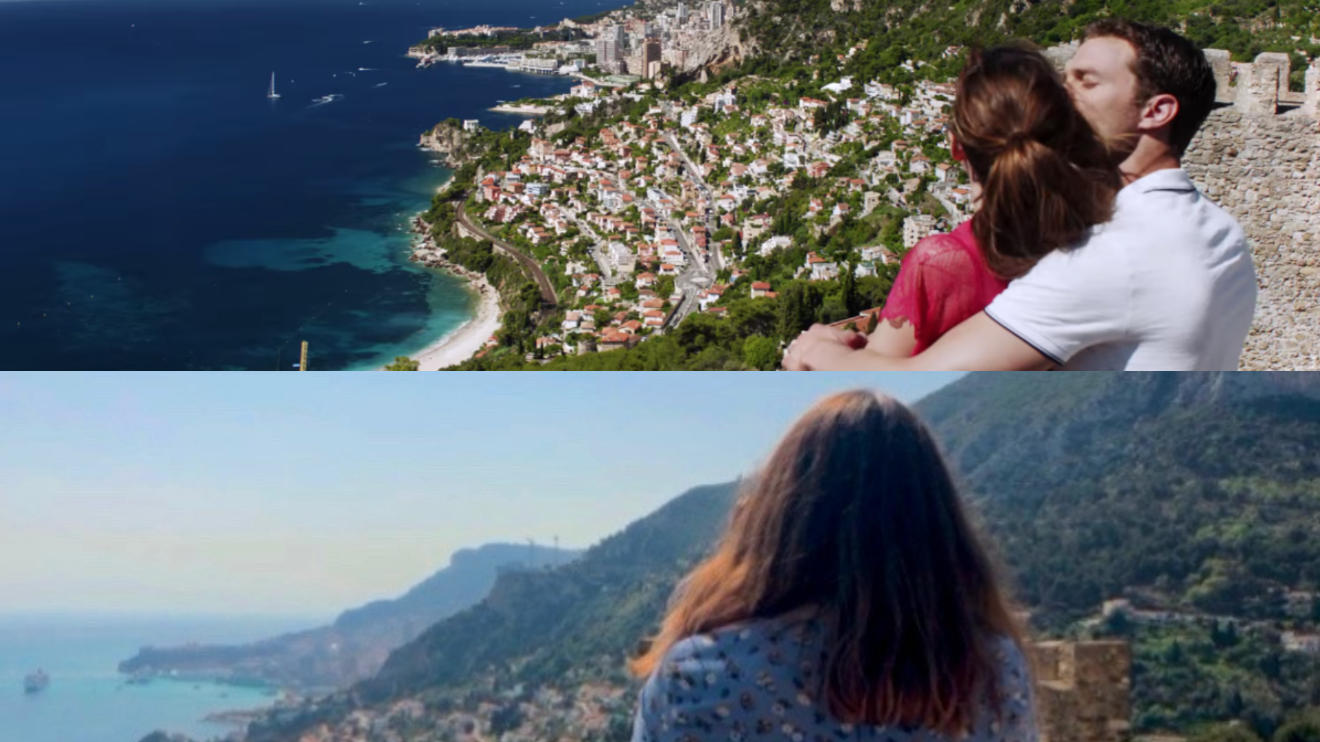 1:26 p.m. CEST We have lunch at a hotel-restaurant, Les Deux Frères, and I make about 174252473095 The Hills jokes in my head. Because, you'll recall, LC and co. frequently partied/fought/got real dramatic at Les Deux nightclub. But back to Les Deux Frères, the food was ah-mazing. Between some finger lickin' chicken and an almond cake that I'll dream about for the rest of my life, I've had so much to eat, I'm about to swell up like Violet Beauregarde in Willy Wonka & the Chocolate Factory, and I accept my fate.
4:42 p.m. CEST Nothing like putting on a bathing suit right after stuffing your face, amirite? We make our way to Paloma Beach, which is where Ana and Christian sunbathe and jet ski in the movie. And like Ana, I definitely check out my hubby emerging like a glistening god from the water, except my hubby is imaginary because, in case you somehow missed the message, this is a #SOLOHONEYMOON.
5:41 p.m. CEST Getting back to life, back to reality, I jump into the cold AF waters and at first I think, "Hey, this isn't so bad." And then, very shortly after, "WHAT HAVE I DONE, SWEET JESUS, WHAT HAVE I DONE?!" (Honestly, It's a miracle I've made it this far without making another Les Miz joke.) This is one of the colder moments of my life, and I realize that's not saying much being a West Coast girl, BUT STILL. It's so cold that snot immediately comes rushing out of my nose, and once again, I find myself feeling just as sexy, if not more, than Ana and Christian, who would've been having #BOATSEX right around this time in the movie.
6:15 p.m. CEST I dry off, get a glass of rosé, and take a dinghy out to a boat to ride around the waters, and immediately blast The Lonely Island's "I'm On a Boat," which I'm pretty sure is a requirement for any 2000s-era kiddo in this situation. So it isn't #BOATSEX, but I'm having the B-E-S-T time, to the point where the captain has to practically kick me off his vessel, and okay fine, aye aye, cap.
8:32 p.m. CEST We have dinner by the water — and yes, I'm still so full, but snack anyway — and wrap up as the sun slowly sets. I think to myself, "No, THIS is The Good Place."
9:17 p.m. CEST Because I haven't had nearly enough to eat on this trip, some reporters and I — hey, I made more friends! — nightcap with wine and French fries. (Or, I guess just "fries" since we're in France???) Later, we have goodbye champagne on the terrace, bringing it full circle, and I'm hit with the harsh reality that I'll never EVER in my life stay in a hotel this nice again — but actually, Elizabeth Taylor apparently stayed here back in the day.
DAY 5: Praying for a Time-Turner to Make Even More of the Trip, and Accepting My Fate (and Jet Lag)!
6:31 a.m. CEST I wake up with the sun, and mentally prepare myself for the longggg journey home to Los Angeles. By the time I'm back, I will have traveled almost as long as I was in France, but it was well worth it. And to help soften the jet lag blow, I take some room service croissants for the road.
9:07 a.m. CEST AND, I hit the gift shop at the airport HARD upon getting through security. I'm talking wine, jam, candles, sweets. Because I didn't do nearly enough shopping damage in this whirlwind of an adventure, and like, I just want to make Christian proud by picking up some dope ass French goods. (Okay, maybe he would just import the finest of the finest back, but you get the idea.)
11:53 a.m. CEST I make it to Paris, where I have a brief layover, and prepare for the long journey home. An airport official tells me — and a couple reporters I'm traveling with — a bunch of people on the flight are heading to Coachella and, like, I thought I understood the magnitude of Beychella before, but this is a wholeeeee other level.
1:52 p.m. CEST I fall in and out of sleep, which is kind of a small miracle since I'm terrible at sleeping on planes, but that's what waking up with the sun will do to you. And I watch Collateral Beauty — Helen Mirren at her absolute best-worst — and Call Me By Your Name — you didn't think I would miss out on the opportunity to bring Timmy Tim full circle too, did you? — throughout. Honestly, I've never been more proud of myself than I am right now with my plane movie picks. There's just such a specific art to a plane movie and I am thriving. Now, to put this down as a skill on my LinkedIn. Endorse me?
3:59 p.m. PST I make it back to L.A., and I am jet lagged like no other, but feeling like I did right by Ana and Christian, that I made the most of my brief time abroad. Now, can I get married already, so I can #solohoneymoon for real??? Until then, I'll be reliving the experience, watching Fifty Shades Freed over and over again.
Fifty Shades Freed is available on Digital right now, and lands on Blu-ray, DVD and On Demand May 8th.