A new "Fifty Shades Freed" trailer is here, and it drops some big baby news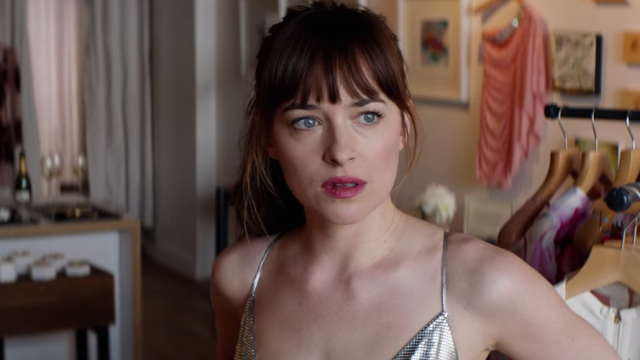 [brigtcove videoid=5637260539001]
Brace yourselves: The latest trailer for Fifty Shades Freed has been released, and it's about as bonkers as you would expect from the erotic-romance-turned-action-drama trilogy.
We open on a walk down Fifty Shades memory lane with a montage of clips recounting Anastasia Steele (Dakota Johnson) and Christian Grey's (Jamie Dornan) iconic relationship throughout the first two films — from that fall in Fifty Shades of Grey to the proposal at the end Fifty Shades Darker. But just because Ana and Christian are finally settling down to a "vanilla" life as a married couple doesn't mean things will get any easier.
In fact, it turns out married life is anything but boring, because the newlyweds are facing more obstacles than ever.
The final chapter in the Fifty Shades trilogy picks up where Fifty Shades Darker left off, drama-wise, as the trailer features a fist fight, two high-speed car chases, the return of Ana's stalker ex-boss/nemesis Jack Hyde (Eric Johnson), a hostage negotiation, multiple guns being drawn, and at least two women trying to derail Christian and Ana's relationship.
Remember when the most drama this film franchise included was over a BDSM contract? As if it weren't already wild enough, the final seconds of the trailer drops yet another bombshell: Ana's pregnant.
https://www.youtube.com/watch?v=8V08Gu1DOgE?feature=oembed
Yep, after nearly two minutes of pure drama, we're left hanging with a casual, "It seems you're pregnant, Mrs. Grey." What now?
Kim Basinger, Marcia Gay Harden, Luke Grimes, Eloise Mumford, Rita Ora, Max Martini, and Callum Keith Rennie all reprise their roles from the previous Fifty Shades films while Arielle Kebbel, Tyler Hoechlin, and Brant Daugherty are all joining the cast for the final installment.
Cancel your Valentine's Day plans now because, as the trailer so elegantly puts it, you're not gonna want to miss the "climax" to this dramatic trilogy. Even if you're not a massive fan of the films, you have to admit, you're probably a *little* curious as to how this film suddenly became the Fast Five of erotic romance movies.
Fifty Shades Freed hits theaters on February 9th, 2018.