"Fifty Shades Freed" ends with a non-sexy montage that is making everyone cry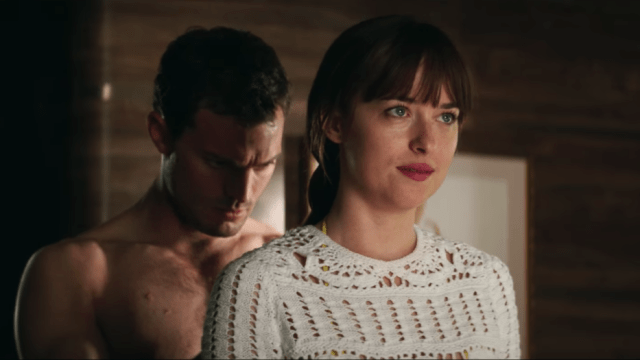 With Fifty Shades Freed, the love story between Anastasia Steele and Christian Grey finally gets the happily-ever-after it deserves. Some *light* spoilers here, but the film ends with a montage that looks back at the sexiest, most romantic moments from the trilogy. It's backed by "Love Me Like You Do," which is just perfect. The thing is, though, fans were not expecting this from Fifty Shades Freed. And based on Twitter reactions, if you still haven't seen Fifty Shades Freed in theaters, you'll want to bring tissues with you. A lot of tissues.
Just take a look at what fans are saying about the montage in Fifty Shades Freed:
Some fans felt all the feelings.
"Chills when they did the montage of the entire Fifty Shades trilogy at the end," one fan wrote. Another echoed with, "Fifty shades freed was pretty good. the last little montage with love me like you do playing gave me feels."
And hey, it's a lot for people to process! They didn't know this would be happening, after all. And this is the (v. emotional) end of an era. All things considered, it makes sense, then, that others flat out cried. Like, really cried.
false
https://twitter.com/udfredirect/status/963013035668463616
Let it all out, Fifty Shades Freed fans. You've earned this.
Not only were emotions flowing, but more than one fan felt #blessed by the movie (and the moment).
And some understood that this Fifty Shades Freed montage *really* means the trilogy is over. But like, don't cry because it's over! Smile because it happened. When you're ready, of course.
https://twitter.com/udfredirect/status/961818534308229120
So, the lesson here? If you haven't seen Fifty Shades Freed just yet, you'll def want to prepare for it emotionally — likely more than you were even planning to. Grab your friends, your partner, and pack extra tissues. Practice your best sighs, swoons, and gasps, because Fifty Shades Freed is in theaters now — and this montage is guaranteed to make you feel so, so many feelings.
Doesn't it seem like only yesterday that Ana was tripping her way into Christian's heart?