Fifth Harmony may have hidden a secret message about their future together in their final music video, and Harmonizers are freaking out on Twitter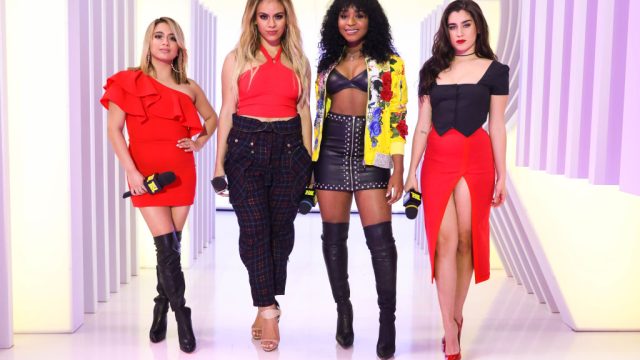 We love a good cryptic clue, and this might be one of the best yet. Ever since Fifth Harmony announced they'd be taking a hiatus to focus on their solo endeavors, fans have been not-so-secretly hoping that they might reconsider the break. And in Fifth Harmony's final music video before their hiatus, it seems the band members have left a subtle hidden message about their future together. Harmonizers are taking to Twitter to express their emotions about what it all might mean.
The group just dropped a music video for their final single, a searing ballad called "Don't Say You Love Me." The video offers gorgeous visuals for an equally beautiful song, showing each band member singing separately in an airy, lofty warehouse and wearing ultra-glam gowns.
Toward the end of the song, the members join together, linking hands in a circle, before each one leaves the room, closing the door behind her. But when the last member, Ally, goes to leave, the door remains open. Many fans think it's a subtle nod to the future of Fifth Harmony, and that things might not be over for good.
We're not crying, you're crying.
https://www.youtube.com/watch?v=ju_inUnrLc4?feature=oembed
Of course, the group hasn't discussed future plans just yet, only revealing that they're taking the time to "grow creatively" and find their footing as individuals. But the Harmonizers are hoping that the end of the "Don't Say You Love Me" video signifies that things aren't quite over for Fifth Harmony.
https://twitter.com/udfredirect/status/997378678139961345
Of course, the door left open could symbolize each singer opening the door for new opportunities, which certainly seems likely given that they're separating to pursue solo endeavors. false
https://twitter.com/udfredirect/status/997376012899049477
false
Only time will tell what the future holds for the group, but we do know that fans are wishing their faves the best. Don't mind us, we're just gonna keep "Don't Say You Love Me" on repeat all day with some tissues by our side. We're fine, really. We promise.