Everything we know about Supreme Court nominee Merrick Garland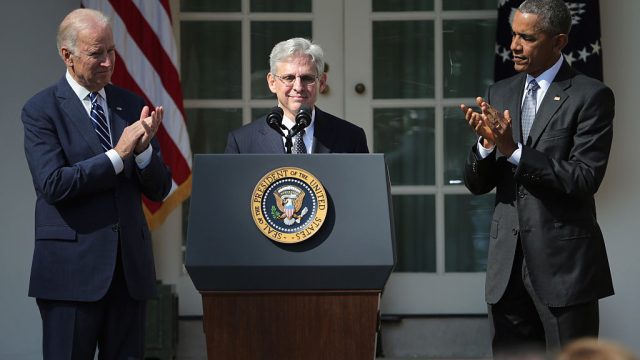 It was announced this morning that President Obama would nominate Judge Merrick B. Garland to be the next Supreme Court Justice, following Justice Antonin Scalia's passing in February. Obama introduced Garland to a captive audience in Washington D.C. this morning, describing him as "exceptionally qualified."
He also called him "one of America's sharpest legal minds," as well as "someone who brings to his work a spirit of decency, modesty, integrity, even-handedness and excellence." While these words instill confidence, we still wanted to learn everything we could about this choice and the implications Garland's potential confirmation might have on future Supreme Court decisions. Here's what we learned.
First, who is he?
Garland, was born November 13, 1952, in Chicago, Illinois. His pedigree is all Harvard — he graduated from Harvard College summa cum laude in 1974 and then from Harvard Law School magna cum laude in 1977, after which he started his career in law immediately. One of his first jobs was as the assistant to the Attorney General, a post he served from 1979 to 1981. He then joined law firm Arnold & Porter, and became partner only 4 years later (something incredibly hard to do). He later became Assistant U.S. Attorney in D.C., and worked on cases dealing with everything from drug prosecution to corruption.
After a short while, he began his time serving in the Clinton administration, and quickly rose in the ranks. Bill Clinton eventually nominated him to serve on the D.C. Circuit, and thus began his time in Federal judicial service. He has been serving on the D.C. courts for 19 years, and is now serving as the chief judge of the United States Court of Appeals for the District of Columbia Circuit.
Where does he fall on the left/right spectrum?
Garland is actually a well-known moderate (or centrist), which is partially why he's such a smart choice in the current election climate. While he would likely align himself with more of the liberal members of the court, he's not necessarily a liberal himself, and is viewed as more of a centrist — especially when it comes to cases like national security.
Why did Obama choose him?
It's likely that Obama made this choice to appease both sides of the political playing field. Many are reporting that he is essentially daring Republicans to overturn this nomination, as Garland will likely help usher in decisions on the court that will please both parties, or at least not upset either side too much. Many Republicans and Democrats alike have publicly praised Garland, thus making it difficult for anyone in the current race for the White House to speak out against this choice. It seems that he will still be able to move the court in a progressive direction while maintaining order.
What will he bring to the court?
Beyond his undeniable qualifications, Garland will bring a unique perspective to the Supreme Court. At 63, he is the Supreme Court's oldest nominee since Justice Lewis Powell's naming in 1971. He's also from the midwest, and many of the other members of the court are from either New York or California. These two factors would make Garland a unique member, and he could offer a different eye to pertinent issues. He's also ideologically more liberal than many of the other court members (as stated in a study conducted by a group of political scientists), so it will be interesting to see how this all plays out if he's selected to serve.