Our favorite fictional boy band just reunited for a perfect "That Thing You Do" reunion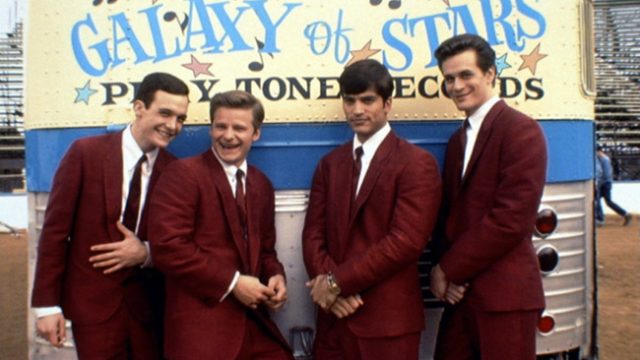 Last night, three-fourths of The Oneders reunited to play "That Thing You Do," and our nostalgic hearts exploded. Tom Everett Scott (Guy Patterson), Johnathon Schaech (Jimmy Mattingly), and Ethan Embry (The Bass Player), who starred in the 1996 film of the same name, reunited at The Roxy to play their hit song.
The film, which was written and directed by Tom Hanks, follows the rise and fall of a band in the 1960s. Missing Steve Zahn, who played fourth band member Lenny Haise, and Tom Hanks who also played A & R rep Mr. White, the trio reunited at the most recent Goddamn Comedy Jam, a monthly comedy event.
If you thought The Oneders could just play a show without Lenny, rest assured, they had photos of Zahn and a cutout mask of his face — so really he was there in spirit.
Prior to the show, Scott teased the appearance, writing, "Tonight at the Roxy their might be a little surprise for TTYD."
Embry took to Instagram to share his thoughts on the reunion. He wrote,"Tonight was so damn fun. For some reason I felt 16 again."
Hopefully, The Oneders don't go 21 years without another reunion! We also hope to see the entire group together again, soon.