9 Festive Cocktails to Serve at Your Friendsgiving That Will Win You Best Host
These autumnal, boozy drink recipes will get you and your guests feeling loose and ready for all the food.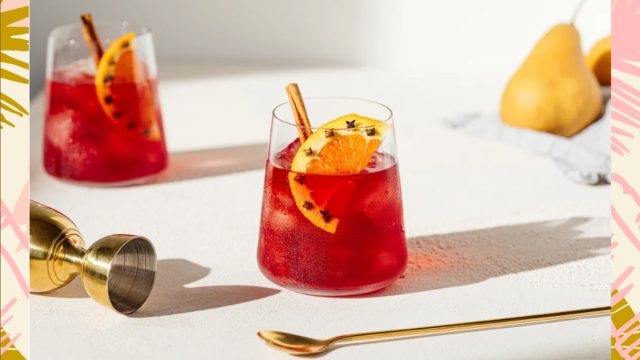 If you're hosting Friendsgiving, you're going to want to have a few cocktail recipes up your sleeve that you can quickly whip up to serve to your thirsty guests, or prepare ahead of time in big batches so that guests can simply pour one for themselves.
We've got your back with several easy-to-make boozy beverages that are fun, festive, and bound to impress your guests. From an apple cider margarita to pumpkin Old Fashioned, these fall-inspired cocktails will complement your feast and make any Friendsgiving or Thanksgiving dinner extra special. Plus, some of them are just downright pretty to look at in your fancy glassware!
Here are some festive and delicious cocktails —plus one non-alcoholic mocktail version — to serve as the skilled and generous host that you are.
1. Cointreau Apple Cider Margarita
Makes 1 serving
Ingredients:
1 ounce Cointreau
2 ounces tequila
1 ounce fresh lime juice
1 ounce apple cider
Method: Add all ingredients into a cocktail shaker and shake until well chilled. Strain over ice into glass. Garnish with a cinnamon stick.
Related: The 7 Best Thanksgiving Episodes of All Time That You Need to Watch
2. Bubbly Cranberry Classic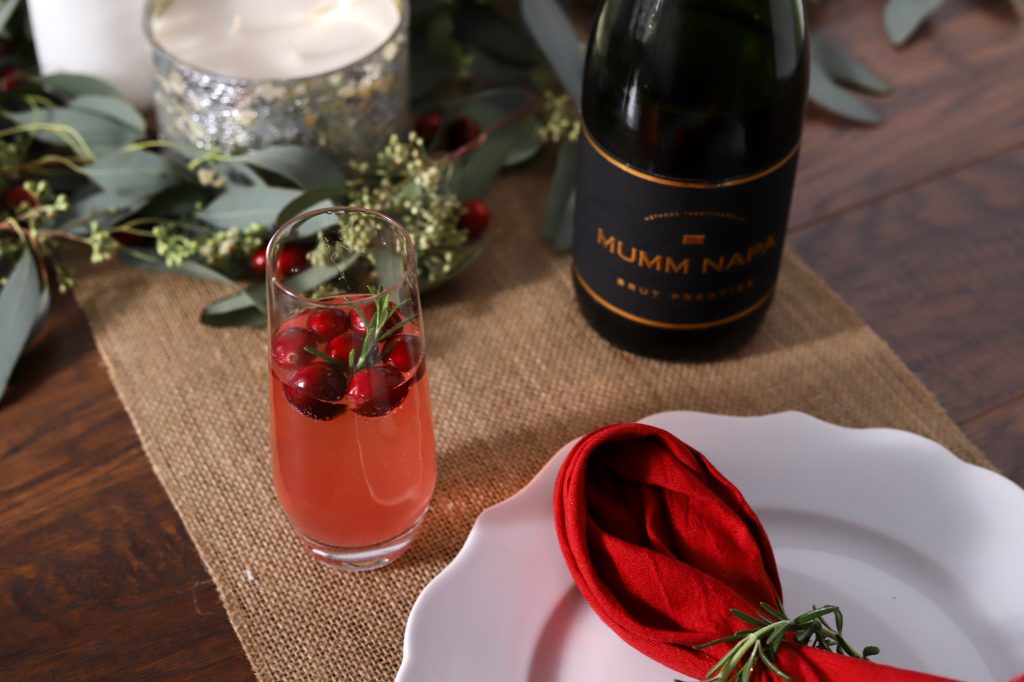 Makes 1 serving
Ingredients:
4 ounces Mumm Napa Brut Prestige
1 ounce gin
1/2 ounce lemon juice
1/2 ounce cranberry syrup (recipe below)
Cranberries and sprigs of rosemary for garnish
Method: Start by making the cranberry syrup: Combine 1/2 cup sugar and 1/2 cup water in a saucepan and simmer until sugar is dissolved. Add 1/2 cup cranberries and simmer for one more minute. Cover and remove from heat. After 10 minutes, muddle the cranberries and let sit for another 20 minutes. Fine strain and cool before using.
For the cocktail: Combine gin, lemon juice, and cranberry syrup in a champagne flute. Top with the Mumm Napa Brut Prestige. Drop-in several cranberries and a sprig of rosemary.
3. Naughty Toddy
Makes 1 serving
Ingredients:
1 ounce Dos Hombres mezcal
1 ounce whiskey
1/2 ounce fresh lemon juice
1/4 ounce honey
2 ounces apple juice
Method: Add all ingredients in a mixing glass. Shake and strain into a rocks glass filled with ice. Garnish with a lemon wheel.
If you want to enjoy this as a hot toddy, heat all ingredients in a teapot or pot on the stove. Serve in a coffee mug, garnished with a lemon wheel.
4. Pumpkin Old Fashioned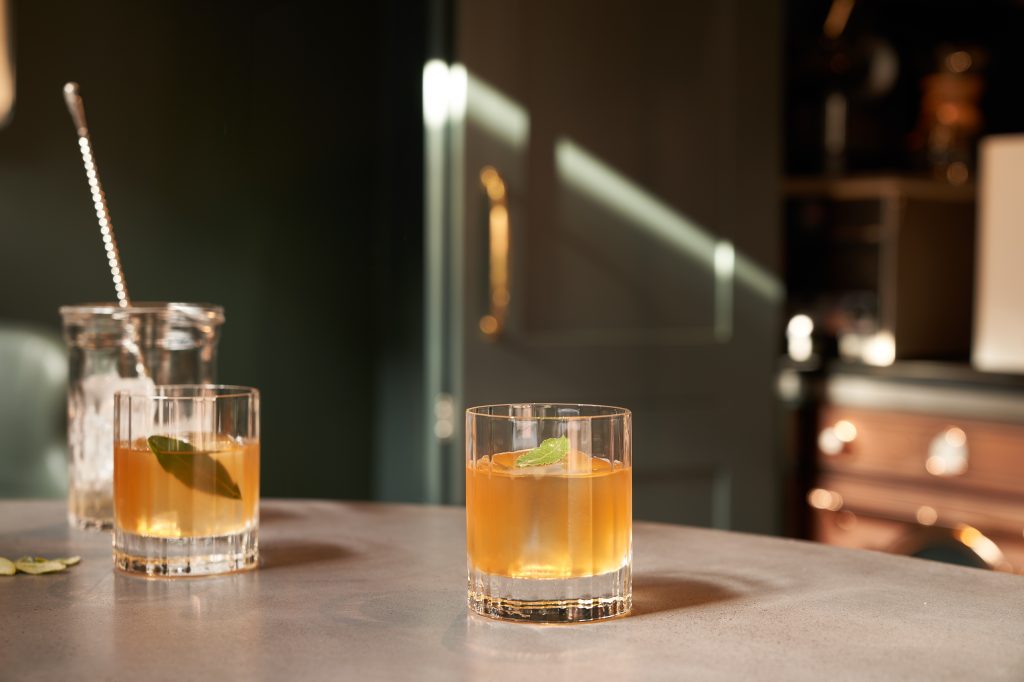 Makes 1 serving
Ingredients:
2 dashes aromatic bitters
2 ounces Jameson Black Barrel
1/2 ounce pumpkin syrup (recipe below)
Method: Start by making the pumpkin syrup: In a pot, combine 2 cups water, 1 1/2 cups sugar, 1/5 cup brown sugar (well packed), 4 heaping teaspoons pumpkin puree (not pie filling), 1 teaspoon ground cinnamon, and 1/2 teaspoon each of nutmeg, ground ginger, and ground cloves. Stir together over medium heat until the sugar has dissolved. Continue cooking over low heat for an additional 5 minutes, making sure to not allow it to boil. Strain the mixture through a fine mesh strainer and store in an airtight container for up to two weeks in the refrigerator—just shake well before using.
For the cocktail: pour Jameson Black Barrel, pumpkin syrup, and bitters over ice, stir and pour into a rocks glass. Garnish with a sage leaf.
5. Autumn Sangria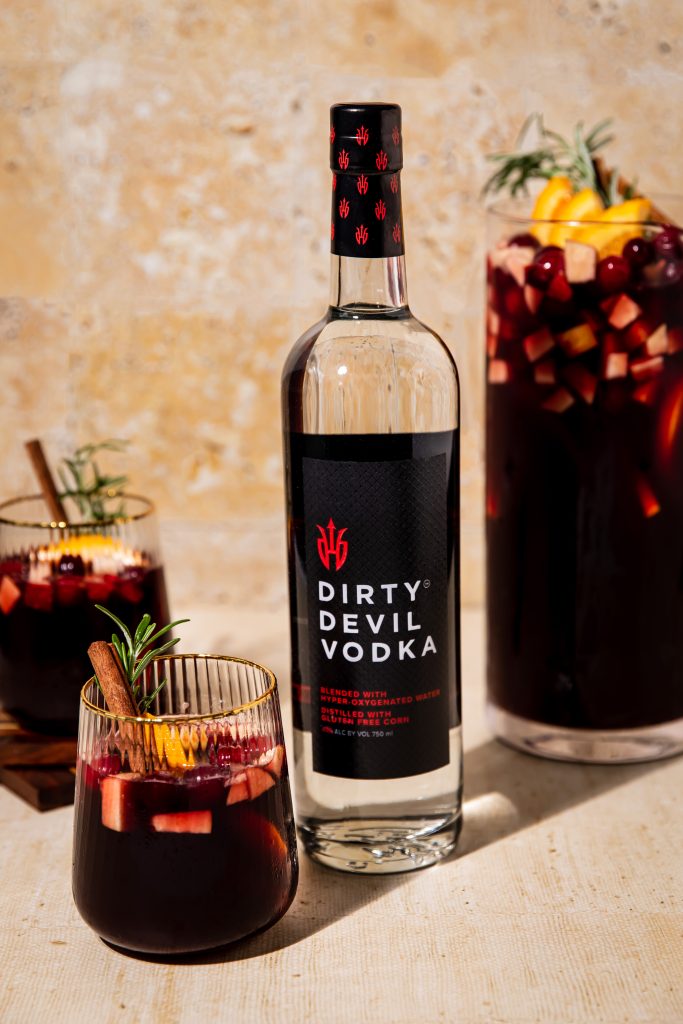 Makes 6 servings
Ingredients:
750ml bottle of dry red wine
1 cup Dirty Devil Vodka
4 cups apple cider
2 cups cranberry juice
2 ounces cinnamon simple syrup (recipe below)
Apple slices, fresh cranberries, orange slices, cinnamon sticks, and rosemary for garnish
Method: Start by making the cinnamon simple syrup: In a small sauce pot, add 2 cups water and 4 cinnamon sticks and bring to boil. Simmer for 10 minutes, and strain out cinnamon sticks. Bring water back to a boil, add 1 1/2 cups sugar and stir until sugar is dissolved. Let cool and keep in the refrigerator for up to a month.
For sangria: add all ingredients to a pitcher or punch bowl, and serve in wine glasses.
6. Feeling Festive Cranberry Gin & Tonic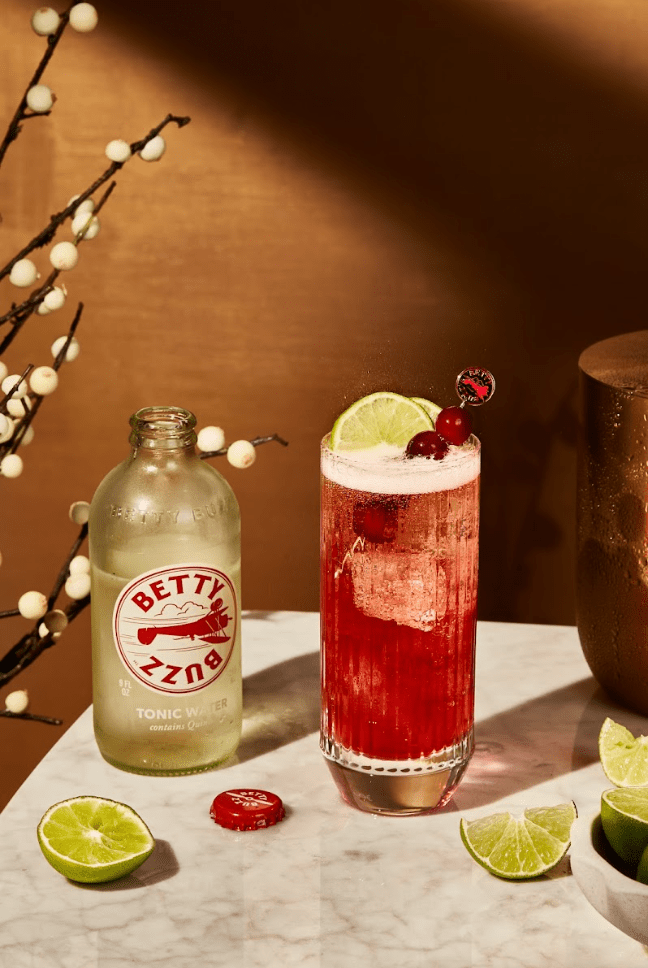 Makes 1 serving
Ingredients:
1 1/2 ounces gin
4 ounces Betty Buzz Tonic Water
2 ounces cranberry juice
Lime juice and lime wheels
Fresh cranberries
Method: Combine the gin, cranberry juice, and lime juice (to taste) in a tall glass over ice. Top with tonic water and garnish with a lime wheel and cranberries.
Pro tip: For a fun, non-alcoholic mocktail, just don't add the gin!
7. Campari Red Carpet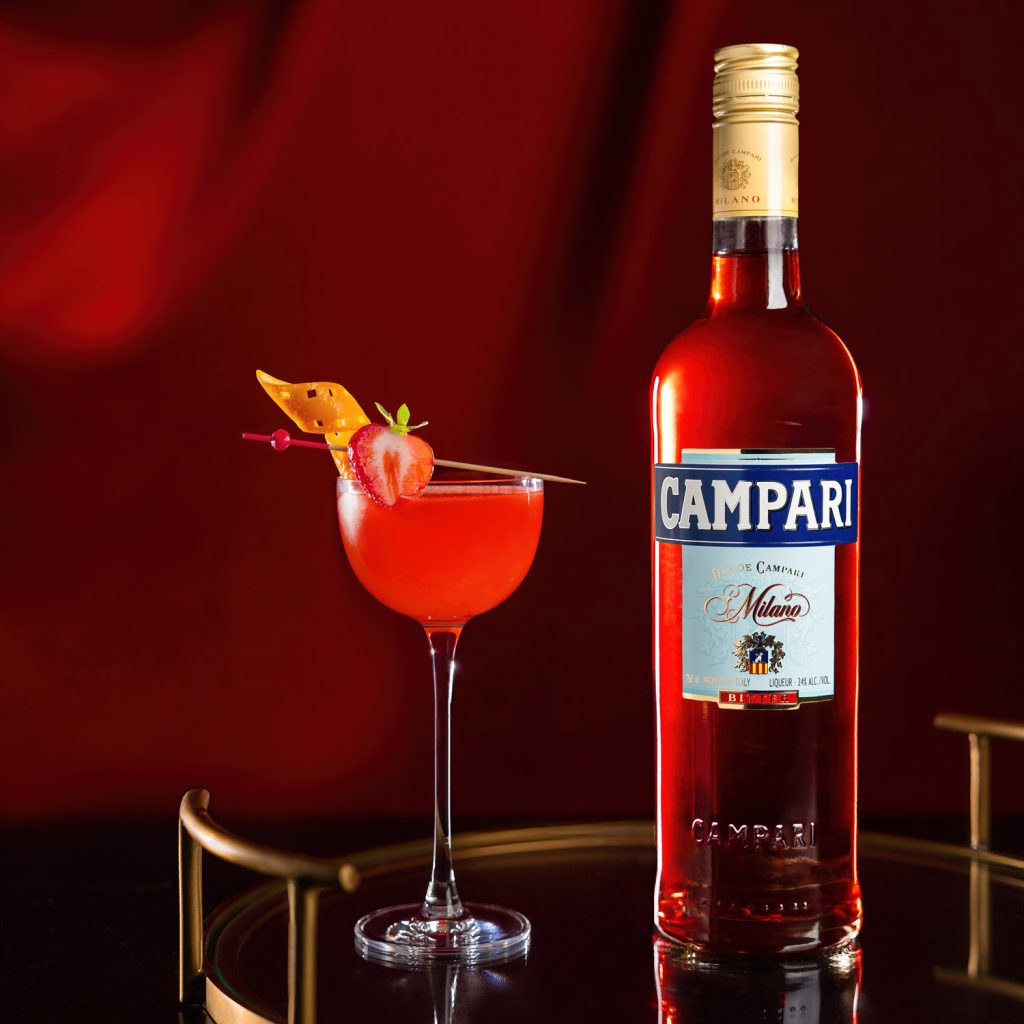 Makes 1 serving
Ingredients:
3/4 ounce Campari
3/4 ounce extra dry vermouth
3/4 ounce gin
3/4 ounce fresh lemon juice
1 large strawberry (or several small ones)
1 generous pinch of salt and granulated sugar
Method: Wash and destem one large or two small strawberries and add to a shaker tin. Muddle or crush the strawberries with a pinch of salt and a pinch of granulated sugar. Add Campari, vermouth, gin, and lemon juice to the tin. Add plenty of ice and shake until frosty. Strain into a chilled cocktail coupe and garnish with a strawberry slice.
8. Pumpkin Spice Colada

SelvaRey
Makes 1 serving
Ingredients:
2 ounces SelvaRey White Rum
1 ounce coconut cream
1 1/2 ounce fresh pineapple juice
1/2 tablespoon McCormick's pumpkin spice
Pineapple wedge for garnish
Method: Add all ingredients to a shaker with ice and shake until frothy. Strained over crushed ice and garnish with pineapple wedge dusted in pumpkin spice.
9. Sparkling Sangria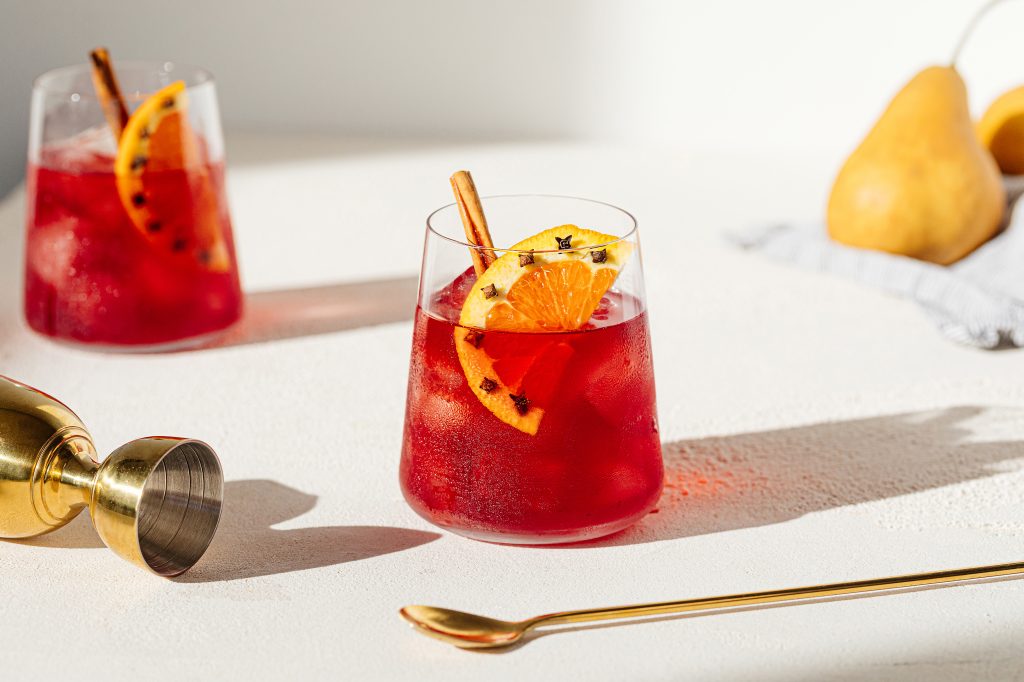 Makes 10 servings
Ingredients:
1 bottle of

 

Lillet Rouge

 

4 ounces Grand Marnier
8 ounces cold-pressed apple juice
3 ounces fresh lemon juice
2 cinnamon sticks
1 apple sliced
1 pear sliced
Champagne for topping
Fresh orange wheel and cloves for garnish
Method: In a large pitcher, combine Lillet Rouge, fruit, and Grand Marnier with ice. Stir and let chill at least an hour until infused. Pour into glasses and top with Champagne and fresh orange wheels before serving.
Amber Love Bond is a Miami-based freelance hospitality and lifestyle writer.
Read more