"Ferris Bueller's Day Off" just turned 30 and Chicago celebrated in a BIG way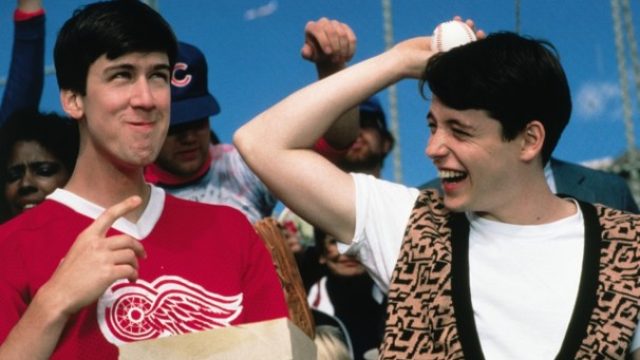 Ferris Bueller, you're our hero. Ferris Bueller's Day Off is one of those movies we never tire of watching. It always make us laugh and we can quote it from start to finish. The iconic '80s movie turned ~dirty 30 ! this weekend and naturally, the city of Chicago celebrated in true Ferris fashion with a little gathering called Ferris Fest.
Ferris Fest spanned three days, and included events that let people experience his epic day off for themselves. They could visit Cameron's house, heckle batters at Wrigley Field, and take a walk through the Art Institute of Chicago. There was even a parade in Daley Plaza, complete with a Ferris look-alike singing "Twist and Shout."
Of course, Ferris, Cameron, and Sloane were there (sort of).
Seriously, there was an epic parade.
A Ferris lookalike sang and everybody had the best time.
You could also visit Ferris's bedroom, snoring mannequin and all.
And pose for a pic with Cameron's dad's Ferrari (pre-demolition).
This iconic scene was re-created at the Art Institute of Chicago.
This one, too.
The sassy maître d' himself was there! You know, the one who snidely delivers the line "You're Abe Froman? The Sausage King of Chicago?"
Here's a quiet moment of Ferris Fest-ers taking it all in, high above the city of Chicago.
We can't believe it's been 30 years. Let's do this all again for the 40th anniversary, okay? https://www.youtube.com/watch?v=