Fergie put a twist on the national anthem at the NBA All-Star Game, and Twitter doesn't know how to feel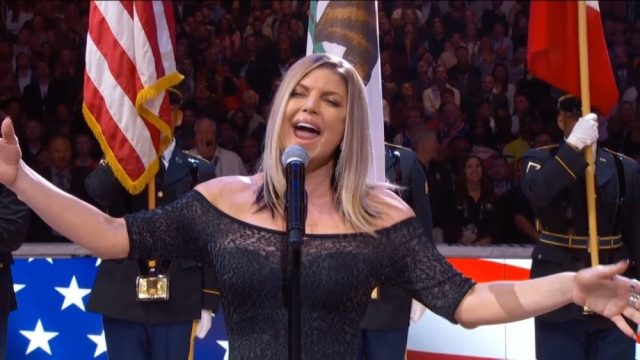 Being asked to sing the national anthem in front of thousands of people (with millions more watching at home) is a tall order for even the most seasoned entertainers. It's a song that means so much to so many Americans, and your performance might be remembered for years to come.
And a lot of people are talking about Fergie's national anthem performance at the recent NBA All Star's Game at the Staples Center in Los Angeles. The singer decided to go for a jazzy, sultry, and at times almost spoken-word rendition of the iconic ballad. The performance elicited mixed reviews, with some fans being ALL ABOUT IT, and other's not so much.
Check out the performance for yourself, in case you missed Fergie singing it live at the February 18th game.
https://www.youtube.com/watch?v=V5cOvyDpWfM?feature=oembed
And as expected, viewers took to social media to offer their thoughts on Fergie's unique take. Some people were a bit…perplexed by her Cabaret-inspired twist on the song. false
Others came to Fergie's defense, lauding her for putting her own spin on things.
Fergie isn't the first to raise some "Star Spangled Banner"-related eyebrows recently. Pink received some Twitter flack for appearing to spit out gum before singing the national anthem at the 2018 Super Bowl (it was a throat lozenge people — because she was battling the flu!). Christina Aguilera also once famously slipped up on a few words (it happens, girl).
Either way, we applaud Fergie for getting up there and doing her thing — it's no easy task, and we say, you do you, girl!