I tested Fenty's Vivid Liquid Liner Trios through a hot subway commute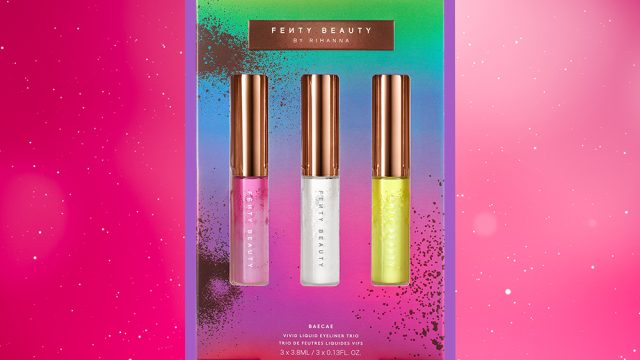 Just when we thought we had a second to give our wallets a much-needed break, Rihanna hit us with another irresistible Fenty Beauty launch. The brand released three Vivid Liquid Eyeliner Trios, and they have summer feels written all over them. These liners are fit for a colorful queen and cost $35 per trio. If you're looking for a simple way to up your makeup game this summer season, these hyper-vivid liners might be the answer.
Unless you're a winged liner wiz, creating the perfect cat-eye can be hard af. When you throw bold colors into the mix, applying liquid liner can be even more intimidating. Fenty Beauty claims that these thin-tipped liners are precise, aka beginner-friendly. This is the first Fenty eyeliner release since Flyliner last summer, so I'm hoping for nothing but the best with this launch.
The Vivid Liquid Eyeliner Trios come in three color schemes.
https://www.instagram.com/p/BxJRnRVHzO4
As usual, Fenty gave each one a clever name: Baewatch, Baeside, and Baecae.
Fenty Vivid Liquid Eyeliner Trio in Baewatch
Fenty Vivid Liquid Eyeliner Trio in Baeside
Fenty Vivid Liquid Eyeliner Trio in Baecae
While I must say that all of these colors are stunning, Baecae caught my attention mainly because of the vivid yellow and white shades.
This is how the Baecae Vivid Liner Set looked applied to my eyes:
I used all three shades in this set to create a multi-colored wing, and honestly, it was much simpler than it looks. The brush on these liners is SUPER thin, allowing you to create a line rather easily. Also, the colors layer pretty well on top of one another without blending, so long as you let each one dry down first. This is my first time doing a colorful winged liner look, and the Fenty Vivid Liquid Liners made it quite an enjoyable experience.
Tip: Another great way to use these liners for your summer makeup looks is like mascara. I applied a little of the shade Banana Blaze (pastel yellow) to my bottom lashes to make them pop.
How it compares to other liners
If you're a fan of Fenty Flyliner, sorry to burst your bubble, but this liner is completely different. While it glides on just as smoothly, it doesn't come in pen form, and its formula is much more matte.
Compared to other colored liquid liners I've tried in the past, Fenty's formula is A1. Colored liners tend to crack almost instantly. The Fenty Vivid Liquid Liners, on the other hand, held up through my hot subway roundtrip commute from Brooklyn to Manhattan in fairly warm weather. Even if you aren't wearing eyeshadow with these liners, I'd recommend applying a primer beforehand. This will give the liner a canvas to stick onto and extend its wear.
Final thoughts: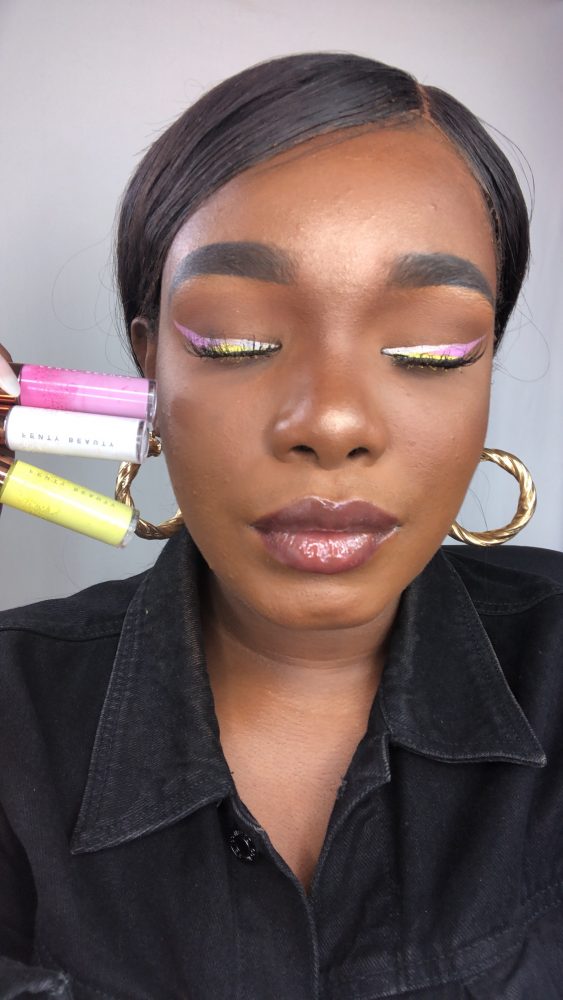 Whether it's an unconventional colorful highlighter or these vivid liners, Fenty Beauty always makes it a point to pull us out of our color comfort zone. If you find comfort in exploring color, I recommend picking up one of these sets for the summer.
Applying the liner is pretty straightforward, given the precision brush. However, it may take a little getting used to. From my experience, playing with bold colors took the edge off of applying liquid eyeliner.
If you're thinking of picking up the Fenty Beauty Vivid Eyeliner Trio's, act fast—this is a limited-edition summer launch. They are currently available at Sephora or FentyBeauty.com for $35 per trio (less than $12 per liner).