Hot tip: Fenty Beauty's glitter-filled eyeshadow palette is on sale at Sephora
Fenty Beauty is arguably the buzziest cosmetics line out there at the moment.
If you've heard about the well-received range of Fenty Beauty products (and we're pretty sure you have), and are interested in dipping a toe into the offerings, here's your chance to do it for less.
Sephora is blessing us with a Fenty Beauty sale, because the retailer has marked the coveted eyeshadow palette down. Yes, you read that right. Sephora discounted one of the brand's pricier products, and trust us when we say there's probably not a dupe of it.
Fenty Beauty's Galaxy Eyeshadow Palette typically retails for $59, but for right now you can get it for $39.
True to its name, the palette is out-of-this-world. It's packed with 14 shades of glitter eyeshadow in bold colors like magenta, mint, and electric blue. This handy palette is perfect for creating colorful, intensely sparkly eye looks (no matte nudes here!) and we think many of the shades could work beautifully as highlighters.
This set is a must-have for any shadow palette fanatic, anyone who worships at the altar of Rihanna, or just any beauty enthusiast who isn't afraid to go bold.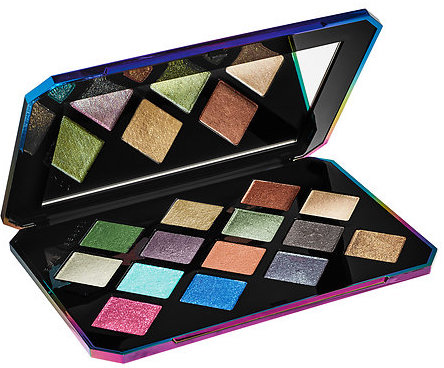 Will you be picking this up to use as a holiday gift? Or maybe you'll be using this deal to #treatyoself. You can't go wrong either way!