Rihanna is launching a brand-new lipstick collection, proving she's our makeup Santa Claus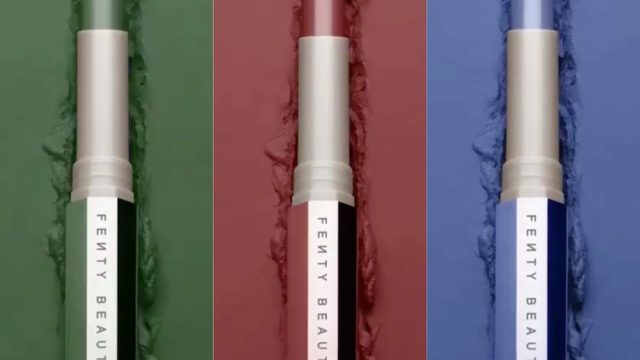 We had an inkling that something might be headed our way from Fenty Beauty, but there was just no way to imagine that it would be such a bounty. Rihanna has outdone herself yet again, if that's even possible. The announcement that Fenty Beauty is launching a new Mattemoiselle lipstick collection in just a couple weeks is almost too good to be true.
You'll recall that Rihanna has been giving us little hints here and there that more lipsticks are on the horizon. First, she popped out wearing a deep, dark blue shade that had our baby goth hearts singing. Then she gave us a look at a sweet candy pink lipstick and a powdery blue-lavender one as well.
Now we know that all these lipsticks are part of the debut Mattemoiselle collection and we have a feeling we're going to be head-over-heels in love with them all.
There are 14 shades in the Mattemoiselle collection, running the gamut from tradition shades like reds and nudes to more unconventional, daring colors like blues and greens. They'll be landing just in time for all your New Year's parties, so start prepping your ultra-glam look now.
The Fenty Beauty Mattemoiselle lipstick collection will be available online on December 26th at 9 a.m. EST.
And they'll be in-stores as soon as they open at Sephora and Harvey Nichols. We can't think of a better way to walk off our big Christmas dinners than by stomping over to our nearest Sephora.
Is there any look Rihanna can't pull off? The answer is no.
You better believe that we'll be combing the internet to get a look at all these gorgeous, innovative hues. Leave it to Rihanna to derail our work day, yet again.
We have to admit, this has us itching for some swatches. But we have faith that Fenty Beauty will come through. We want to be prepared the moment they arrive.
Are you as thrilled as we are? Now we can coordinate our entire NYE look around our lipstick!