A definitive ranking of our favorite Fenty Beauty products, and yes, this was hard as hell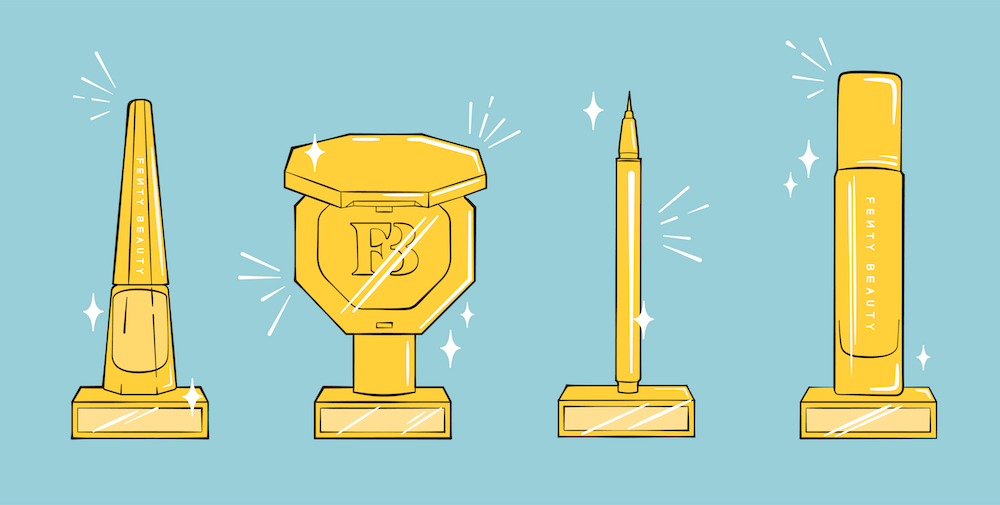 Fenty Beauty has only been around for just over a year but the brand has completely reshaped the beauty industry. Since its release, beauty lovers have gone wild for the Pro Filt'r Soft Matte Foundation, which brought the long overdue inclusivity movement to the forefront of the beauty industry. Over the last year, we've seen the brand grow from a small line of key base products (that couldn't stay stocked in Sephora) to a wider range of makeup. With so many great products from Fenty, we ranked our favorites, putting everything from the makeup tools to the highlighters through a rigorous test.
Since there is so much makeup to choose from the brand, we ranked 14 of our faves with the number one spot being the best of the bunch. To keep things simple, we didn't test limited-edition items.
See our top Fenty Beauty picks below, and how they rank on our list.
14Diamond Bomb All Over Diamond Veil
I'm not usually one for a silvery highlight, but this one caught my eye. It has little hints of purple and blue that really give off a unique shimmer. I was taken aback by the formula at first because, even though it is a powder, it feels and glides on smooth like a cream. It's great to use on its own but also works well as a topper for a traditional highlighter (specifically a champagne-silver highlight). Also, it's beautiful as an inner corner highlight on your eyes and, of course, as a body highlight.
13Full Bodied Foundation Brush
In my humble opinion, Fenty tools are underrated af. This brush makes applying foundation a breeze while ensuring your makeup looks like skin. Not only does it have super soft hairs, but it blends foundation so well it looks airbrushed. You'll never have cakey makeup again.
12Invisimatte Universal Blotting Powder
Way before Fenty released the new Pro Filt'r powders, this was the powder that I knew and loved. The universal shade looks good on any skin tone and really controls shine while hiding pores. I like to use it for touch-ups throughout the day, but also love setting my concealer with it. It makes your under-eye stay put and look smooth all day.
11Pro Filt'r Amplifying Primer
This is one of the primers that made me believe in eyeshadow primer again. If you ever feel like your shadow doesn't pop or wears away throughout the day, this will save the day. I have hooded eyes that are prone to creasing, but it doesn't happen with this primer.
10Moroccan Spice Palette
First of all, the packaging alone makes you want to have this eyeshadow palette. The shades themselves feature both bold hues and some that are more toned-down, making it workable for any time of the year. All finishes of the shadows (matte, glitter, and shimmer) are nicely pigmented. The possibilities are endless with this palette.
9Flyliner Longwear Liquid Liner
Cleverly named "Cuz I'm Black," this ultra-black liner is at the top of my list of liquid liners. Not only is a true black, it's also water resistant. And in case you were wondering, the triangular shape isn't just hype—it fits right between your fingers to help you effortlessly create your best wing yet. If you struggle with winged liner, I promise this will change your life (along with some practice, of course).
8Stunna Lip paint In Uncensored
I have yet to see Stunna on someone not look absolutely stunning. Uncensored is a really gorgeous red liquid lipstick that works on pretty much any skin tone. As with most liquid lipsticks, it does transfer a bit after a while, but overall it wears pretty long and feels comfortable on the lip. It's no surprise why it was a winner in HelloGiggles 2019 Beauty Crush Awards.
7Mattemoiselle Plush Matte Lipstick
The color range of this lipstick line alone is insane. They have a comfortable matte finish and don't go on patchy. I also love that the lipsticks are small enough to apply them precisely, a tiny detail that makes a huge difference.
6Custom Match Stix Trio
I'm so mad at myself for discovering this so late in my Fenty life. The concealer stick of the trio is my favorite because it covers my dark circles so well. Even with Fenty's Pro Filt'r concealer, I'll still use this pretty often. They do have to be warmed up on the back of the hands at first, but the small step is worth it. It makes contouring super easy and the shimmering highlight gives you a lit-from-within look. If you still haven't tried this, I urge you to ASAP.
5Pro Filt'r Instant Retouch Primer
Flawless skin? Yes, please. Don't be alarmed: It does go on feeling "wet," but after it dries down, your skin is left looking poreless and shine-free. It's not a silicone primer, which is good because those can leave your skin feeling a little like leather. Pro-tip: Fenty Global Makeup Artist Priscilla Ono told HelloGiggles she mixes this with the Pro Filt'r foundation to achieve an immaculate application.
4Pro Filt'r Instant Retouch Concealer
Between my dark circles and my teary eyes, I've become quite the concealer snob over the years. Fenty's Pro Filt'r concealer is one of the few that I can use without worrying about looking a hot mess by the end of the day. Even with tears rolling down my face (due to wind, allergies etc.) this concealer stays put. I set it with the Invisimatte powder for extra security.
3Gloss Bomb Universal Lip Luminizer in Fenty Glow
This is where this list gets super hard. I literally have this gloss on me at all times. It's my go-to lip color, lip balm, overnight mask—everything. I apply this one any time I get the chance. Also, it looks good on absolutely everyone and that is no exaggeration. This is thee nude of all nude lip glosses, and if you don't have it in your arsenal, now is the time to run out and get it.
2Killawatt Freestyle Highlighter in Trophy Wife
The Killawatt formula is UNMATCHED. Its pigmentation has me shook every time I apply it. The shade Trophy Wife specifically is a color unlike one I've ever seen before. It is very extra, but a good kind of extra. I also love that it can double as an eyeshadow. In the summer I like to use it on my décolletage for extra drama.
1 Pro Filt'r Soft Matte Longwear Foundation
I can't forget about the foundation that started it all, of course. I must admit, I was sleeping on this for a while, mainly because my shade was sold out for months. Now I see why. Every time I wear this foundation I feel ready to hit a red carpet. It makes you look filtered in real life. It has an oil-controlling matte finish, but wears very comfortable which is the reason why I believe all skin types can wear it. Also, I have oily skin, but I can wear this all day and my foundation will still look flawless. Keep it coming, Ri.