I tried Fenty's new hydrating foundation, and here's how it looked on my very oily skin
Whether you're a fan of Fenty Beauty or not, we can all agree that the beauty industry changed forever when the brand launched in 2017 with an inclusive 40 shade foundation range. Inclusivity became non-negotiable, and brands finally began realizing how much money they were missing out on by excluding potential customers from their products, allowing previously ignored consumers to be heard. Just one month shy of celebrating its second anniversary, Fenty Beauty is back with a new foundation formula—the Fenty Beauty Pro Filt'r Hydrating Longwear Foundation. Excited is just an understatement.
Over the past year, there have been so many matte foundation launches that I've lost count. While I (and other oily gals) have been spoiled with all these foundations that are suitable for our oil-slicked faces, our dry-skinned counterparts have not been as pleased. Fenty specifically took note, and the new Fenty Beauty Pro Filt'r Hydrating Longwear Foundation was born. This new foundation is on par with the OG formula's price point and flawless medium-to-full coverage. The main difference is that it is hydrating and leaves the skin with a natural satin finish.
For comparison, Fenty's OG foundation is A1 if your skin type is combination or dry. And while I love the original formula, I had a couple of minor issues with it.
https://www.instagram.com/p/BseTR5AAIIN
The first was that it dries down very quickly while you're blending. If I don't blend the foundation super fast, it ends up stuck. I appreciate how the formula controls oil—and it looks incredible—but the fast drying is frustrating. The foundation also oxidizes, and while I could fix it with concealer and powder, for a person who doesn't know how to tweak foundations that oxidize, this could be a much bigger issue.
As a foundation fanatic, I was so happy that Fenty Beauty sent me its new hydrating foundation to review.
https://www.instagram.com/p/B1LOsWShBjs
I received the same shade that I wear in the OG formula (420). The new Fenty Beauty Pro Filt'r Hydrating Longwear Foundation comes in a tube instead of the original formula's glass bottle. At first glance, it looks smaller, but both formulas contain the same amount of product.
Here is my skin prepped and primed with Fenty Beauty Soft Matte Pro FIlt'r Primer: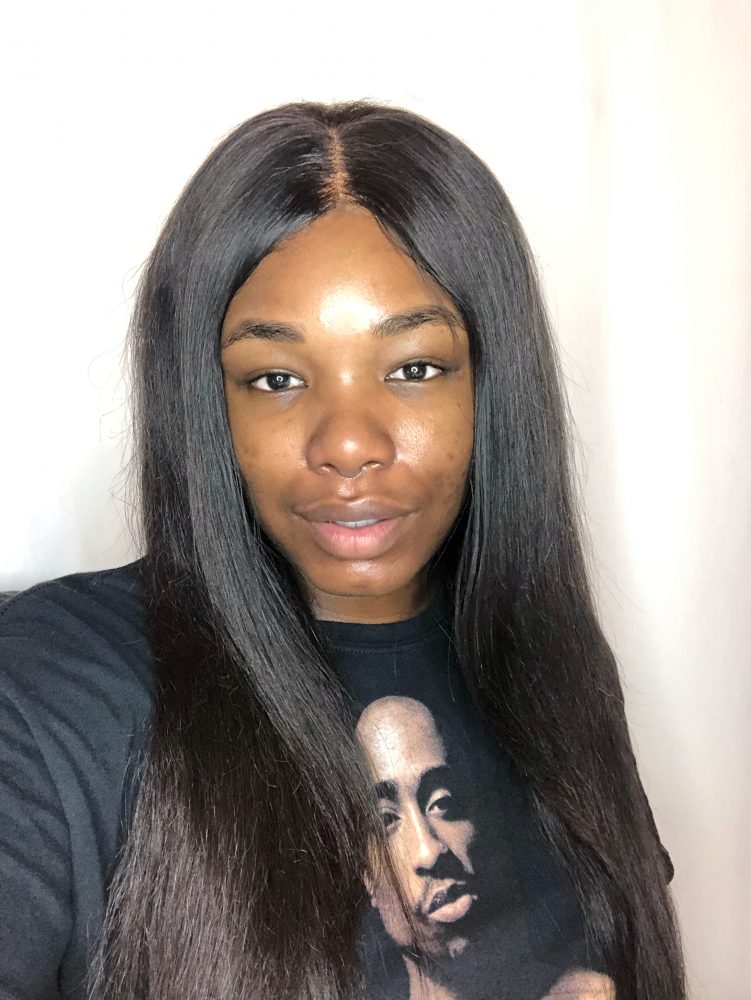 Although I have oily skin, I stuck with the original Soft Matte primer. I wouldn't be opposed to trying the new Pro Filt'r Mattifying Primer sometime in the future.
Here's my skin with just the Fenty Beauty Pro Filt'r Hydrating Longwear Foundation: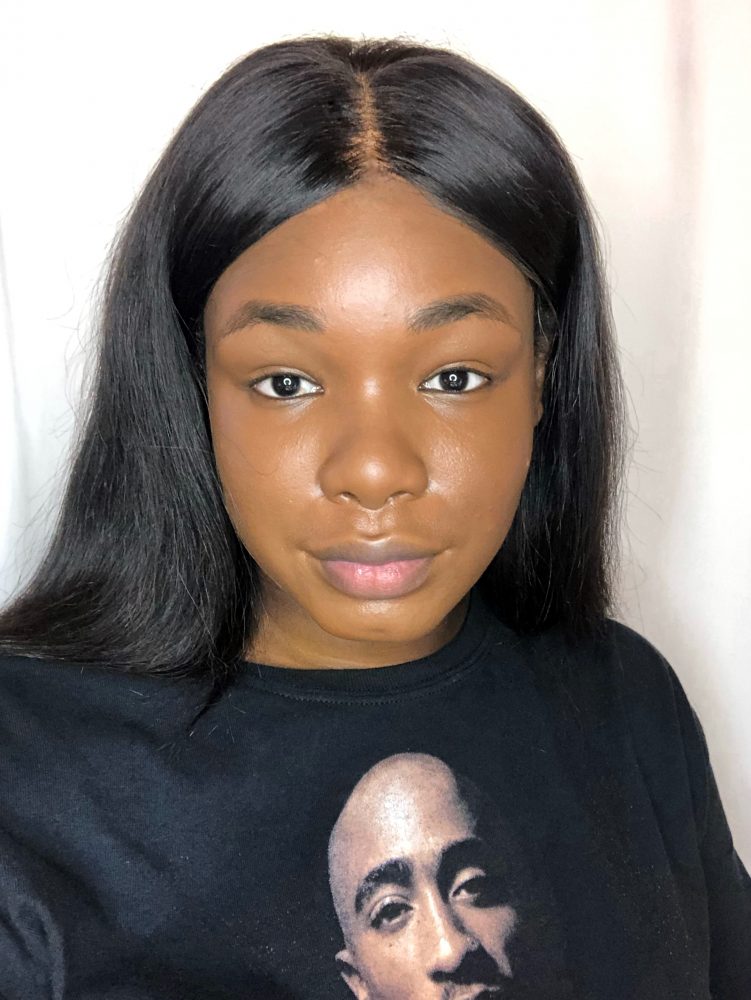 My skin looks like skin—period. This is why, as an oily gal, I still love a good hydrating foundation. They always feel and look like skin, but better.
8 a.m.: My makeup is fully complete, so now I'm ready to hop on the train to Manhattan for a few events and meetings.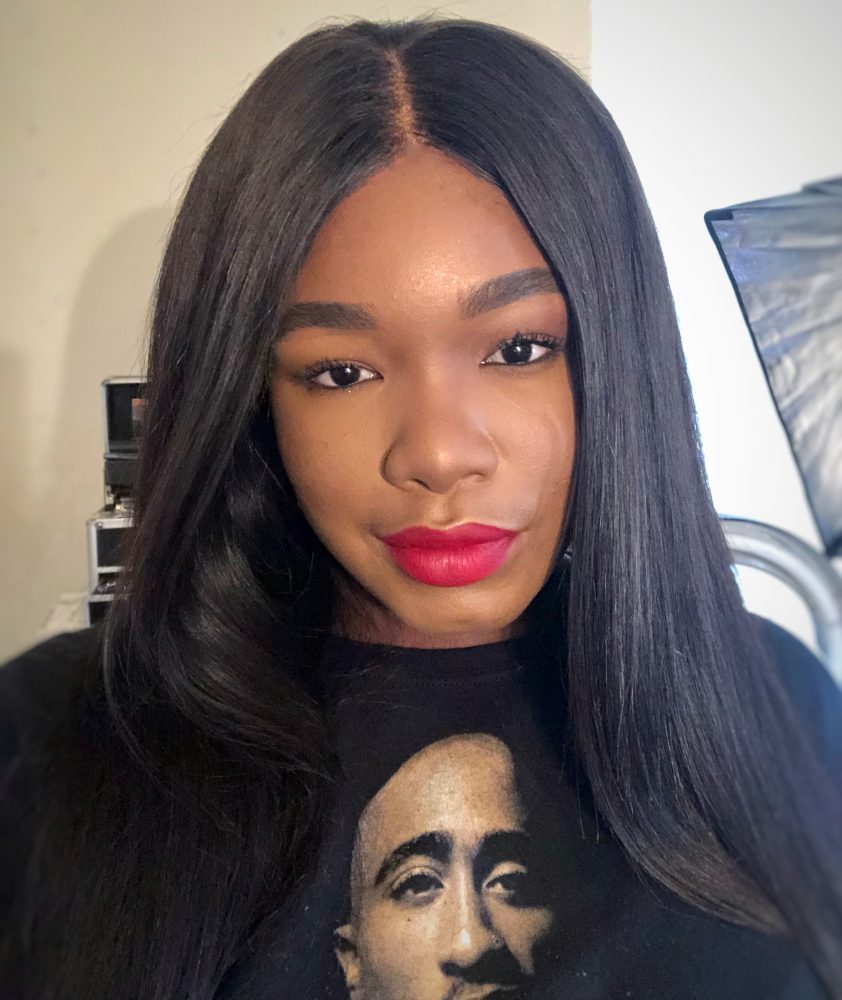 I have a long day ahead of me, starting with a 40-minute commute.
8:30 a.m.: I know it's only been about 30 minutes, but I need to share this photo.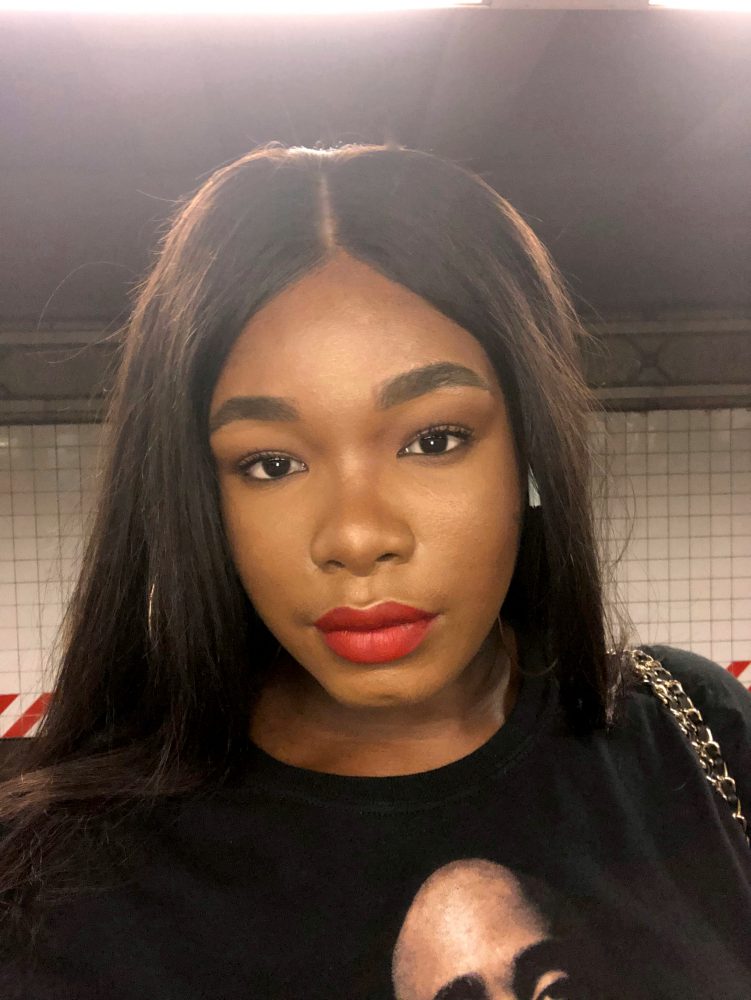 N.Y.C. subway stations are ridiculously hot. Why on earth is there no AC on the platform when a million people are waiting to ride the train? Anywho, my foundation is going through the ultimate test right now, and it is passing.
11 a.m.: I'm at my first event of the day, looking photoshoot fresh.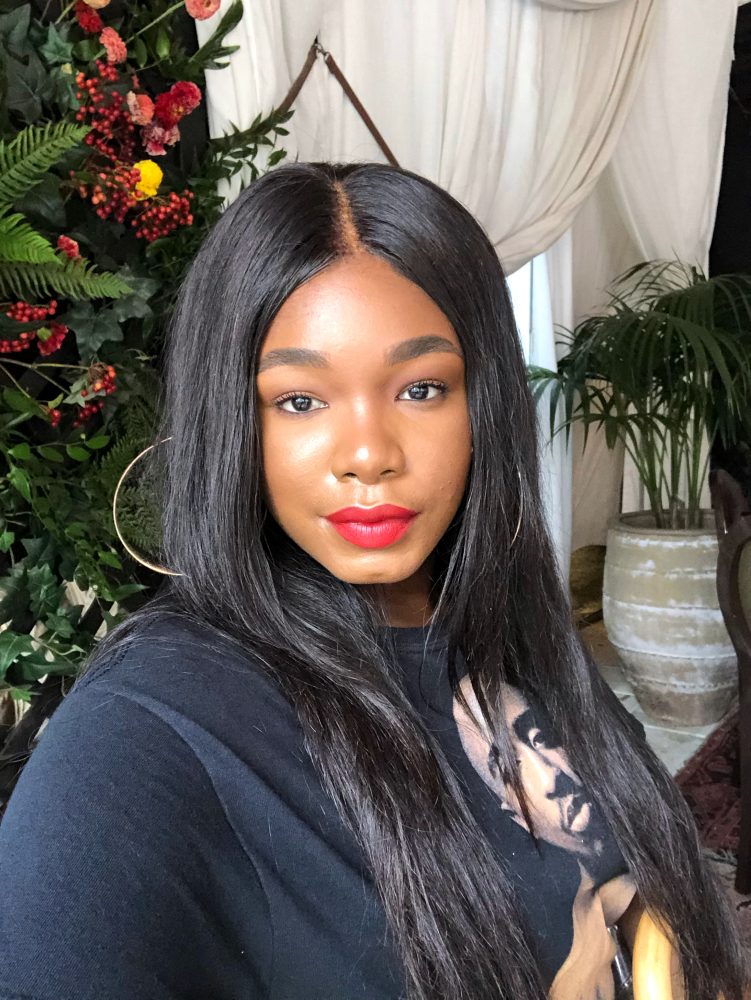 This foundation looks so good in daylight, it should be a crime. I'm calling my lawyers.
3 p.m.: I refused to do the subway again, so Uber it is.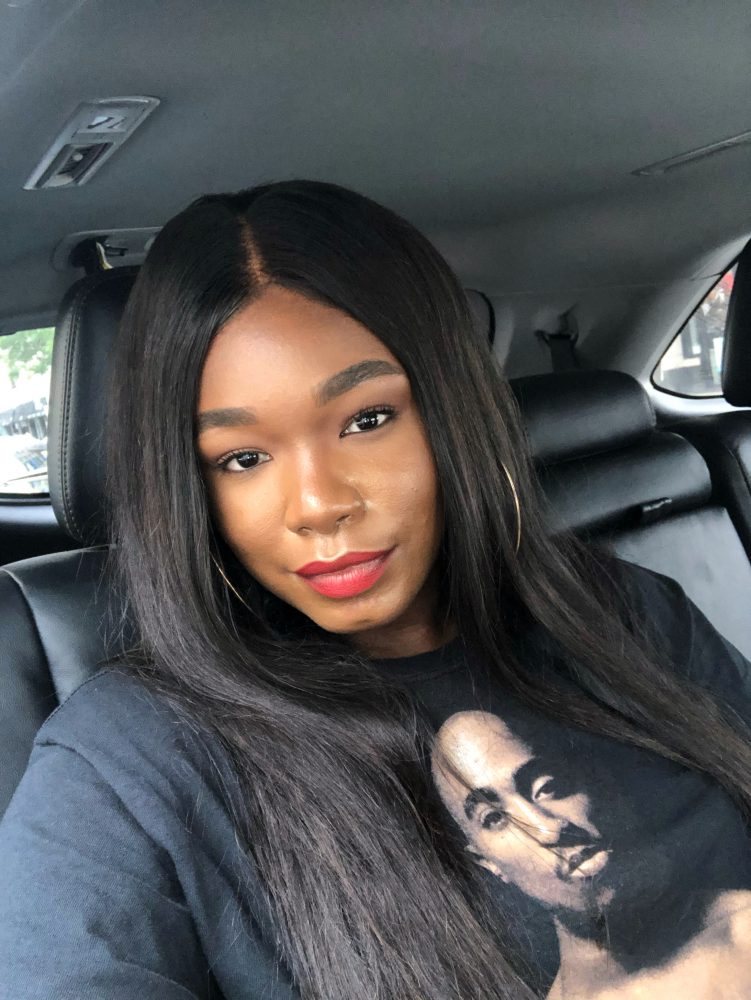 My driver's AC doesn't work, but at least there aren't a million people in here. My foundation still looks good, though I can see I've gotten just a bit oily (which I expect by this time of day).
6 p.m.: On a normal day, I don't even wear foundation for this long. Turns out this was the perfect day to do a foundation wear test.
What better way to test a new foundation's power than running through N.Y.C. streets for 12 hours?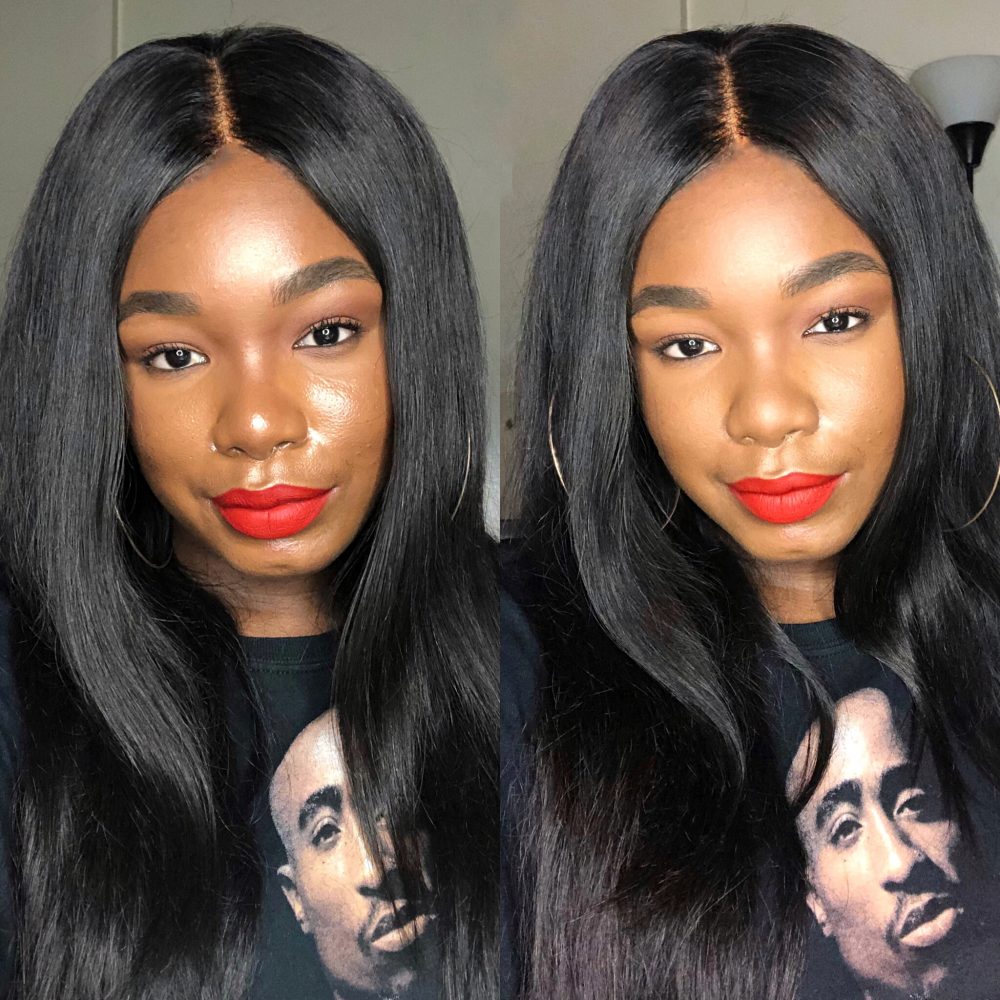 The left is my face unblotted for the full day, and the right is my face after blotting with the Fenty Beauty Universal Invismatte Blotting Powder.
These are my final thoughts on the Fenty Beauty Pro FIlt'r Hydrating Longwear Foundation
At first, I was a bit skeptical about how this foundation would perform on my skin, since it drastically changes with the seasons. Right now, it's mainly oily with some normal areas, and I occasionally get dry skin around my mouth because of my acne medication. But after using this new foundation, I must say that I love the flawless coverage and finish. I'm taken aback by how well the foundation held up. After all, oily skin, an N.Y.C. summer, and hydrating foundation doesn't quite sound like a recipe for success. But oily skin needs hydration too.
Another great feature of this foundation is its lightweight feel. I wouldn't say that the original foundation is heavy, per se. However, this hydrating formula feels like wearing nothing. Hydrating foundations tend to feel very lightweight in general, so even though my skin runs oily, I don't mind a hydrating foundation (especially when it's hot out). Wearing heavy foundation in heat and humidity can leave you feeling like an ice cream cone melting in the sun, which wasn't the case for me while I had on the Fenty Beauty Pro Filt'r Hydrating Longwear Foundation
If you have very oily skin (all over your face, not just in certain areas), there's a high chance you won't enjoy this foundation formula as much as someone with normal, dry, or combination skin. The product description explicitly states that this formula is best for normal, dry, and combination skin types. In the summer, I'm typically oily in most places on my face, but not all. I think because, right now, my skin strays towards oily—but not all over my face—I had a good experience with the new formula. I'm sure that, as it gets colder, my skin will fall even more in love with this foundation formula.
If you want to give the Fenty Beauty Pro Filt'r Hydrating Longwear Foundation a test drive, it's available now in 50 shades for $35 at Sephora.