This makeup blogger is going viral for destroying Fenty Beauty products — and Rihanna approves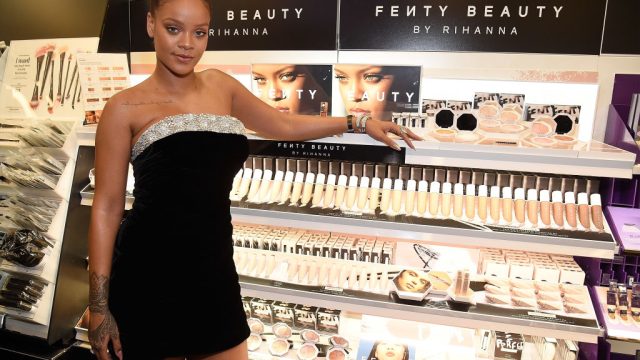 Beauty blogger Nickole Hoang posted a video featuring Fenty Beauty products. Which makes sense, because Rihanna's makeup line has become super popular. But this video was a little different, because Hoang destroyed some of the products in her video. Her reasoning behind destroying the Trophy Wife highlighter? Hoang smashed the highlighter so she could create a loose pigment base that could be mixed with FARSÁLI Rose Gold Elixir.
This isn't the only Fenty makeup she's destroyed. Hoang has also set Fenty Beauty Match Stixs  in Chili Mango and Unicorn on literal fire, before cutting the tips off with a knife. Trust us, there is a method to the madness. Hoang wrote that she finds that the sticks give off more pigmentation when applied from the middle.
https://www.instagram.com/p/BZ7bRu-lN5x
But Rihanna is a fan of the Fenty experiments.
https://www.instagram.com/p/BZxIShOl3X0
These videos caught Rihanna's attention, too. The Fenty Beauty creator showed her approval by "liking" the post on Instagram. She also left three kiss emojis in the comments, and #lifegoals.
https://www.instagram.com/p/BZ1QrdrlAMO
"I am SHOOK, Hoang commented. "@badgalriri liked and commented on my post … She saw me showing the world how beautiful her Trophy Wife highlight is."
We're glad that Rihanna approves of Hoang's makeup experimentation. After all, experimenting with makeup is a lot of fun. We don't think we'll be setting our makeup on fire anytime soon, but it's cool for a makeup blogger to show how versatile Fenty makeup can be.
https://www.instagram.com/p/BaK_65AFtPS
Time to stock up on all of our favorite products!