Fenty Beauty teased a mysterious new product that Rihanna has been wearing since last year
Fenty Beauty is at it again with a sneak peek of its next product launch, and you're not going to believe this, but Rihanna has been wearing it since August 2017.
Just this week, the brand got fans excited over a possible collab with Kai from the K-Pop group EXO. But now, Rihanna's followers are going wild over the news that Fenty is coming out with new makeup. On August 30th, the brand shared an Instagram post of Rihanna wearing her jewel-encrusted outfit from the 2017 Crop Over Festival in Barbados. They captioned the image, "Do you see what we see? Coming soon…"
https://www.instagram.com/p/BnHpBCmghaY
In the comment section, many are guessing that Fenty Beauty is launching a mascara, an eyeshadow palette inspired by Crop Over, nail polish, body jewelry, brows, or a wig line. All of their guesses are as good as ours.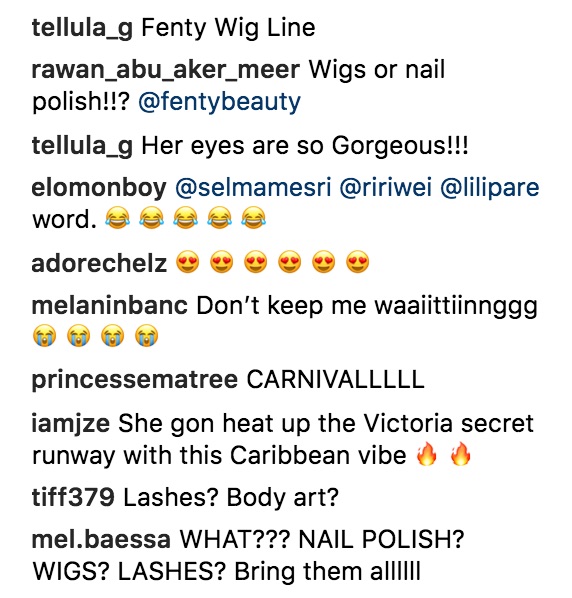 However, we do know that Rihanna applied fake lashes, a teal wig, and some type of body shimmer while she got ready for the festival. The pop star shared exclusive behind-the-scenes photos with Vogue, and those are the three main beauty products we see her use.
It's crazy to think that last August, Rihanna was secretly wearing a 2018 Fenty Beauty product, considering her brand launched September 2017.
While not much else has been revealed, the Twitter user, @glambylauren, summed up Fenty's sneak peek perfectly. She wrote, "IDK WHAT IM LOOKING AT BUT CONSIDER ME SHOOK."
You can guarantee that we'll be hitting refresh on all of Fenty's social media pages to see if the brand shares any updates about this launch.