Fenty Beauty's galaxy-inspired holiday collection just landed at Sephora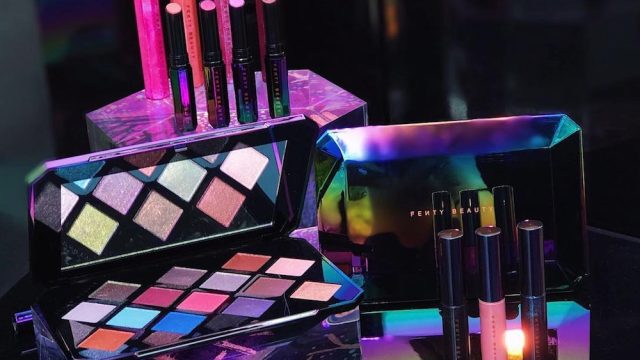 Are you ready to scoop up Rihanna's Fenty Beauty Galaxy Holiday Collection tomorrow? Because goodness gracious, it is positively divine. This comprehensive, gorgeous, and innovative new collection is the only thing you'll be wearing all season long. You think you've seen holographic makeup before? You're about to get blown away.
As with all Fenty Beauty products, these beautifully hued and glamorously packaged makeup products will look just as good on your vanity as they will on your face. No matter what your skin tone, style, or age, this holiday collection is guaranteed to become an instant classic.
The Fenty Beauty Galaxy Holiday Collection is available now.
You can get it in-stores and online at Sephora, as well as online at Fenty Beauty.
From an otherworldly makeup palette to the most exciting glitter eyeliners we've seen in our lives, this collection will have you scrambling to your neighborhood Sephora.
Here's what's about to land from Fenty Beauty's Galaxy Holiday Collection.
These 14 hyper-reflective, sparkling, celestial-inspired shades range from sheer glittering topcoats to smoky, shimmery hues full of unique color and glitter combos that give a glorious 3D effect. And the sleek, oversized jewel-inspired case is just as stunning as the shadows themselves.
This transforming metallic-to-glitter liquid liner lets you choose your own finish thanks to a revolutionary blend of intense pigment and pearlescence that dries to a sleek, metallic finish. Rub when dry to reveal the surprise glitter effect and blow everyone away. Available in three shades: Later Crater, a nude metallic/gold glitter; Nepturnt, a green-black metallic/smoky emerald glitter; Alien Bae, a blue-black metallic/smoky navy glitter.
The perfect companion to the eyeshadow palette as well as the eyeliner, this dual-ended brush features a smudger and blender — perfect for picking up and layering. The super soft, synthetic bristles are tapered to perfection to apply shimmer with full control.
This fusion of pigment, glitter, and gloss is packed with iridescence and a mirror-like shine for a multidimensional shimmer in just one swipe. Dab over lipstick or glide over lips for a full-on shine finish. Available in four shades: Gal On The Moon, a holographic pink orchid; Spacesuit, a glittering peach; Plutonic Relationship, a holographic hot pink; and Astro-naughty, a glittering garnet.
This shimmering lip color looks and feels like a lip balm dipped in liquefied jewels. These color-drenched micro-shimmers reflect a jewel chrome sheen that's buildable and ultra-creamy. Available in four shades: Gravity, a shimmering hot pink; Supermoon, a sparkling peach; Sci-Fly, a glimmering garnet; and Supanova, a twinkling pink orchid.
Now this, friends, is a holiday collection! Be ready tomorrow, because we have a feeling they're going to fly off the shelves.