Fenty Beauty celebrated Rihanna's 30th birthday with a special-edition highlighter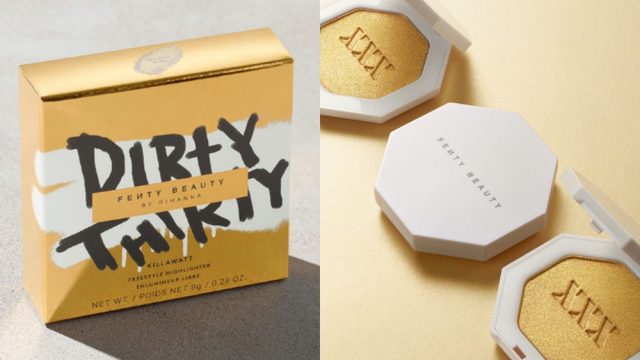 Did you know that yesterday was a holiday? Rihanna turned 30 years old, so it's time to celebrate. In honor of the benevolent queen and cosmetic genius, Fenty Beauty bestowed a limited-edition Killawatt Highlighter: the Dirty Thirty Edition. It's a special package of the fan-favorite highlighter shade in Trophy Wife. So you can get this must-have highlighter in its cheeky new packaging.
Beauty lovers have been obsessed with the Trophy Wife Killawatt highlighter since it made its debut. We rarely see a bold and highly pigmented highlighter that flatters all skin tones, and that features a gorgeous consistency. This is not your average, everyday highlighter either. As with all Fenty Beauty products, it's next-level.
And now we can kick it up a notch with this glamorous and sexy-cool new version of the beloved product. Whether you've already got the original Trophy Wife packaging or if this is your first time seeing it, we recommend you get your hands on this special version, ASAP.
The Fenty Beauty limited-edition Killawatt: Dirty Thirty Freestyle Highlighter in Trophy Wife is available for $34.
Get it, here.
This iconic highlighter is formulated to be weightless and long-wearing, so you don't have to worry about it evaporating into your skin after a few hours. The cream-to-powder hybrid melts into your skin and couldn't be easier to blend. The superfine shimmer gives you an ultra-smooth, creamy texture.
Rihanna got an extra-special bling-ed out version as a little gift, and it's even more gorgeous than we could have imagined!
Head on over to Fenty Beauty and pick up this beauty for yourself, it won't be around for long.