Feminist Passport: Your travel guide to Jersey City
You want to see the world, but sometimes the world is an unfriendly place. That's why HelloGiggles is bringing you Feminist Passport, a guide to all of the most inclusive hotels, restaurants, shops, bars, and sights to visit on your next big adventure. Because travel should be for everyone.
If you've ever been to New York City and happened to walk along the High Line and look out across the Hudson River to the west, chances are you were looking at Jersey City, New Jersey. It's just a hop, skip, and a Path train ride away from N.Y.C., so you might think the only reason to go to Jersey City is to find a cheaper place to stay than somewhere in the Big Apple. But really, there's a lot going on in the Hudson Valley town.
Most women know that familiarizing yourself with a new place takes a little bit of research ahead of time, especially if you want to make sure that you're visiting safe, affordable, and feminist places. Consider this your feminist guide to Jersey City, so you can make the most of your time in the smaller version of the Big Apple. I guess that makes it the Little Apple, but I've never actually heard anyone call it that. Whatever you want to call it, besides "the dirty Jerz," you won't want to miss these women-owned and inspired shops and activities that will make you realize that Jersey has a lot more to offer than The Jersey Shore.
1 Get a haircut or new style at The Hair Room JC
Visiting The Hair Room JC, a feminist, women-owned and run business in Historic Downtown Jersey City that aims to inspire self-love and confidence in its female clients, is an experience. The minute you walk into the small salon, you'll notice the 1970s-style tile floor and the patterned floral wallpaper. From there, you'll quickly see that there's something exciting in basically every corner of the beauty parlor. If your dream is to pretend you're visiting the studio in Steel Magnolias, The Hair Room will give you that experience, and with the same uplifting, empowering vibe, too.
Not only will you be greeted by a warm welcome, you'll also have fun, since many of the stylists at The Hair Room JC specialize in bold coloring. And if you don't want to drop a lot of dough on a new 'do, you can spend just $25-$35 for fun braiding or dry styling.
Down the street, you'll find a nice park (Van Vorst Park) and Jersey City's Main Library, which is an old building, like, really old—it opened in 1901. After visiting the vintage-inspired salon, walking down the street to see the century-old buildings is the perfect way to enjoy the city.
2 Take a food tour with Jersey Girls Food Tours
If you're in Jersey City over the weekend, you can't miss out on Jersey Girls Food Tours. Founders Alessia and Janis decided to turn their passion for food into a business venture by creating food tours that help people discover the best culinary delights that Jersey City has to offer. The only thing better than going to one delectable restaurant in an afternoon is trying out five to seven of them.
3 Spend hours shopping at Love Locked
You could seriously spend hours in Love Locked, an adorable boutique that sells everything from handmade jewelry to essential oils to candles to art to enamel pins to self-care kits. The store sells products from many local women artists, including Danielle V Designs' clothing and pins, Embroidered Panda clothing, Modern Sage chakra oils, and Silver Sculptor jewelry. Not only does Love Locked primarily feature accessories by female craftspeople, you can also find plenty of art that champions women's empowerment. It's the perfect shop to visit to treat yourself and spend hours looking through all of the delicate, fun products.
4 Go to a fun workout class at Jane Do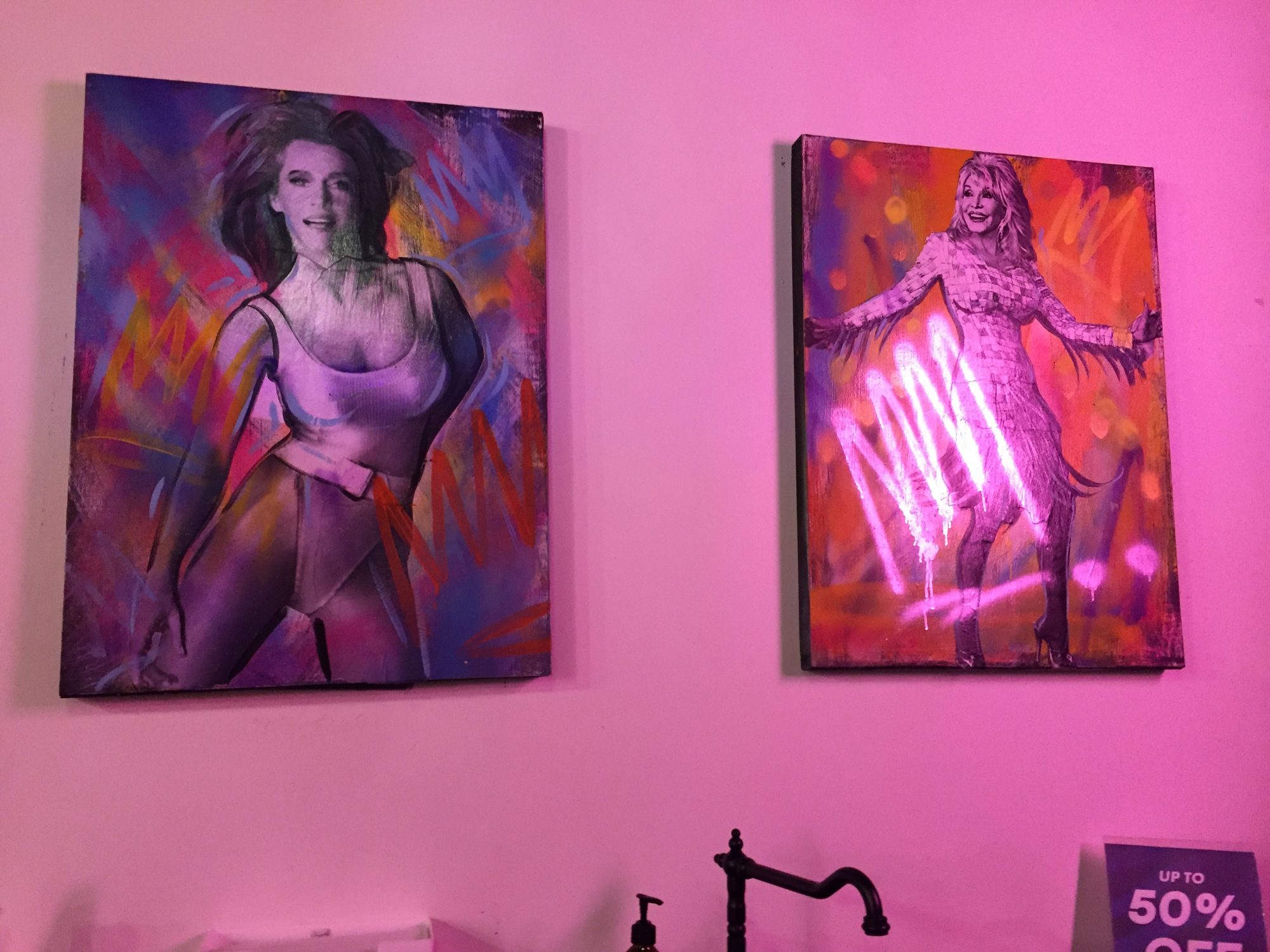 Once you get to Jane Do's third-floor walk-up studio, you'll immediately feel like you want to kick some butt. The woman-owned gym is marketed as "Every woman's workout," and the space, even though it's not huge, feels inclusive and fun. One wall features neon pink signage, while the adjacent one has a painting of Dolly Parton. Across from that, there's a glowing pink sign—and that's just the lobby area. Jane Do offers four different classes as well as an online community called #GRLTLK that focuses on improving women's confidence and health. If you're looking for something to do that's fun and empowering, why not take the studio's dance class called Dance Your Ass Off? That is, if you're not too tired from the walking food tour.
5 Take an arts and crafts class at Kanibal & Co.
Kanibal & Co., another woman-owned business in Historic Jersey City, sells everything from home goods to clothing to stationery. Not only will  you want to buy everything you see, but they also offer monthly classes that will give you a chance to learn a new, artsy skill. Past classes have included candle-making, glass etching, card illustrating, and watercoloring. If you're planning a trip to Jersey City, you might want to check Kanibal's calendar of events to make sure that you'll be able to attend one of their classes while you're in town. It's certainly a great opportunity to channel your creativity.
Whether Jersey City is just a stop along the way on a longer trip to New York City or the main destination for your travels, you shouldn't have any trouble spending your time there in a fun and feminist way.