6 seriously inspiring feminist quotes for your 2018 Women's March sign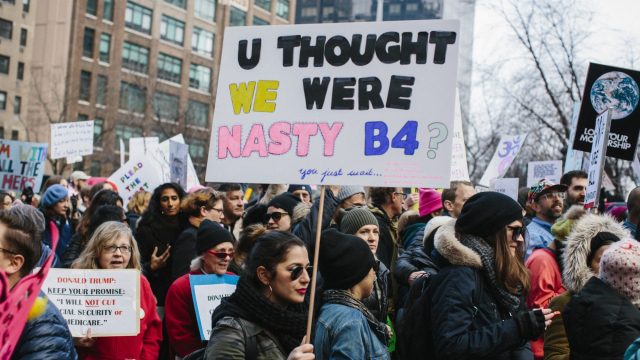 We can't believe it's already been an entire year since the 2017 Women's March. The historic march is back for another year. And this time around, it's on the one-year anniversary of Donald Trump's presidential inauguration. The Women's March was a direct response to Trump's election and brought together more than five million people worldwide, all marching for the same cause. The 2018 Women's March will likely be similar: full of frustration, anger, and so much hope. Time to grab your Women's March sign!
A big part of the Women's March last year was admiring the entertaining signs. There were punny march signs, super unique march signs, and march signs decorated with famous feminist quotes. We quoted Carrie Fisher and Princess Lea. We wanted to "free Melania." And we saw words from Audre Lorde, Angela Davis, Susan B. Anthony, and so many other powerful women.
But so much has happened in the past 365 days. If you still need some inspiration for your 2018 Women's March sign, or just want to celebrate wise words today (and every day), check out these feminist quotes. We have a lot to choose from. Is it cool to carry like, 80 signs?
Here are some of our favorite feminist quotes for your 2018 Women's March sign.
"We need to encourage girls that their voice matters." –Malala Yousafzai
Yousafzai turned 20 years old in 2017 and continues to inspire the world. In an interview with TIME Magazine last year, she gave us that incredible quote. And it's perfect for your Women's March sign.
"Feminism is not a stick with which to beat other women." –Emma Watson
Watson's words are always quotable. And often feminist AF as well. This quote came out when some people took issue with Watson's wardrobe in a Vanity Fair spread. The actress had no problem alerting the world that covering every inch of your skin and being a feminist are not mutually exclusive.
"I will fight for those who cannot fight for themselves." –Wonder Woman
Gal Gadot and Patty Jenkins did something incredible for all humans and superheroes in 2017. They gave us a woman, a strong woman, with a touching story and a bunch of badass moves. Wonder Woman is quotable from top to bottom. And the idea of fighting for those who cannot fight for themselves is an especially important message.
"There is no limit to what we, as women, can accomplish." –Michelle Obama
Forever our favorite First Lady, Michelle Obama's words should be plastered everywhere, including the signs at the 2018 Women's March. She has so many empowering quotes to choose from, but this is one of our favorites.
"When you're on my time, I can reclaim it." –Maxine Waters
Who doesn't remember exactly where they were when Maxine Waters gave us these powerful words? Representative Waters let Treasury Secretary Steve Mnuchin have it at a congressional hearing in July of 2017. He dodged her questions and talked over her, and Waters didn't play around. She inspired us all to never listen to a man's yammering again.
"She was warned. She was given an explanation. Nevertheless, she persisted."
It's not going to be the 2018 Women's March without this quote, which was taken out of context in the best way. When Senate Majority Leader Mitch McConnell commented on Elizabeth Warren's apparently ~too lengthy~ speech, while she was reading the words of Coretta Scott King on the Senate floor, he attempted to critique her. Instead, he gave us a war cry.
"Nevertheless, she persisted."
We've heard it, seen it tattooed on people's bodies, and watched it trend on Twitter. And if that isn't the perfect quote to sum up women in 2018 (and always), what else is? Thanks, Mitch.
Happy marching!