Feminist Passport: Your travel guide to Calgary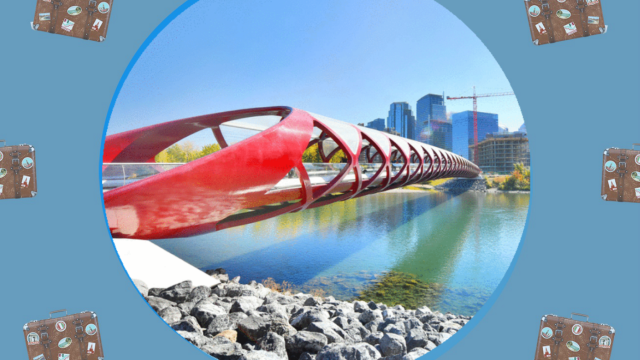 You want to see the world, but sometimes the world is an unfriendly place. That's why HelloGiggles is bringing you Feminist Passport, a guide to all of the most inclusive hotels, restaurants, shops, bars, and sights to visit on your next big adventure. Because travel should be for everyone.
Oh, Canada. There are plenty of uber hip and popular travel destinations across the country, such as Toronto and Montreal, but if there's one spot that tends to get overlooked, it's Alberta. It's that western province between British Columbia and Saskatchewan, and it's mostly known for oil drilling and the annual Calgary Stampede. Since this summer was my season of adventure, though, I journeyed out west to Calgary, Alberta to see what was up.
As soon as I landed at the airport, I saw oversized white hats everywhere; clearly I'd underestimated the western cowboy influence on the city. It was immediately clear to me that Calgary was nothing like the big cities I'm used to, but what I didn't know was that I'd fall in love with it. The people really were friendly (hey, it's Canada!) and the booming food, shopping, and cultural scenes pleasantly surprised me.
Below are some activities at inclusive spots that had me wondering why I didn't venture to Calgary sooner:
1Chow down at Charbar
One of my first meals was at Charbar, and it set me up for what would be a week of good eats. Located in the colorful East Village neighborhood, right along the Bow River, Charbar serves dishes with an Argentinian influence. Helmed by chef and Chopped Canada winner Jessica Pelland, it has one of those menus so enticing, you can't decide on just one main dish. Solution: Dine family style and get a little bit of everything. But whatever you order, be sure to try the roasted clam and chimichurri pizza. Just be prepared to fight over the last slice of the soft, buttery crust.
2Drink beer—and be treated with respect—at Cold Garden
Even if you're not a heavy beer drinker, Cold Garden brewery just might change your mind. I admit I usually stick with one or two varieties of beer because I like a safe bet, but I've always wanted to try something different. One of Cold Garden's owners, Dan Allard, offered us a flight to sample and broke it down like, "if you like this drink, you'll like this beer." Some drinks were a hit for me and others were a hell no, but I appreciated that he didn't immediately suggest something sweet or "fruity" for the women. In addition to the brews, the vibe of this place is everything. The furniture is a hodgepodge of couches and benches that will make you feel like you're in your wacky aunt's living room or a backyard. And the selection of people you'll encounter is just as eclectic.
3Take in a play at Theatre Calgary
While I live in N.Y.C. and probably only make it to one Broadway show a year, at best, I made it a point to check out Theatre Calgary's Shakespeare by the Bow festival for a free showing of Two Gentleman of Verona. This is probably the Shakespeare play I'm least familiar with, but it was free and set in the '80s, so I was sold. And it was great. But what I really loved was that it kicked off with acknowledgment of the Indigenous people of Canada and the land the play was performed on. Theatre Calgary is currently showing Honour Beat by playwright Tara Beagan, about two sisters dealing with their mother's death. This play also recognizes the First Nations people of Canada by opening the production with a territorial acknowledgement.
4Feast your eyes (and your belly) on the Calcutta Cricket Club
I'm a sucker for good decor, so Calcutta Cricket Club immediately won me over. During my visit, we sat outside in the patio area, but the inside decor, especially the bar, is where I wanted to spend more time. The restaurant's website describes the place's aesthetic as "1960s Indian social club meets The Golden Girls," and that's exactly how I'd describe the bamboo, rattan, pink and green hues, and the black and gold leopard figure that hangs above the bar. The decor, designed by Maya Gohill, even took home the award for Best Restaurant Design in Canada. Even more impressive? This is the first interior designed by Gohill.
5Chill out at Ship & Anchor
Another must-visit on 17th Ave. South has to be Ship & Anchor. This strip has no shortage of restaurants and bars to choose from, but Ship & Anchor stands out from the rest—and not just because it's one of the bars almost any Calgarian will tell you to visit. The bro vibe of some pubs can feel off-putting, but that wasn't the case here. It had a laid back, come-as-you-are feel. After a visit, I totally understood why it was a spot that everyone recommended. Also, nearby there are LGBTQ bars and clubs like The Backlot, one of Calgary's oldest gay bars, and Twisted Element.
6Get cultured at the National Music Centre
I rarely go to museums, unless there's an exhibit I'm dying to see. But I didn't leave Calgary without checking out the National Music Centre. Located inside the Studio Bell, its beautiful design alone was enough to pull me in. But if you're a music head or even a fashionista, you'll go crazy over the exhibits and instruments you'll see on the tour. They range from David Foster's piano (with signatures from notables like Aretha Franklin, Chaka Khan, and Donna Summer) to intricate stage outfits from k.d. lang and Shania Twain. During my visit, they also had a piece on display from Mount Royal University's Otahpiaaki Red Gown project. The social program collaborates with Indigenous designers across Canada, and the dress on display was bringing awareness to the number of Indigenous women and girls who are trafficked.
7Help kids, and eat meat, at Empire Provisions
Karen Kho and Dave Sturies opened up shop in 2017, but way before that, they were providing meat to some of the area's top restaurants. Now their brick-and-mortar Empire Provisions location serves and sells some of best locally sourced meats. I was pretty full from a previous meal when I paid a visit, but I had to try the food. My stomach graciously opened up for a few bites of a bowl of goodness that included Korean sausage, brown rice and kimchi. Before settling on a selection, I noticed a few menu items were a part of MealShare. For every item sold, Empire Provisions provides a meal to a youth in need.