Feminist Passport: Your travel guide to Barcelona
You want to see the world, but sometimes the world is an unfriendly place. That's why HelloGiggles is bringing you Feminist Passport, a guide to all of the most inclusive hotels, restaurants, shops, bars, and sights to visit on your next big adventure. Because travel should be for everyone.
Confession time: After spending one week in Barcelona, Spain, I'm struggling hardcore with adjusting back to life in the States. It's not hyperbole when I say my recent trip across the pond was life-changing.
Before I left for my solo trip to Spain, I had no idea Spaniards lived on such a natural schedule that promotes mental health. And now that I'm back in America, I miss waking up around midmorning (generally things do not start moving until 10 a.m. or so in Spain, which is when my brain naturally starts to work every day), having cava (aka Spanish sparking wine) at every meal, taking a three-hour siesta to relax (or nap off that midday cava drunk), eating smaller tapas meals before a late 9 p.m. or 10 p.m. dinner, and enjoying the night life straight through to sunrise without having to worry about waking up at an ungodly hour the next day.
It does not matter what day of the week it is—people living in Spain have figured out the secret to a happy life. I low-key want to move to Barcelona after just a week there, since I highly doubt this philosophy will catch on in America no matter how hard I try. 
If you find yourself with some free time (and the funds to make it happen), Barcelona should be your next destination. It's perfect for anyone, whether you enjoy vacations full of relaxation on the beach, learning about culture and history at museums, adventures to churches and parks, shopping, or eating your weight in delicious tapas.
The best part is, as my first solo international trip, I could not have been more relieved to see how safe it was for a single girl to travel there. Yes, there are pickpockets everywhere—but I was warned about them by every single local I met, so even that provided a feeling of security I didn't expect. By keeping my hand on my bag at all times and being aware, I was never targeted. Just don't look like a clueless tourist, be smart about your surroundings, and you won't have any problems.
Here are some of the feminist highlights of my trip that I can't recommend enough, whether you're a single girl traveling alone, looking to support inclusive places, or simply want a vacation experience off the beaten path so your Instas don't scream "basic!" to all your friends and fans.
1Visit any Festa Major celebration
I had the the privilege of getting a peek behind the curtain of this Spanish festival that takes place in many different towns and cities when I visited Vilafranca del Penedés, a small town about a half hour outside of Barcelona. I was traveling with National Geographic's globe-spanning series Explorer along with host Phil Keoghan, who is taking over Explorer hosting duties when the new season premieres in November, and he befriended a family taking part in the festivities. The network invited me to tag along to watch Phil take part in the festival and witness the locals build "castells," which are literal human towers. Towers made of people!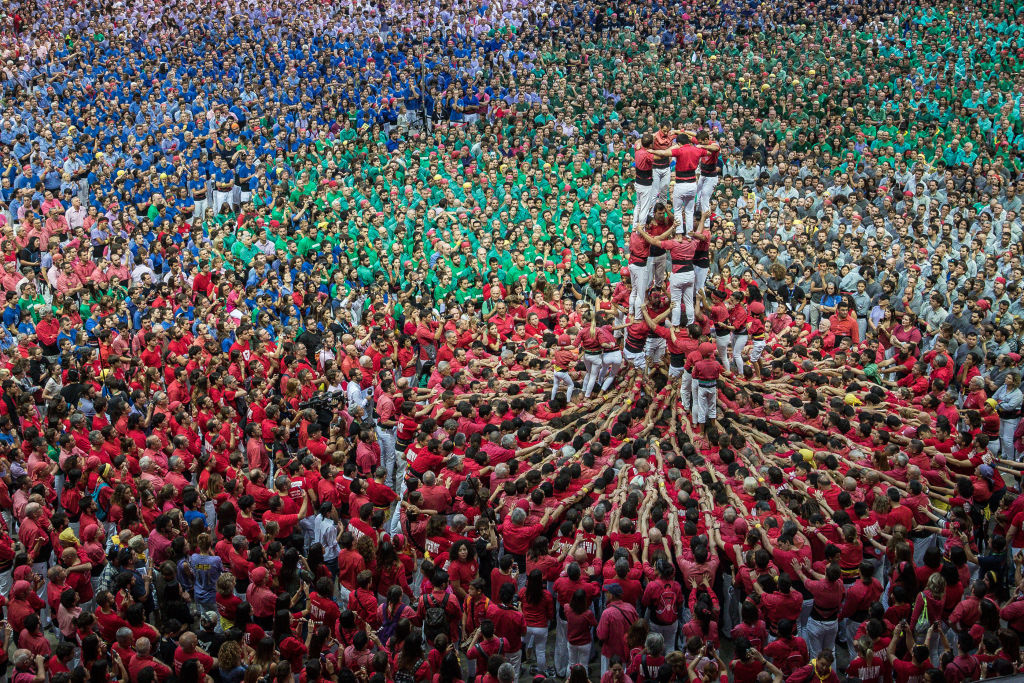 The castells are absolutely mind-blowing to see in photos and videos, but even more so in person. They're built by a large group of people forming a base, putting their arms out to brace the person in front of them, while large, muscular men stand on top of their shoulders. Then, as each level gets higher, younger, smaller men and women climb up to keep growing the tower until the crown of the castell, a young girl usually around age six, climbs up each level until she stands on the shoulders of the person at the highest level and waves her arm at the top, signaling the castell reaching its peak.
Once the tower reaches a level of eight or nine people high, the crown shimmies all the way back down to the ground, and each level follows suit until every single casteller is safely back on the ground. Mission accomplished.
While the feat itself is glorious to watch, the best part comes after the castell has disbanded. The crown is carried around on the shoulders of someone while everyone celebrates her success. Men and women, young and old, run around hugging each other and clapping each other on the shoulders, sharing in the joy of a successful castell. And that's made all the more impactful when you learn that the castells are built simply to bring the community closer together and promote unity, even in times of political unrest.
I have never seen such camaraderie on display by every single citizen of a town before, and it was inspiring, especially because young girls take on such a critical role. I later learned that when the crowns grow up, they become leaders in the community and take on leadership roles in the building of castells. Watching old men pay so much respect to a 16-year-old girl shouting out commands at the base of the castell was truly a sight to behold, considering this is a tradition dating back hundreds of years.
2Eat, drink, and dance at Docket
One of the best parts of Barcelona is that you can't get a bad meal anywhere. And you don't need Yelp at all. Walk into literally any tapas cafe or restaurant no matter where you are in the city and you'll have the best meal of your life. But my favorite tapas experience was, hands-down, at Docket in the Gothic Quarter. While dining, I made some new friends from Germany and Mexico, and good company always makes a meal more enjoyable. Even better: the badass female chef, famous among locals, made some of the best croquettes I had all week. Watching her make all the food through the open-air window separating the kitchen from the rest of the cafe would have been enough entertainment to last me my entire night.
But then the live band started playing and one of the servers pulled me out of my chair to salsa dance with him in the middle of the restaurant, so my attention was elsewhere. If you're looking for an incredible night of dancing to go along with your tapas experience cooked by a badass female chef, Docket is the place to be.
3Sign up for a walking tour
The best way to experience Barcelona is walking through all of its different neighborhoods. If you don't want to forge your own path (and potentially miss out on some cool local spots), sign up for a walking tour. I found this great company that hosts free walking tours led by a guide, and since I had gotten my fill of "basic" tourist spots during a Gaudí bus tour earlier in the week (standard Barcelona tourist fare), I decided on the Alternative Walking Tour focusing on the street art in Barcelona.
The three-hour walking tour was my favorite thing I did all week. Led by a British ex-pat whose passion for art was evidenced by the fact that he knew all the street artists personally, I saw the city with new eyes. What I thought was random graffiti on every wall and door in the city actually told stories and held meaning. Barcelona has a long history of street artists, and you could see the evolution of some artists' works on random alleyway walls and windows. The more our guide pointed out, the more I started recognizing the same artists' styles over and over again.
But what really inspired me was hearing about all the female street artists in the city. It turns out that while street art is an incredibly male-dominated world, there is a small but fierce growing community of female street artists. They all know each other and work together in studios next to each other. Since street art is illegal (since it's graffiti on public property), artists have to work at night and as quickly as possible so as to not get caught and arrested, but going out in the middle of the night alone is dangerous for women. So when it's time for the female artists to take their art to the streets, they go out in groups and spray paint their pieces all in the same spot. One woman acts as lookout while the rest leave their mark—safety in numbers. It was incredible to come across wall after wall of different female street artists' works, all grouped together in clusters. The city's artist sisterhood was literally on display.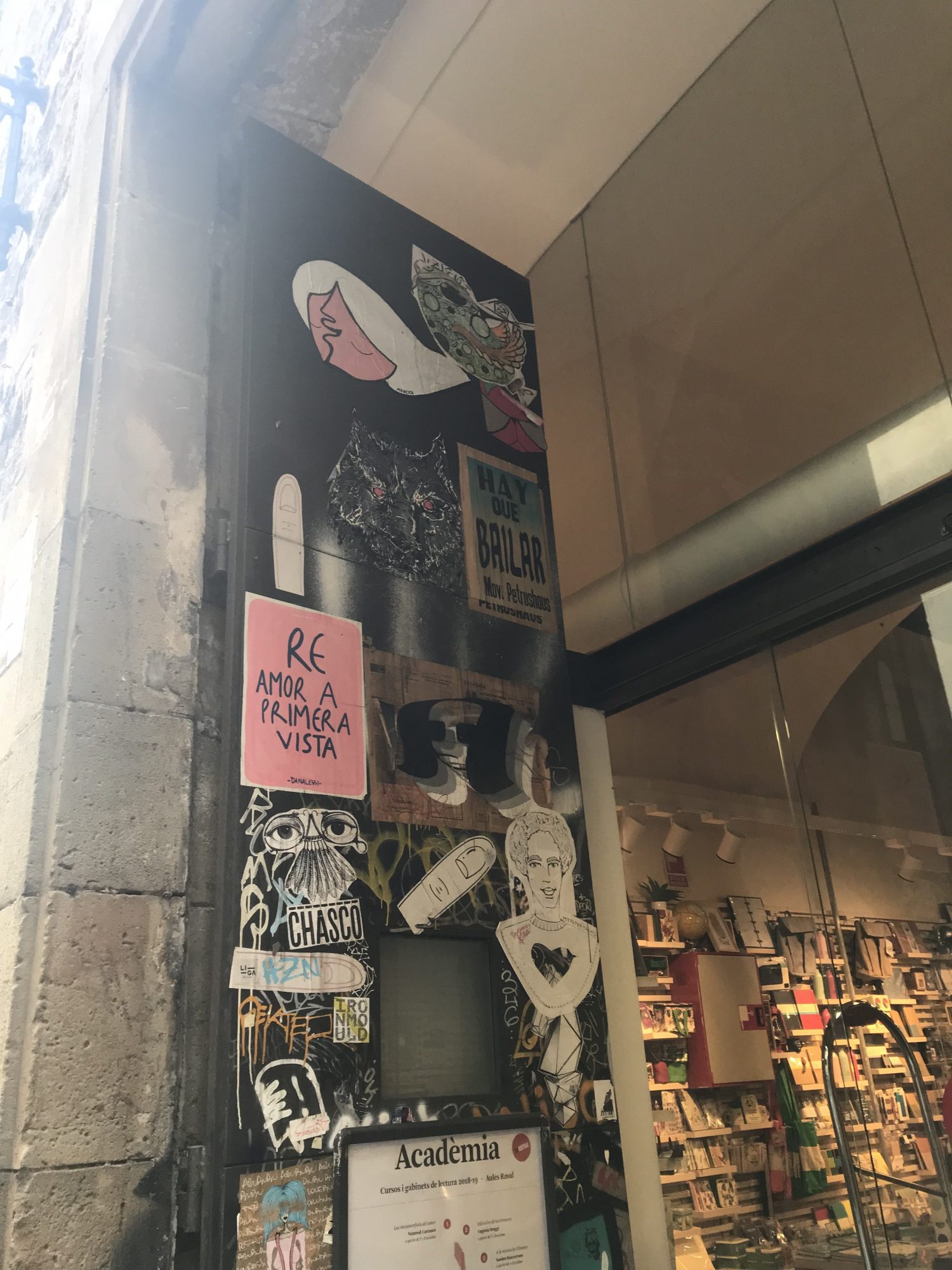 4Get educated on the city's history of feminism
Take some respite from the heat and crowds by ducking into La Bonne, the Centre de Cultura de Dones Francesca Bonnemaison. The women's cultural center is quiet, relaxing, and full of information about the city's history of feminism. Created by early 20th-century feminist Francesca Bonnemaison, the library has more female-centric books in one place than I have ever seen, and some were written before Spain's civil war in the 1930s. There is also always a unique exhibit of some kind too, if you'd rather look at art than read.
This is only a fraction of what I was able to cram into one week, but if you're looking for an empowering, fulfilling, and truly feminist way to experience Barcelona, these are the best ways to accomplish that. My only complaint the entire week? No one warned me about the mosquitoes. Holy motherforking shirtballs are there some nasty mosquitoes in Spain. You will get eaten alive if you have any exposed skin. If you only listen to one piece of advice from this whole travel guide, make it this one: Protect yourself. Bring bug spray. Enjoy Barcelona.