Feminist Passport: Your travel guide to Las Vegas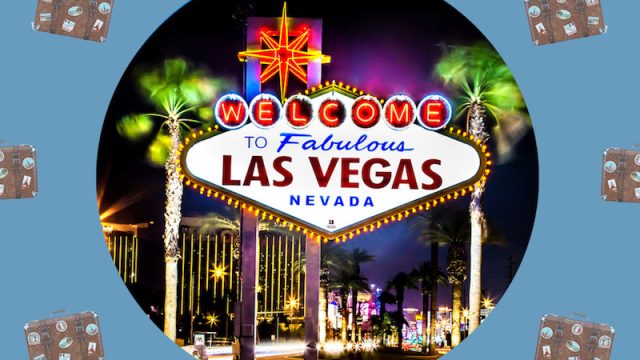 You want to see the world, but sometimes the world is an unfriendly place. That's why HelloGiggles is bringing you Feminist Passport, a guide to all of the most inclusive hotels, restaurants, shops, bars, and sights to visit on your next big adventure. Because travel should be for everyone.
Vegas baby.
It's the ultimate dude-bro hot spot. Las Vegas has all the charm of a bachelor party gone wrong: gambling, inexplicably drunk mid-day excursions, and unapologetic misogyny. The whole "what happens in Vegas stays in Vegas" credo definitely sounds like something three guys tried to mansplain to a sex worker in a hotel room.
But I went to Vegas recently and had a very different experience. I went, honestly, because I had the post-holiday blues and there was a Southwest deal alert on my phone. They had $45 tickets from Oakland, and I needed a break. I am not a gambler and didn't know what else there was to do in Sin City, so once I'd checked into my hotel I started googling. I was looking for fun without the overwhelming toxic masculinity — and Vegas was worth the trip.
Here's what I got into on my most recent trip and how you can have a feminist experience in Vegas, too.
1Tour the Mob Museum
If you are a feminist who happens to dig boss women throughout history, then you'll love the Mob Museum. I was fascinated by the women the museum highlighted. There are several floors at the museum, and you even get to sit in on a newsreel-style trial in a mock courtroom.
The Underground Speakeasy (in addition to an in-house distillery) has walls lined with stories of women like Billie Holiday, Bessie Smith, and Josephine Baker, and I was impressed with how prominently the Harlem Renaissance was featured, too. I was the only Black person besides the staff, so that was a bit off-putting, but I still liked the tour.
As weird as it feels to say, the Mob Museum paid respect to the boss women of the era. The parallels between sex-positive dating and the revolutionary, unchaperoned courtships that burgeoned during the Prohibition Era are uncanny. Beyond the historical significance, though, the place was immaculate. The intricate detail that went into the gold and olive ceiling detail was impressive, and the chocolate leather loveseat in the lounge was exquisite. And the liquor was equally delectable.
2Go for a high-flying zipline adventure
One unexpectedly feminist adventure I had was ziplining. I had never been and there was a good Groupon deal available at SlotZilla, so I went for it. As I did on most of my trip, I rolled solo. Standing in line 12 stories above the street with strangers was a little daunting — especially when 75% of the group was coupled up. And as I got closer and closer to being strapped in, one of the men in line suggested that I needed a man to kiss when I made it to the other end safely. Without hesitation, some woman jumped to my defense and drunkenly slurred through the history of the women's suffrage movement. In that moment, she was my hero. She looked back to wink at me and belched as she flew off into the night. It was a quick thrill for under $30.
3Visit the UNLV Marjorie Barrick Museum
The University of Nevada, Las Vegas Marjorie Barrick Museum was offbeat and interesting. The museum's namesake, Marjorie "Marge" Barrick, was a small-town woman with a background in economics — this was at a time in U.S. history when less than 4% of women attended a four-year college. The works in this museum are just as exceptional, including those in the VESSEL exhibition, which is a recurring, introspective exhibition of West Mexican ceramics.
Perhaps the most peculiar feature in the museum was the identity tapestry. While there are a dozen versions of this tapestry, the Vegas installation was simply dazzling. It's a new art form to me that this artist described as a "mixed-media participatory installation." It reminded me of those detective shows where the private eye tries to figure out the perp's motive. This is one of those fun installations where you're encouraged to touch the artwork, and we got to choose a piece of hand-dyed yarn and connect it to the phrases we identified with; my string was shorter than I expected. Once I visited Mary Corey March's website weeks later, though, I realized how serendipitous that was. I'll let you uncover that little gem for yourself.
4Stop by the Erotic Heritage Museum
https://www.youtube.com/watch?v=LG3OSUrqiow?feature=oembed
Some old-school feminists (like me) don't often consider porn a platform for activism or progress, but my visit to the Erotic Heritage Museum was eye-opening to say the least. From the outside it looks like a run-of-the-mill strip club; the mannequins were a bit cheesy, and the cut-outs definitely made me roll my eyes. But it's a visit worth taking if you win a pass in a street card game outside White Castle, like I did. Beware, though — the wall of female pedophiles felt more distasteful than empowering.
I didn't make it on a Tuesday night, but that's when the Erotic Heritage Museum has a feminist movie night. (Movie night is free, while the regular museum fee is about $30). Also, if you're comfortable with your body (and other people's bodies), then Naked Yoga is another body-positive treat. I envisioned overzealous men trying to feel me up, but the space ended up being pretty chill. There were definitely fully naked yogis doing their thing, so be prepared for all the crevices and curves, but I kept my bra and boxers on and no one judged me for it. It didn't feel uncomfortable being almost naked — even when my downward dog fumbled into doggy style at one point. To say it was memorable would be an understatement.
5Eat the best funnel cake of your life
Quick question — are you living your best life? If you haven't been to Braud's Funnel Cakes, then the answer is probably no. Funnel cake is amazing in and of itself, but at Braud's you will feel like a million bucks while only spending a few dollars. After labored deliberations, I chose the peach cobbler, and when I tell you I wanted to slap somebody because it was so good, I mean it. I am licking my lips now just thinking about it. It was definitely one of the best desserts I've eaten all year. The price point is decent and the quality of ingredients comes through in the flavor. The best part, though? Braud's Funnel Cakes is a woman-owned business.
6Take a hike to enlightenment
At the end of every trip I like to go hiking to reflect, and the Calico Tanks Trail was my final stop in Vegas. Between the relatively calm creek and the deep, rich, red rocks you can see from the top of the trail, I was blown away. Much like most of our journey as women, it was not easy by any means. After the first 10 minutes, I struggled for pretty much the rest of the hike. Thankfully my thrift store boots held up pretty well, but I was completely unprepared for how hot it would get. Even with sweat pouring down my face, though, it was worth it. Getting to the top of the different peaks reminded me that I am powerful. I felt the way Pocahontas would have felt if John Smith and the other pillagers never came to our land. It was exhilarating. If you have never had a Mary McLeod Bethune moment, I would highly suggest this trail. The power behind the challenge of finishing the hike was invigorating.
I used a guide to support as many women-owned businesses as possible along the way and didn't even come close to visiting all of them — in short, Vegas has much more to offer than gambling and covering up murder. My only regret is that I didn't have time to burn a bra at the Bellagio.