Feminist Passport: Your travel guide to Edmonton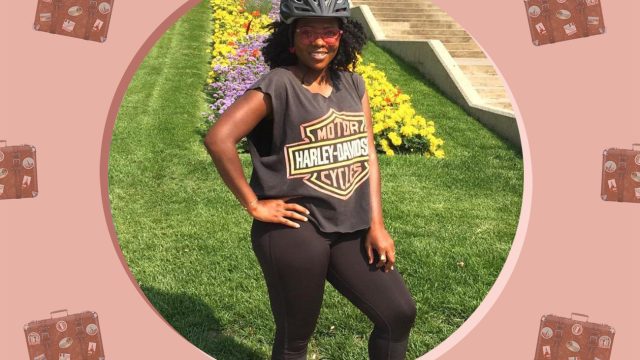 You want to see the world, but sometimes the world is an unfriendly place. That's why HelloGiggles is bringing you Feminist Passport, a guide to all of the most inclusive hotels, restaurants, shops, bars, and sights to visit on your next big adventure. Because travel should be for everyone.
It's safe to say I was wowed by the awesomeness of Alberta, Canada. After a few days in Calgary, it was time to make my way to Edmonton, about a three-hour drive away. Before leaving Cowtown, I asked a few people about the difference between the two cities. Some answered that Edmonton had more of a city vibe, while others said it's just different and couldn't really put their finger on it, but I was happy I found out for myself. The four days I spent in Edmonton included all the things I love to do when I travel, and even some things I would never have normally done.
The bustling food scene was something I took full advantage of, with many of the restaurants employing a farm-to-table philosophy and female chefs at the helm of many of the top establishments. Also, the fashion lover in me enjoyed the Canadian-to-U.S. dollar exchange rate, and I hit up a few retailers that focused on quality, handcrafted goods. Ethically sourced goods were the norm, and collaboration between small-business owners created a community vibe in the city. And while I had never canoed before and hadn't been on a bike in a decade, these activities were the highlight of my trip and made me sit back and say, "Wow, Canada is gorgeous!"
Below are just a few of the feminist, inclusive must-visits to check out while you're in Edmonton.
Treat 'yo self (or someone else) to something pretty
It's hard to visit Edmonton and not make your way to the independent shops along 124 Street. I love a good piece of costume jewelry or obnoxiously large hoops, but as I've gotten older, I've tried to incorporate classic pieces into my accessory arsenal. So Pretty Cara Cotter, named for its owner and designer, was an absolute gem. Each necklace, bracelet, ring, and set of earrings is handmade, and the collections have names that include Honour, Brave, and Fearless. I walked away with a cuff from the Brave line and a few gift ideas for the women on my holiday list.
Create a custom scent
One of the things I loved about the shopping scene in Edmonton was all of the small businesses working alongside one another. After checking out So Pretty Cara Cotter, I walked on over to Pura Botanicals. And by walked, I mean I literally took a few steps. The two women-owned businesses share a retail space! Pura Botanicals uses plant-based, cruelty-free products for its face masks, mists, serums, and more. It's basically a skin care lover's dream. I found myself spritzing and spraying anything I could get my hands on. During my trip, they were getting ready to launch a new service, Bespoke Perfume, where shoppers can mix and match notes that are just for them. While the perfume sessions weren't available when I visited, they're up and running now.
Have the best steak of your life
I've had steak many times before, but apparently my visit to Rge Rd was the first time I've really, truly had a great steak. The restaurant works with local farmers and butchers to create a menu that ranges from basic fare, like scallops, beef tartare, and sausage, to a menu item called "questionable bits," which can include any part of the animal, from the nose to the tail. If you're a really adventurous diner, try the Road Trip, where the mystery selections can include anything and everything of the chef's choosing. Rge Rd's Davina Moraiko recently won Canada's Great Kitchen Party, the first female chef in Edmonton to do so.
Enjoy brunch in the quaintest setting
While Rge Rd was amazing for dinner, Café Linnea was all about the cozy, brunch vibe, great for dining solo or with a friend. The former factory has beautiful natural sunlight (hello, Instagram!) and an equally appealing menu. Chef Kelsey Johnson created a menu of  Scandinavian-French inspired cuisine for breakfast, lunch, dinner and even a monthly High Tea. After stuffing my face with eggs, sausage, and downing a Caesar (a Canadian brunch cocktail that's like a Bloody Mary but made with clamato juice), I was tempted to buy a loaf of sourdough to go, but with no room whatsoever in my personal carry-on item, I left the bread behind. I still regret this.
Splurge on boots that fit just right
Anyone who knows me knows I'm kinda cheap. But I always say that when you're dressing your home, a couch and mattress are worth the splurge— and when you're dressing your body, boots are a good investment. I was excited to check out Poppy Barley, the footwear brand launched by sisters Justine and Kendall Barber in 2012. An employee measured my feet and legs from practically every angle and, to my surprise, I'm a size 8 versus an 8.5. Who knew? My boots arrived in the States about five weeks later and I was blown away at the super soft leather and custom fit. With many of their shoes made in León, Mexico, the sisters screen the factories to ensure they adhere to the factory code of conduct and say that, on average, their employees make six times the minimum wage in the region. Also, while at the Poppy Barley store, I was happy to see the restrooms at the Southgate Centre mall were breastfeeding-friendly. Not only were there chairs for moms, there was also an adjacent small play area so kids could remain occupied. This seemed like no big deal to the Canadians in the restroom with me, but my American mind was blown—and impressed.
Enjoy a little adventure time
I ate a lot while I was in Edmonton. I shopped. And then I ate some more. But some of the best moments I experienced included a bike tour with Revolution Cycle. I hadn't been on a bike in at least 10 years, but who could resist trying an e-bike? The electronic-assisted pedaling does much of the work for you, but still my vertigo was making me feel less than stable. Nevertheless, I persisted. My tour guide made sure I had a helmet that was big enough and fit comfortably over my hair. This may seem insignificant, but I know plenty of women with naturally big, kinky hair that doesn't fit neatly under a helmet. So having a guide who went out of his way to find a helmet that was actually comfortable—and who didn't make any awkward jokes about my 'fro (yes, this has happened before!)—was much appreciated. After biking for 30 minutes or so, I took a minor tumble, but I continued on. The bike tour came towards the end of my time in Edmonton but I wish I would have done it sooner. This was the perfect way to take in the city I came to love.