9 feminist Halloween costumes that are too perfect for 2018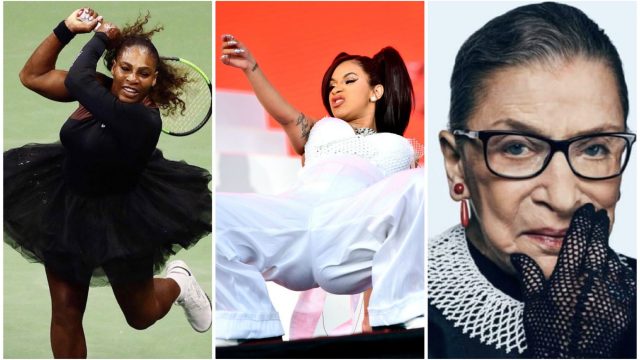 With Halloween around the corner, it's important to remember that costumes don't need to be scary or ghoulish—or sexy, for that matter. Halloween is the perfect opportunity to not only dress up as our heroes, but to make a feminist statement. And if 2018 has proven anything, it's that women are rising. In fact, 2018 might just be the Year of the Woman.
If you're tired of seeing "sexy French maid" or "sexy cab driver" costumes, now's your chance to make a statement about what feminism means to you. While your feminist Halloween costume choice might not change the world in one night, it can definitely make an impact.
1 Serena Williams in a rebel tutu
After Serena Williams stepped out in a catsuit in May at the French Open, French Tennis Federation president Bernard Giudicelli conveniently revealed his plan to ban form-fitting outfits. "One must respect the game and place," he said. Serena's response? Wearing a badass black tutu to the U.S. Open. It was the sartorial clapback of the year. To complete this winning look, you'll need a black tutu, one black bodysuit, a pair of sneakers, and a tennis racket.
2 Ruth Bader Ginsburg (enough said)
Not only did her 2018 documentary remind us why Ginsburg has earned the nickname "Notorious RBG," but she's the living embodiment of the qualified Supreme Court Justice that we deserve. You'll need one judge's robe, a lace bib, a pair of fishnet gloves, statement earrings, and black-rimmed wire glasses for your RBG costume.
https://www.instagram.com/p/BosKA9QDRSw
3Cardi B twerking while pregnant
Cardi B shut down Coachella this year when she performed, and twerked, while pregnant. She proved that women can have career success, children, and sex appeal all at the same time. To pull off this number, you'll need a beach ball (or real baby belly), white jumpsuit, statement necklace, and nails for days.
https://www.youtube.com/watch?v=P8M-68WYJPw?feature=oembed
4Inclusion rider
In accepting her Best Actress Oscar for her role in Three Billboards Outside Ebbing, Missouri, Frances McDormand concluded her speech with two words: "Inclusion rider." An inclusion rider is a clause that actors and others in the entertainment business can add to their contracts to make sure that casts or crews are diverse, for example, or that major speaking roles aren't reserved only for men. For this impactful costume, consider wearing a plain black jumpsuit and a large sign that simply says: Inclusion Rider. Spend the rest of the night defining the term and helping your friends get woke.
5Astrid in a pink dress in Crazy Rich Asians
Astrid made a jaw-dropping entrance when she appeared in her Audrey Hepburn-esque pink dress in Crazy Rich Asians. However, it was her character's strength and her confidence in choosing her destiny on her own terms that made her really stand out. For this stunner of a look, you'll need a bold pink dress, gold high heels, a matching purse, drop earrings, and some serious shades.
6Alyssa Milano at the Kavanaugh hearings
Alyssa Milano has been a strong voice in the #MeToo movement, and she continued her advocacy for women's right by supporting Dr. Christine Blasey Ford during Dr. Blasey and Brett Kavanaugh's Senate Judiciary Committee hearing in September. While you could dress up as Milano herself (think top knot, black pants and blouse, leather jacket, and a "Believe Women" sticker ), you could also pull a page from SNL's book and carry around an Alyssa Milano cut-out.
7Amy Schumer getting arrested at a Kavanaugh protest
Amy Schumer was arrested while protesting Kavanaugh's Supreme Court nomination. When the law enforcement official asked thestar if she wanted to be arrested, Schumer replied, "Yes." Badass. Wear an army green shirt, black pants, and a powerful fist bump for this Halloween costume.
8Birth control
With many activists worried about the fate of Roe v. Wade this year, women have been publicly urging each other to stock up on birth control. One woman's tweet, offering up great information on Plan B and why we should "stock up" on it now, went viral. Dress up as your go-to birth control method using supplies from the craft store.
9Medieval queen
There's a new ruler in the kingdom. This year, for the first time ever, Medieval Times replaced the kings at all nine of its United States locations with queens after they were called out for only ever casting the women as princesses. Choose a detailed gown, robe, and, of course, a big shiny crown for this costume.
So there you have it, friends: make a feminist statement this Halloween while having fun.