College students in India are standing up to their school's sexist rules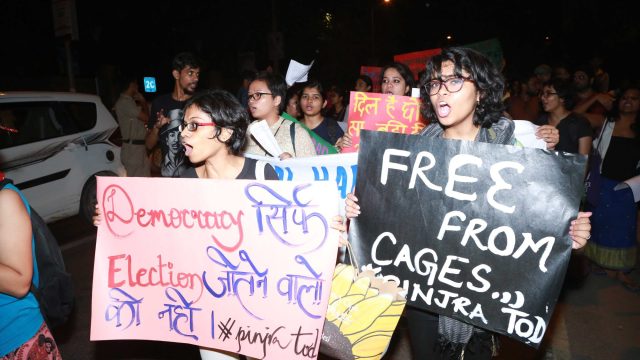 Gender-based discrimination is an issue that has long transcended counties and oceans, but there's one issue that female students protest around the world: sexism in schools.
One of the obvious infractions in the U.S. has revolved around institutions' sexist dress codes. You might remember them from elementary, middle or high school school days. School districts touted dress codes as ways to foster a conducive learning environment. But as female students know, the gender bearing the brunt of the dress code responsibility, and disciplinary action, are women.
The archaic cover-up-so-boys-aren't-tempted mentality is so obvious that calling out BS dress codes that unfairly target girls' clothing has become somewhat of a trend among school-age women across the United States. Teens are holding signs that read "I go to a school where the length of my shorts is more important than my education." They're launching petitions, starting hashtag campaigns like August 2015's #IAmNotADistraction and #IfAnythingSchoolTaughtMe and posting their unapproved outfits on social media.
https://twitter.com/udfredirect/status/634653958192111616
Thanks to a movement on the rise in India, the world is seeing more clearly that gender discrimination in a supposed placed of learning is not something to take lightly — and women have had enough.
In Delhi, India, female students speaking out against their college's sexist rules has become a full-on movement. They dubbed it Pinjra Tod, or the "Break the Cage" movement.
The group of women and male allies formed in August 2015 when female students posted in a Facebook group about the unfair curfews on campus. A month letter, the vice-chancellor of Jamia Millia Islamia, a college in New Delhi, received an anonymous letter in regards to the gender-based rules on campus.
Since then, students have taken to the streets in protest and created social media pages to spread their initiative. According to their Facebook page, the group is "an autonomous collective effort to ensure secure, affordable and not gender-discriminatory accommodation for women students across Delhi."
Among the discriminatory practices are sexist dress codes and gender-based curfews.
On the Vellore Institute of Technology campus, first-year women allegedly can't leave campus for at least the first three months of school. The Facebook page reads:
There is biometric attendance system for exiting and entering, while no such provision exist in the Men's hostels. As for punishments, all leaves may be cancelled if she exceeds the two hour time period of outing on weekdays. They can visit local guardians' only once a month.
Unlike male students, one school also prohibits women from using the library after hours. So even if they want to study, they can't. Which then puts them behind in the workforce. You know the drill. Women are not happy about it. In response to the discrimination, female students broke the locks of a hostel with a 6:30 p.m. curfew for women.
"Today in an unprecedented move both male and female students joined hands against the draconian rules and regulations imposed by the totalitarian MANUU Admin," the hostel-centric Facebook group for the movement posted in October.
This November, women from Sree Keralavarma, Thrissur, Keralatook colleges orchestrated a sit-in at a hostel to protest their 4 p.m. curfew.
The goal is quite simple: equality.
Pinjra Tod spokesperson Devangana Kalita told Reuters that they need schools to see them as autonomous adults.
We want universities to recognize that we are adults, and that they should not be curbing our freedom and mobility. Providing a safe environment for women goes beyond just imposing rules.
But protest isn't the only way members of Pinjra Tod are fighting back.
Last year they created a petition addressed to Swati Maliwal, the Chairperson of Delhi Commission for Women. They asked that their organization support their movement and listed their specific goals. "We wish to bring to your attention that such sexist practices and regulations are not limited only to Jamia Milia Islamia University, but are an integral feature of colleges and universities all across Delhi and the country in general," the petition read.
The Delhi Commission for Women did not immediately  respond to HelloGiggles' request for comment.
Despite the support and unity among college women and men since the movement's inception over year ago, however  — the Facebook group has more than 18,000 fans — few action has been taken by the schools or hostels.
According to Live Mint, a member of the University Grants Commission (UGC) tried to create a committee to reverse the prevention and prohibition of sexual assault complaints from female staff and students on campuses. Apparently, there was a low voter turn out.
Still, women in Delhi refuse to stay silent and have expanded their equality goals beyond college campuses. On December 16, members had a "walk the streets" protest in response to a recent gang rape of a 23-year-old woman.
"We assert that the justice we fight for and the freedom we desire is that of equality and nothing less. Freedom not only from something but freedom to be something—equal," the event page reads. "And this equality does not mean asserting a unified single experience of women, but asserting our freedom to be different and at the same time to reject any hierarchy on the basis of differences."
Tell 'em, ladies.