"Support the Troops" Gets New Meaning as Female Soldiers Are One Step Closer to Getting a Better Bra
The high-impact tactical bra has been a long time coming for women who enlist in the military.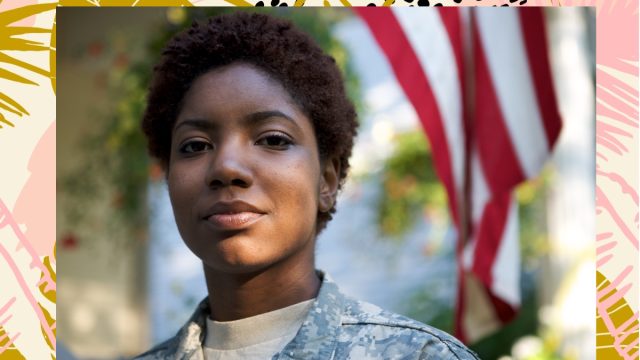 Millions of women know how hard it is to find a proper-fitting bra. Now, imagine that you're in combat training, or even out in the middle of a desert somewhere, faced with the same issue?
That's been a major plight of women in the military for years — but now, at least those enlisted in one branch, are one-step closer to getting support where they need it the most — their bustlines.
Women represent about 15 percent of those enlisted in the Army, according to the Washington Post. When the U.S. Army approached me in 2020 to teach a bra fitting class to designers at their uniform facility in Natick, Massachusetts, I had no idea what their plans were, but I knew I wanted to be a part of it.
As a journalist and bestselling author of The Bra Book, 2nd ed. (BenBella Books, 2017), I set out to get to the bottom of what really works for women, and what doesn't. Because I was widely known in the intimate apparel industry, the Army decided to call upon my expertise for its latest mission.
RELATED: 30 Best Zodiac Tattoo Ideas
Fast forward to nearly two years later, and that mission is reportedly nearing completion, as the military branch's design team "DEVCOM" is set to meet today to decide between four sports bra prototypes it's designed for female soldiers, according to ABC News.
Two years ago, after speaking with the man who was spearheading the efforts, a research director based in Virginia, I learned the Army had surveyed female soldiers through its "touch point" program, and came to the conclusion that they needed to address the lack of breast support from basic training and beyond – especially for those members who were larger busted.
"We make sure our soldiers get good socks and boots, but the bras are an issue," he told me at the time.
Currently, in its so-called "uniform bag," the Army provides a cotton sports bra that provides little to no compression and minimal support via an elastic band. Soldiers are also given a monetary allowance with which they can purchase name-brand sports bras offered at its base stores (which they can only wear after they complete basic training).
After enough complaints about the lack of provided options, it was decided that the Army would move forward with plans to either procure or produce a better bra. It made one attempt, in 2018 — but failed, because the team felt it couldn't make a high-performance bra to suit a variety of shapes and sizes.
"The overall goal is to produce garments that not only protect the user, but reduce the cognitive burden on the female Soldier caused by discomfort and ill-fit," Ashley Cushon, the designer and project lead for the bra, told the Army Times. 
Now, after a crash course by yours truly and a lot more research, it's gotten a lot further along in the process, and a uniform bra finally seems imminent.
Sarah Morehouse, a 24-year old Army veteran from Mentor, Ohio, knows that discomfort all too well. She says boot camp was even harder with a military-issued bra.
"You are given one type of bra and you're only allowed to wear that one. It was very uncomfortable," she recounts. "A lot of times the area where the clips were at on my back were sore and irritated at the end of the day with continuous movement." Morehouse adds that many of her fellow recruits shared the same sentiments.
Besides being able to provide a garment that's suitable for a wide range of shapes and sizes, the Army is tasked with some unique challenges with this bra, including ensuring that it's flame-retardant, wicking enough for 10-grueling weeks of training (and will they need more than one to rotate for daily use?) and padding on shoulder straps for comfort under heavy gear, plus an inner pocket for a dog tag.
Other challenges include the possibility that, like millions of other women, soldiers enlist without actually knowing their bra size. That means they could be unsure on which size to choose and possibly end up with one that's ill-fitting anyway.
The design team has come up with four different prototypes for the bra it's calling the "Army Tactical Brassiere" or ATB. These include three pullover styles, and one zip-up style with adjustable velcro straps and a zip-front.
Compression style sports bras work by compressing breasts to the chest, reducing bounce during movement. These are widely considered to be a supportive option for high-impact activities, provided they are fabricated with a high Lycra/Spandex content.
Once a design is approved, it'll then be tested in the field, to see if it requires any additional fine-tuning. No word yet on when it'd become widely available for soldiers' use.
Jené Luciani Sena is an accredited journalist and internationally-renowned bestselling author, regularly seen on national TV outlets such as Access Daily, Today and Dr Oz. Touted as one of Woman's World Magazine's "Ultimate Experts," she's a TEDTalk speaker and a busy Mom of 4.
Read more