Here are all of the celebrity neck tattoos that may inspire your next ink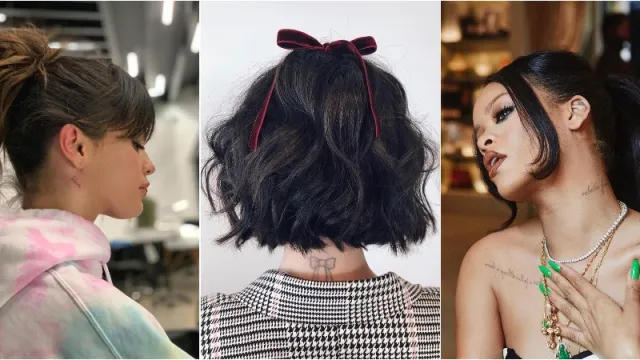 If three is a trend, then celebrity neck tattoos have surpassed that into a full-blown frenzy. Women like Rihanna and Hailey Bieber have opted for delicate script, as Vanessa Hudgens and Lucy Hale inked pretty, pretty pictures of butterflies and bows. And all of these tattoos are inspiring us all to squash stereotypes and place our ink where everyone can see it.
Of course, stars have been tattooing their necks for years—Pink got her famous neck tattoo way back in the early 2000s! But with recent additions, particularly from female celebs like Demi Lovato and Selena Gomez, the trend is back in a big way. Scroll through below to see some of our favorite examples.
Lucy Hale's bow tattoo
https://www.instagram.com/p/B8trdmnAVB5
Lucy Hale got her bow neck tattoo done by celebrity artist Dr. Woo way back in 2009, one year before her debut on Pretty Little Liars, according to Inked. Just like her character Aria, it seems Hale is always ahead of the trends.
Hailey Bieber's "lover" and cross tattoos
https://www.instagram.com/p/B19q5iXHd74
Hailey Bieber has loads of tiny tattoos, including the cross on her neck. In September 2019, Bieber added a script neck tattoo of the word "lover"—catching the eyes of Taylor Swift fans everywhere.
Selena Gomez's "Rare" tattoo
https://www.instagram.com/p/B7YlmOtBdfK
In celebration of her new album and beauty brand, Selena Gomez tatted the word "Rare" on her neck at celeb go-to parlor Bang Bang Tattoo. On The Tonight Show with Jimmy Fallon, the singer opened up about what the word means to her.
"There are some girls who are hurting because they feel like they don't fit in, but this word is eliminating that because you weren't meant to look like everyone else," she said. "You're meant to be who you are and that's unique and that's rare."
In addition to "Rare," Gomez also has other neck tattoos, including "1976" in Roman numerals on the back of her neck. Cosmopolitan reported that 1976 is the year her mother was born.
Rihanna's script tattoo
https://www.instagram.com/p/Bx-wSXTnTKv
Rihanna has the words "Rebelle fleur" written in script on he neck. The singer, fashion designer, and makeup mogul has clarified that it translates from French to "rebel flower," two nouns, instead of "rebellious flower."
Maisie Williams's Game of Thrones tattoo
https://www.instagram.com/p/Bln-LtaAbqE
"A girl" may be Arya Stark, but Maisie Williams is paying tribute to Arya's faceless man training with her neck tattoo that reads, "no one."
Halsey's song lyrics tattoo
https://www.instagram.com/p/Bd2_uBSH5VM
JonBoy has done so many famous celebrity tattoos, including Halsey's neck tattoo of lyrics from Beck's song "Loser." In a handwriting script, it says, "I'm a loser baby."
Cara Delevingne
https://www.instagram.com/p/BLBuKKigQIk
Speaking of JonBoy, he also gave Cara Delevingne this unconventional neck tattoo of two eyes. Is it us, or are those eyes following us wherever we go?
Vanessa Hudgens's butterfly neck tattoo
https://www.instagram.com/p/BiWDFLmhdyO
Vanessa Hudgens' very first tattoo was this butterfly that graces her neck. As she told David Letterman back in 2011, it holds a very special meaning in her family.
"It was very last minute, but I've actually wanted it for years," she said. "A butterfly landed on my mom's stomach a week before I was born and that's how I got my name, because Vanessa means butterfly. It's a Latin derivative."
Rita Ora's nickname tattoo
https://www.instagram.com/p/B7_7abUF9xJ
Here's another celebrity neck tattoo that pays homage to the star's relationship with her mother. Dr. Woo gave Rita Ora has a tattoo of the word "Zog." On her Instagram post, the singer explained the meaning behind it: "When I was younger my mum @veraora would call me her zog 'Zogi mamit' she would say, which means her little baby bird in Albanian."
Pink's barcode tattoo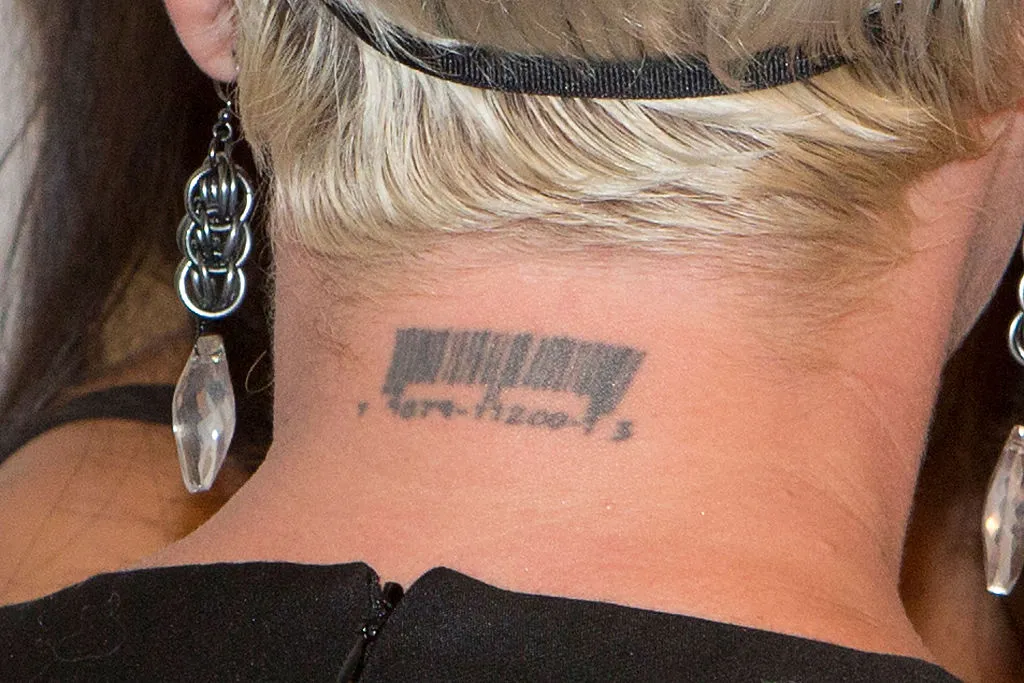 According to PopSugar, Pink said that she got her barcode as a present for herself after releasing her second studio album, Missundaztood.
Dakota Johnson's "amor" tattoo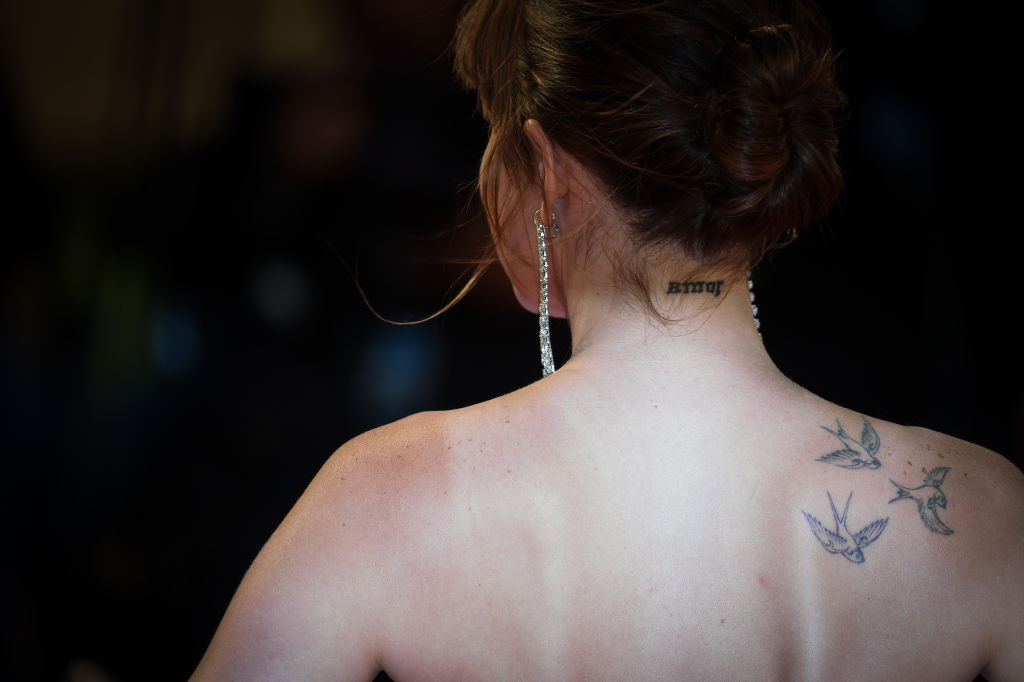 Dakota Johnson has the Spanish word for love, "amor" tattooed on the back of her neck. It's just one of her collection of at least 10 tattoos.
Ariana Grande's tattoo in homage to Breakfast at Tiffany's
https://www.instagram.com/p/s-wqZiSWVc
Ariana Grande has gotten so many tattoos that we've lost count. In 2014, she showed off her latest ink of the moment in her new Givenchy campaign: the phrase "mille tendresse." It's a reference to Breakfast at Tiffany's, one of Ari's favorite movies, and it translates to "one thousand tendernesses."
Miley Cyrus's birthyear tattoo
https://www.instagram.com/p/B3s69VKJe9T
"Year of the monkey," Miley Cyrus captioned her Instagram post showing off her new "'92" neck tattoo. Cyrus, of course, was born in 1992, on November 23rd.
Demi Lovato's "survivor" tattoo
https://www.instagram.com/p/B6JhFgkJLrB
We couldn't think of a better word to describe Demi Lovato than "survivor," and so we love Dr. Woo's work on who he calls "a real one." Lovato's neck tattoo pays homage to all that she has fought through.
Celebrity neck tattoos are having a real moment, and we can't wait to see who gets one next.