Female lawmakers are sharing their #MeToo stories, further proving that all women are affected by sexual harassment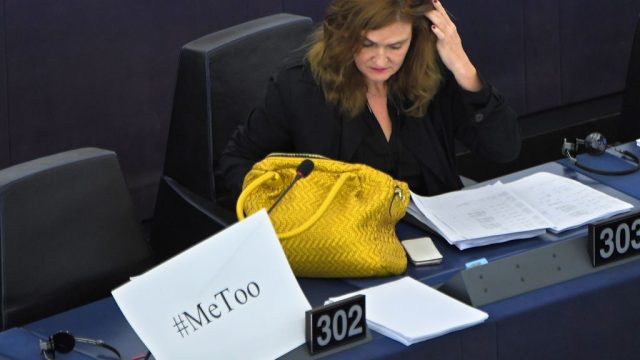 The #MeToo social media campaign picked up speed in response to sexual assault allegations against Hollywood mogul Harvey Weinstein. What started in Hollywood has now swept the country, and female lawmakers are now sharing their #MeToo stories, further proving that sexual harassment happens in every sector of society.
Time reports that "hundreds of lawmakers, lobbyists and consultants," are stepping forward to shed light on sexual misconduct in the political sphere. As of Tuesday, an open letter in Illinois had collected 130 signatures from female government employees describing the "sexual harassment and intimidation" they've experienced while working on campaigns and negotiating legislation.
"Every industry has its own version of the casting couch," the Illinois letter entitled "The Women Who Make Illinois Run" read. "Ask any woman who has lobbied the halls of the Capitol, staffed Council Chambers, or slogged through brutal hours on the campaign trail. Misogyny is alive and well in this industry."
According to Time, the National Conference of State Legislatures reports that most states employ formal written policies regarding sexual harassment and legislative staff. But the rules become a bit blurred for state capitol employees like lobbyists and consultants, which in the past has made it easier for sexual harassment to fly under the radar.
One of the authors of the Illinois letter, political fundraiser Katelynd Duncan, was fired from a campaign for reporting inappropriate behavior.
"Very early on in my career, I was taught if I speak up, there'll be negative repercussions," Duncan said. "I had to modify my behaviors to continue doing my job."
Meanwhile, the California Senate recently hired a law firm to investigate female lawmakers' claims of sexual intimidation within government.
This comes after a similar letter to Illinois' "The Women Who Make Illinois Run" circulated and collected signatures amongst California lawmakers, lobbyists, political consultants, and legislative staff members last week.
The California letter was turned into a movement called "We Said Enough," and those involved hope to start a nonprofit that holds meetings.
Female government employees in Oregon and Rhode Island have also spoken out about their experiences with sexual harassment. Mayor of Clarksville, Tennessee, Kim McMillan, has shared the fact that it took her 10 years to make the penalty for spousal rape the same as non-spousal rape because some of her male peers didn't see spousal rape as a crime.
Sexual harassment has been hiding in plain sight for too long. As long as we keep the #MeToo conversation going, we continue the fight to create change within our personal and professional worlds.