These are the woman-hosted podcasts you NEED to be listening to right now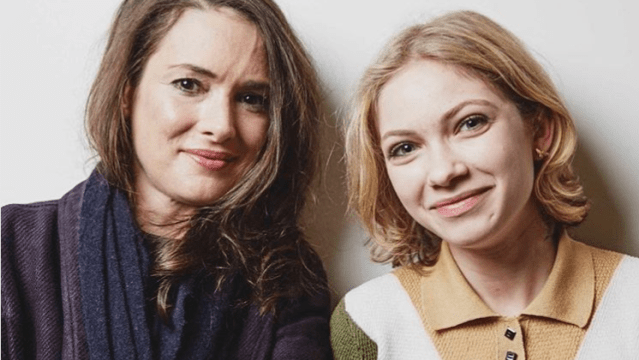 Podcasts are all the rage these days, and for good reason. We love popping in a funny one while we're struggling through a tough workout, listening to something gripping during long drives, and turning to a more serious pick when we're in need of some inspiration.
The good news? There's a serious abundance of podcasts out there, and whether you're looking for something that'll make you LOL or think, the perfect one for you is out there.
And if that perfect podcast just happens to be the creative work of a kick-ass woman? Well, that just makes it even more wonderful. These are some of our favorite woman-hosted podcasts. Add 'em all to your list!
Do you miss the nineties? Are you just as passionate about Hey Arnold as you are about Scandal? If so, tune in to FanGirl Fridays. The podcast's topics of discussion include some of pop culture's greatest hits from both past and present, and it's a glorious walk down memory lane. Trust us: A lively discussion about the once-legendary Lawrence brothers is exactly what you need to fill the Boy Meets World-sized hole in your heart.
https://www.instagram.com/p/BR_tbPwjxuz
There are two kinds of people in this world: People who are obsessed with This Is Us and people who haven't yet watched This Is Us. If you're among the former, get on listening to this podcast, which is all about the tearjerker. And if you're among the latter, binge-watch the whole first season and then get on listening to the podcast.
Hilarious co-hosts Phoebe Robinson and Jessica Williams tackle issues both hysterical (sexcapades) and heavy (race) in this awesomely unfiltered podcast. If you plan on listening to this one while running errands, beware. You might burst out laughing in the checkout line.
https://www.instagram.com/p/BR8XB0Bj4VS
Host Zarna Surti takes on the issues that affect women of color in this thoughtful podcast, which delves deep into everything from President Trump to online dating to pregnancy to the immigrant experience.
No celebrity gossip here! Host Farnoosh Torabi gets real about the universally uncomfortable subject not everyone dares to discuss: money. She discusses the topic frankly, enlists guests who do the same, and makes a sometimes unsexy topic really interesting and digestible. A must for any woman who wants to take better control of her finances.
Lena Dunham (maybe you've heard of her?) hosts this podcast, which discusses issues that face women on a day-to-day basis. Expect frank discussions about friendship, love, career and more from this oh-so relatable star.
The bad news? This podcast will make you miss your long-distance BFF HARD. The good news? The hosts of this podcast are right there with you. This gem celebrates the beauty of friendships that can survive some physical distance, and it's wildly entertaining to boot.
According to the show's Soundcloud page, "Black Girls Talking is a podcast wherein 4 black women discuss pop culture, Beyonce, & the pursuit of the perfect body oil." We really couldn't describe it better if we tried, but we will add this: This podcast totally nails that balance of thoughtful and hilarious.
Have you ever wondered what it would be like to pick up a side hustle? If so, give this podcast a listen. It'll help you figure out how the balancing act really happens, and the boss ladies who host dole out plenty of helpful tips for would-be multi-hyphenates.
Leandra Medine Cohen (aka the brains behind major fashion blogMan Repeller) records 10-minute sessions that are perfect for ladies on the go. The podcasts are short, but you'll be blown away by how eloquent and insightful this lady is. Her smarts and willingness to get REAL come through despite the brief format of this one.
Hosted by Rookie's editor-in-chief Tavi Gevinson, the recently-launched podcast has already featured guests from Winona Ryder to Hilton Als to Lorde! And just like with the Rookie website, you don't need to be a teenage girl to enjoy it.
Diarrhea, embarrassing high-school fashion choices, real opinions on celebrity gossip…there's no topic too wild for The LadyGang, which consists of entertainment journalist Keltie Knight, fashion girl boss Jac Vanek, and Glee actress Becca Tobin. The girls are flat-out hysterical and book awesome celebrity guests, who get real about sex, beauty, life in Hollywood, and everything in between.
So there ya have it! Which podcast will you be listening to first?