These 6 female celeb book clubs are definitely worth writing home about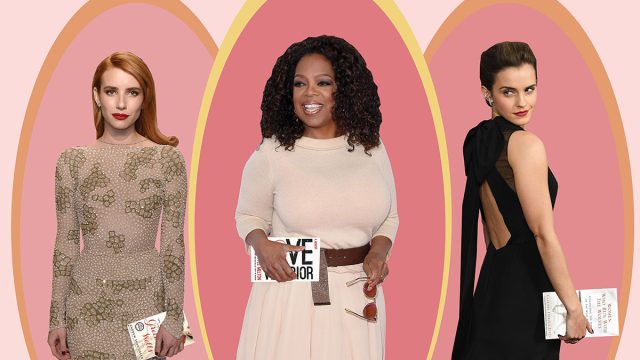 Been thinking of joining a book club lately, but don't have a clue where to begin? Well, thanks to the ol' world wide web, linking up with like-minded lit lovers across the globe is easier than ever. With the news of Emma Roberts' new book club, Belletrist, hot off the presses, we decided to give you a rundown of some of the most-talked about and most-followed, celeb-led book clubs around. Take your pick!
1Emma Watson
Our Shared Shelf was started by the feminist activist herself. Emma explains on the Goodreads page for the group:
"As part of my work with UN Women, I have started reading as many books and essays about equality as I can get my hands on. There is so much amazing stuff out there! Funny, inspiring, sad, thought-provoking, empowering! I've been discovering so much that, at times, I've felt like my head was about to explode… I decided to start a Feminist book club, as I want to share what I'm learning and hear your thoughts too."
Join Our Shared Shelf here.
2Florence Welch
Florence Welch, bookworm and front-woman of Florence and the Machine, recommends monthly picks for this book club. The Facebook page for the group reads:
"The aim of the club is to bring the whole Florence and the Machine fanbase together with Florence through the enjoyment, reading and discussion of the same book, no matter who you are, where you are, or what's going on in your life. We want to promote a love of reading and encourage people to enjoy books as much as possible."
Join Between Two Books here.
3Emma Roberts
Announced just today, Emma, who has been known to post plenty of book selfies on her own account, has teamed up with Karah Preiss on the project.
"I'm so excited to finally share @belletrist with you! You guys know I love to read 📚 I'm constantly posting what I'm reading and wanting to know what you're reading! So @kpreiss and I thought why not start a #bookclub where we can all read and discuss together in one place? Come read with us."
Join Belletrist here.
4Oprah
Oprah began her iconic, groundbreaking book club back in 1996, over 20 years ago. The New York Times noted:
"Winfrey's project—recommending books, even challenging literary novels, for viewers to read in advance of discussions on her talk show—initially provoked considerable skepticism in the literary world, where many associated daytime television with lowbrow entertainments like soap operas and game shows. 
Join Oprah's Book Club here.
5Lena Dunham 
As one of the facets of Lenny Letter (of which Lena is a co-creator), Lit Thursday is for great book recs. Though, recently, they've been focusing on long-form articles. They explain:
"We're trying something new for Lit Thursday: Instead of recommending books every week, we're going to be recommending some memorable magazine articles by and about women."
Read Lit Thursday picks here.
6Reese Witherspoon 
https://www.instagram.com/p/BQoCQSoD7og
With an emphasis on books about to be or already adapted for film, Reese's picks come with a quality assurance guarantee from the Legally Blonde actress herself. People reports:
"Using the hashtag #RWBookClub, Witherspoon's favorites range from You'll Grow Out Of It by Jessi Klein to Year of Yes by Shonda Rhimes. Many of the stories feature edgy, smart, imperfect women, and Witherspoon promises they're all great reads."
Watch for Reese's picks here.
Now go forth and bond with your new bookworm besties!