Felicity Jones will play Ruth Bader Ginsburg, because sometimes cinematic dreams come true
Fresh off of portraying a fictional badass hero in Rogue One, Felicity Jones is going to be playing real-life badass hero Ruth Bader Ginsburg in the upcoming biopic On the Basis of Sex, Deadline.com reports.
On the Basis of Sex, which begins filming in September, tells the story Ginsburg's path to the Supreme Court bench and her continual fight for equality. The film is set to be directed by Mimi Leder (Deep Impact) and was written by Daniel Stiepleman, who also happens to be Ginsburg's nephew.
Jones is replacing Natalie Portman, who was initially slated to play Ginsburg in the biopic. And while we're sad to see Portman bow out of the project, we're so excited to see one of our other favorite actresses portray the iconic Supreme Court Justice.
Seriously though, we think Felicity will rock the hell out of those robes: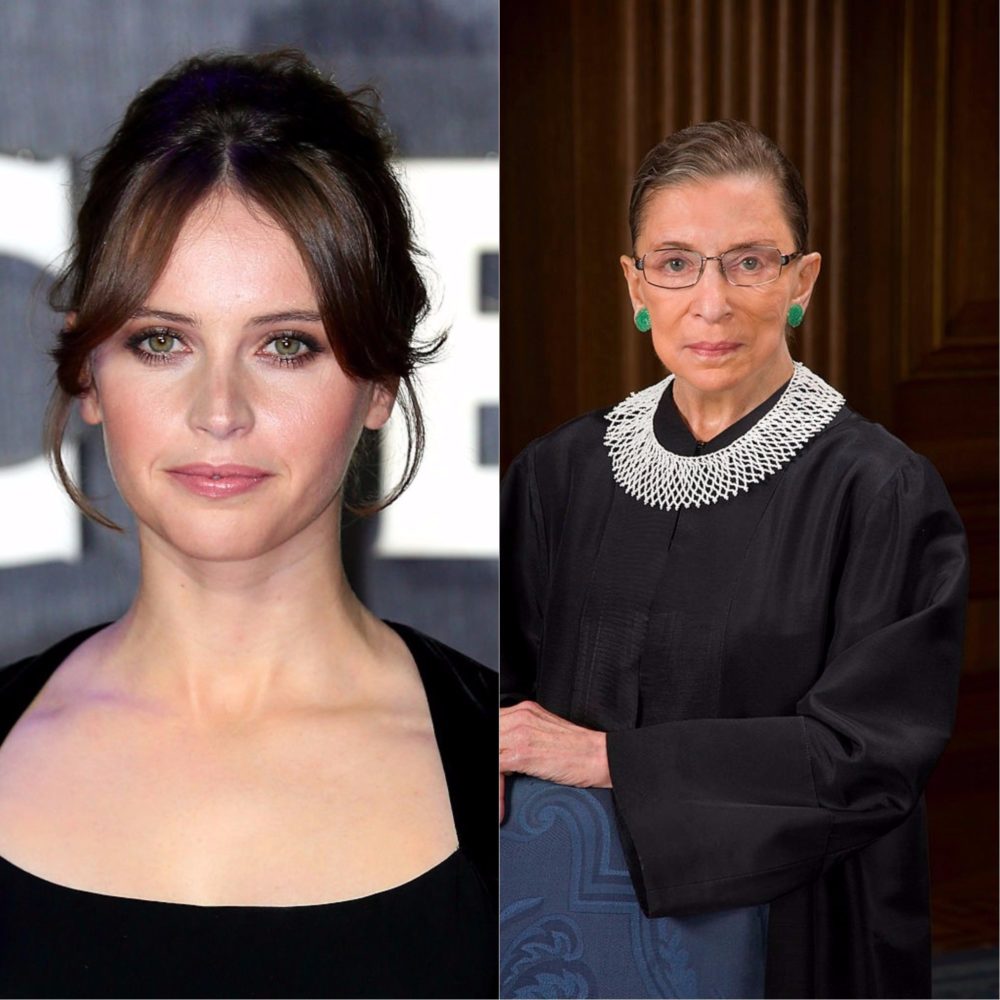 Ginsburg — or the Notorious RBG, as she's lovingly referred to by millennials — was appointed to the Supreme Court by President Bill Clinton in 1993, making her the second woman on the Supreme Court after Sandra Day O'Connor and the first Jewish, female justice. Since her appointment to the Supreme Court, Ginsburg has made headlines for her staunch support of human rights, especially in regard to women's rights.
But Ginsburg's career in human rights advocacy goes ALL the way back to her early days as a lawyer. In 1970, she founded the first U.S. law journal on women's rights, Women's Rights Law Reporter. And throughout the '70s, she worked as general council to the American Civil Liberties Union (ACLU), focusing on the Women's Rights Project, and handling cases of gender discrimination until she was nominated for the Federal Court in 1980.
The two-time cancer survivor's popularity has stemmed from her ability to articulate her thoughts in biting dissents, like in 2014's controversial 5-4 decision in Burwell v. Hobby Lobby. That's the landmark case allowing a major corporation to invoke religious freedom claim, which gave stores the ability to deny contraceptive coverage on employee insurance. In an incredible 35-page dissent, Ginsburg wrote, "The court, I fear, has ventured into a minefield."
And during 2015's landmark Obergefell v. Hodges case surrounding the legality of same-sex marriage, Ginsburg — a longtime supporter of marriage equality — used her notoriously biting wit to break apart the opposition's case and eventually, same-sex marriage was legalized in a 5-4 decision.
All things considered, we're so excited to see Felicity take on the incredible role that is National Treasure Ruth Bader Ginsburg! Honestly though, who better to play the Justice than Jyn Erso?