Felicity Jones is giving us all sorts of outwear #goals in freezing cold NYC
Going into the winter time we all get stuck into a style rut because when the winter chill hits, the saying beauty is pain goes out the window. But early this morning, Felicity Jones is officially coat goals as she promoted Rogue One on Good Morning America! Brb we need to up our coat game pronto.
Felicity Jones is currently in New York promoting Rogue One: A Star Wars Story and we have to say the style force is with her! Although it is freezing in New York City, Jones still managed to stun in this monochromatic number. This organza dress is from Oliver Theysken's Spring/Summer 2017 collection.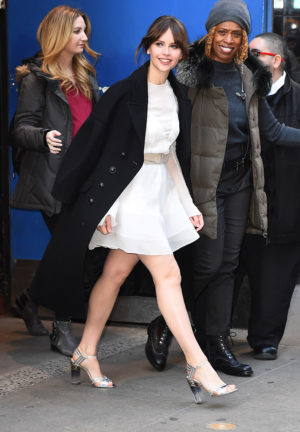 Although we are in love with Felicity's super feminine outfit, her coat definitely steals the show. Combined with her fit and flare dress, the coat makes the look more masculine. Also it's interesting to note that although she went for a more monochrome choice, she broke it up by pairing the outfit with a pair of strappy, metallic, stacked heels.
If you are a fan of Star Wars then you already familiar with her character. But if you're not, we've got you covered! Jones will be starring as Jyn Erso in the Star Wars spin-off. Jyn Erso was a human female soldier that was recruited to fight for the Alliance to Restore the Republic during the Galactic Civil War. Eventually she would take part in the theft of the Death Star Plans. In the original Star Wars film those plans eventually end up in Princess Leia's hands and then Luke Skywalker, who destroys the Death Star.
In the name of winter weather and fashionable coats, may the force be with us!