Felicity Jones looked like a modern-day princess at the "Inferno" premiere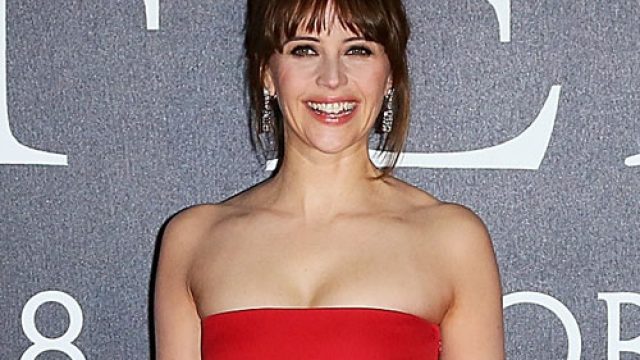 We know Felicity Jones knows how to show off her tomboy side based on her upcoming performance in Rogue One: A Star Wars Story, where she will play rebel soldier Jyn Erso, but this week she showed off her more feminine side. The 32-year-old actress stepped out on the red carpet for the Italian premiere of Inferno and she looked like a modern-day princess and we can't get over it.
Jones plays Dr. Sienna Brooks in the upcoming film, which is another story from The Da Vinci Code author Dan Brown, and also stars Tom Hanks as Robert Langdon. Although the story in both the book and the film are more about Hanks' character, when the British actress hit the red carpet in Italy on Saturday all the attention was on her, and for good reason — she looked stunning.
Jones channeled her inner princess at the premiere wearing a gorgeous red gown, complete with a semi-full, A-line skirt and small train.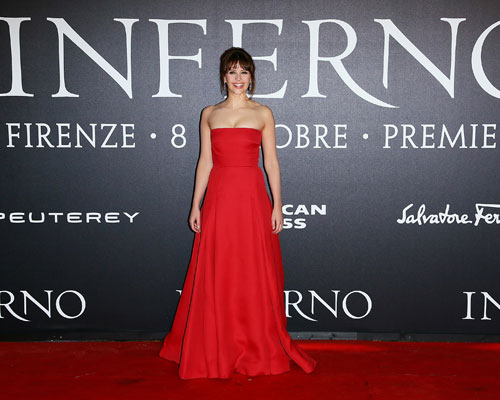 The Oscar-nominated actress has a history of rocking beautiful looks on the carpet, but her red-hot dress took the cake this past weekend.
While in Florence, for the world premiere of Inferno, which hits theaters on October 28, Jones showed off her petite figure in a flawless strapless gown, fit for a princess.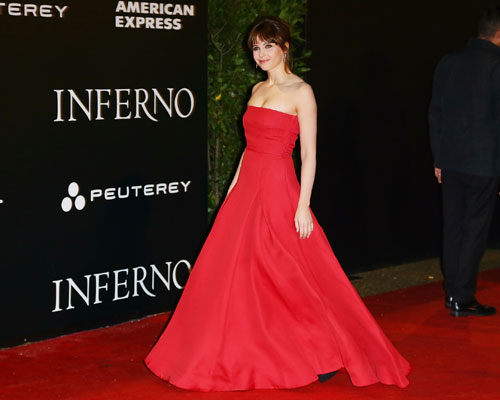 Jones' ensemble was a true show-stopper, so much so that she didn't need very much makeup or many accessories to take her look to the next level.
The Theory of Everything star instead opted for a less is more approach for her sexy and chic dress. She pulled her hair back, leaving just her bangs exposed and added chandelier earrings for a little bling.
Come on, Jones could definitely give any princess a run for their money with this beautiful ensemble. Even when she laughed alongside her Inferno co-stars, she looked flawless. That's a modern-day princess if we've ever seen one.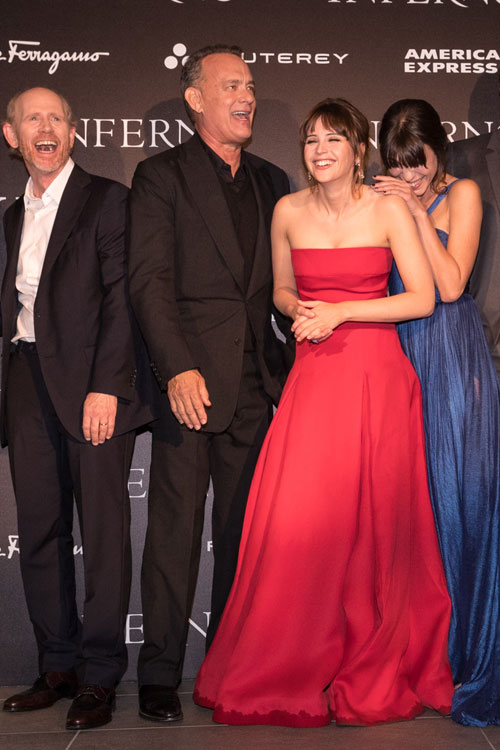 We're thinking the fiery number Jones donned at the Opera di Firenze in Florence is definitely something Belle or Cinderella would've rocked. Maybe even the Duchess of Cambridge!
Jones is English, so she's almost royalty anyways right?
What do you think of Jones' regal look?