Here's where to buy Reese Witherspoon's "Feel the Dern" shirt, because Laura Dern is our queen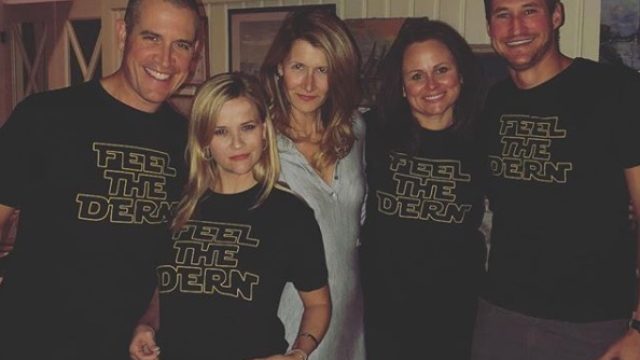 We love it when celebrities are not only friends onscreen, but offscreen too. And that is exactly the case with Reese Witherspoon and Laura Dern. Of course, we're fans of watching them on Big Little Lies. And it's all the more incredible that they hang out IRL. On Friday, January 26th, Dern met Witherspoon, her husband, and a couple friends for dinner. And Witherspoon had the best surprise waiting for her: Everyone wore a "Feel the Dern" shirt. We're definitely "Feeling the Dern," as Laura Dern she continues to prove she's an amazing actress and overall person.
For starters, Dern won an Emmy for Outstanding Supporting Actress in a Limited Series or Movie for Big Little Lies back in September of 2017. And both she and Witherspoon are huge supporters of the Time's Up movement. So, of all this to say, Dern ABSOLUTELY deserves to have a "Feel the Dern" shirt made in her honor. The tee is Star Wars-themed, a nod to Dern's role in The Last Jedi. She plays Vice Admiral Holdo, a military leader with fierce violet hair. Women supporting women and their big roles! We love it!
You can see the "Feel the Dern" shirt for yourself in Witherspoon's Instagram post.
https://www.instagram.com/p/BediUypBZjY
We love Reese's "Feel the Dern" shirt idea. And Laura seemed to as well.
Now, naturally, this makes us think of two things. One, Reese Witherspoon is amazing for orchestrating this surprise, and we'd really like to be best friends with her, if possible. And two, where can *we* get a "Feel the Dern" shirt of our own? Well, ask and you shall receive. Here's where to buy your very own "Feel the Dern" shirt. Because Laura Dern is our queen, and we're curtseying and bowing to her right now and every day.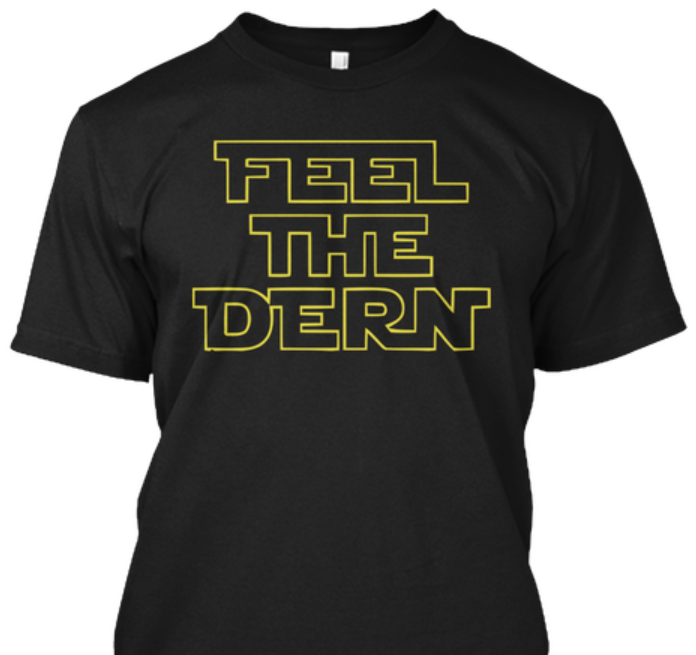 But you'll have to act fast, because the shirt is only available for a few more days. In any case, hopefully having a "Feel the Dern" shirt of your own will motivate you to follow in Laura Dern's empowering footsteps, no matter what your goals and aspirations are!